Guest Blogger
BGN works to feature strong, unique content from writers who…
By: Shane Thomas
This year gave us some great moments in Black creativity — some more talked about than others. Here, in chronological order, is a roundup of some of the best moments in Black storytelling and pop culture worldwide. 
(Disclaimer: I won't be including things I didn't personally see, hence no #Beychella, Nine Night, or Pose on this list.)
Welcome to Wakanda
Why did Black Panther resonate so intensely, especially for those who would never go near a superhero film? My best answer is that it didn't just depict black people but black people with power and control who could resist those who would do them harm. It's a story where black people set the pace for civilization. It was both wish fulfilment and a rejection of the notion that Black Africans lack intelligence and ingenuity.
Black Panther brought with it promise and expectation. How director Ryan Coogler introduced Wakanda to the world was hugely important. And it's that wondrous introduction that set the tone for everything that followed.
Note how Coogler frames Okoye as she looks into the camera and says, "We are home." She wasn't just talking to T'Challa — she was speaking to us. Wakanda fulfilled a yearning that has persisted across generations of Black people. It's ironic that T'Challa said on arrival, "This never gets old." For the rest of us, it was something brand new.
DBT (Remix)
Just like in America, the UK can be a tough place for female rappers. Yet, one of the most electric pieces of music from 2018 was the DBT (Remix). London rap veteran Lioness, who penned the original, brought together some of Britain's finest female emcees in the game — with bars that addressed topics like colorism, Black women's hair, and misogynoir.
If you missed out on this track, head to YouTube immediately. A line-up that has Lioness, Queenie, Stush, Shystie, Lady Leshurr, and Little Simz is British music's equivalent of the Dora Milaje.
Django Jane
This year was Janelle Monáe's return to music, debuting two new videos — the sizzling Make Me Feel and, my personal favorite, Django Jane.
Beyond the dazzling costumes, don't sleep on the fact Janelle sat upon a throne. It's as if she's matured as an artist to the point where she can freely acknowledge just how good she is. This added confidence meshed perfectly with the lyrics:
"Black girl magic
Y'all can't stand it
Y'all can't ban it
Made out like a bandit
They been trying hard just to make us all vanish
I suggest they put a flag on a whole 'nother planet!"
Much like the DBT remix, it seems that Black artists currently have no interest in appeasement. They are giving the unvarnished truth, and we're all the better for it.
Teddy Perkins
Atlanta has long been adept at threading the needle between comedy and tragedy, and never more so than in "Teddy Perkins," an episode focusing on the desperate measures a Black person can take to achieve fame as a futile way to attain full personhood.
While it's easy to look at the Teddy Perkins character as grotesque and an oddball, I could only view him with sadness. Yes, he's an ill and dangerous man, but he's also a lonely one. He initially appears to try and strike a rapport with Darius, ultimately failing due to his absence of social skills.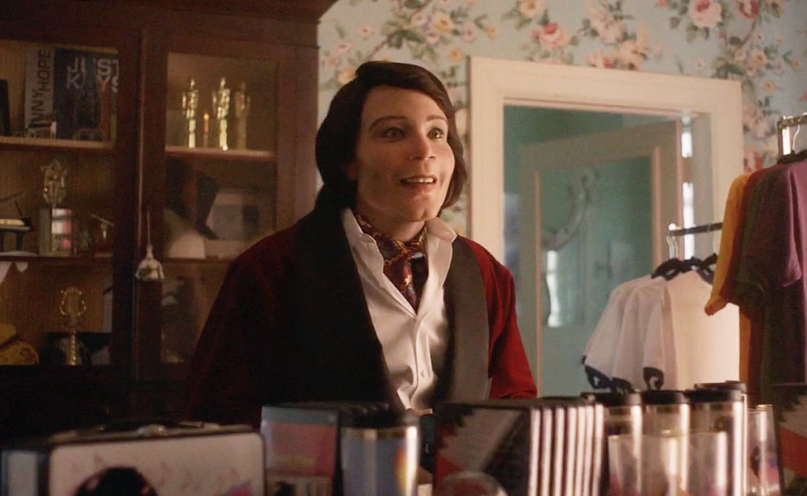 Donald Glover's ability to render the character without lapsing into pure farce makes this the finest acting of his career. What he does with his voice is key. Vocally, Teddy sounds unsettling and discordant, but there's also a yearning for human connection. I suspect Perkins only decided to kill Darius once he failed to make friends with him. Few performances alight on how fame can damage Black artists more than Donald Glover as Teddy Perkins.
Atlanta's #MeToo Moment
Our second Atlanta entry is an overlooked moment from Season 2.
In the episode "Champagne Papi", Van goes to a New Year's party hosted by Drake. Once at the party, a random man decides to help Van find her friend, who is very high on drugs. He leads Van to a secluded area of the mansion. The penny drops when Van asks him where his friends are. With a sinister smile, he says, "Friends? Nah. But you're my friend."
Zazie Beetz has to communicate so much by doing so little in such a short space of time. In around three seconds, she conveys disappointment that this guy is a predator, terror at the possibility of what's to come, and finally the clear-headedness to plan her escape from the situation.
It's a rare example of such a television moment that centers a Black woman. All the more important because lest we forget, #MeToo was incepted by a Black woman (shout out to Tarana Burke).
Bianca Belair is Undefeated on the Mic
Bet you weren't expecting a pro wrestling entry on this list? Yes, I know it's fake. (Please, tell me some more about just how real The Real Housewives are.) Bianca Belair is not a Black woman who suffers from impostor syndrome. Earlier this year, she was meant to compete in a match where the winner would become the number one contender for the NXT Women's Championship (NXT is WWE's developmental division). However, Belair missed out due to injury. She's yet to lose a match, and stated this in an interview which felt like one of the best dissections of having to work twice as hard for half as much that I've heard this year:
"Why should I have to work three times as hard and go up against three other girls when I've already proven myself. I'm un-de-fea-ted! I'm undefeated. I keep giving these girls all this time to catch up and they still behind… and when I come back, I'ma get what I deserve… these girls gon' learn today!"
This sentiment speaks to us. #forevermood
Discovering Samantha Mugatsia
Samantha Mugatsia is the acting find of the year. She plays Kena, the lead in the superb banned then unbanned Kenyan movie, Rafiki.
The moment she appears on screen, she exudes a winsome delicacy that makes you immediately root for her. She plays Kena with an endearing guilelessness, shy but curious. She's an actor we should all be keeping a close eye on.
I hope someone gets a copy of Rafiki to Ryan Coogler as he prepares to work on Black Panther 2. Mugatsia would be a great addition to the cast, especially as it would be nice to see a few more African actors featured in the movie.
If Beale Street Could Talk's Black Love
Due to the world we live in, I do believe that Black love is more difficult to sustain, which makes it so special. And Black love was the heart of and imbued throughout Beale Street. It was the fuel that powers the narrative.
The film's composer, Nicholas Britell said, "The film explores all of these different kinds of love. There's romantic love, erotic love, the love that parents feel for their children. There's friendship and there's even a sort of divine or pure love."
Note the scene when Tish tells her family she's pregnant. Tish is expecting an angry, maybe even a violent reaction. She's young, unmarried, and without a job. We thought we knew what would happen next, as it's a trope seen on the screen many times before. But as she tremulously lets her family know, the most glorious thing happens.
Tish has her head bowed to the floor, awaiting admonishment. But her sister Ernestine says with firmness but love, "Unbow your head, sister." That's when I knew we weren't getting a story that leaned on pathologies.
If Beale Street Could Talk is a story that feels as nourishing as a piece of cinema for Black people as you could wish to find anywhere.
Guest Blogger
BGN works to feature strong, unique content from writers who speak to our niche. If you are interested in having your work highlighted contact jamie@blackgirlnerds.com to be featured as a guest blogger on the site.