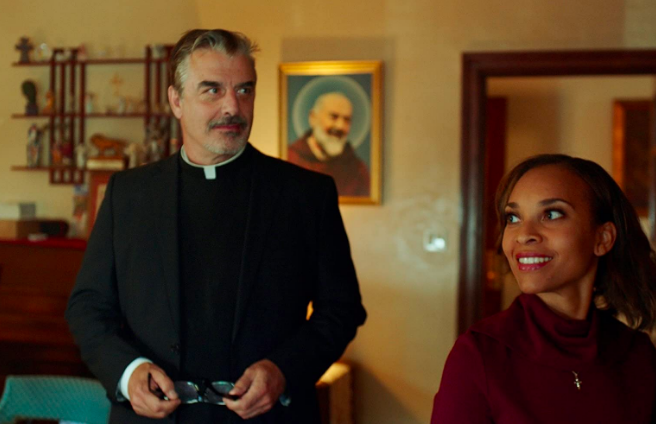 When the holiday season approaches, the images that follow are more than sugar plums and candy canes. The portrayal of "family" is often a little montage of photographs featuring a heteronuclear couple with 2.5 kids and a dog. Director Otoja Abit sees beyond that and seeks to normalize the reality that love exists in many forms. Through that introspection that birthed his first full-length feature film, A New York Christmas Wedding.
Abit, the son of Nigerian immigrants, grew up in Queens and now resides in Manhattan. This is similar to his characters, but there the similarities end. Following the success of his short film Jitters, Abit was encouraged by producer Kory Apton to expand on the idea of exploring same-sex relationships and marriages in a full-length film. From there, Abit added a layer of storytelling by examining those love stories with the backdrop of the holiday season — a perspective that is virtually ignored by the film industry. In an exclusive interview with Black Girl Nerds, Abit says people were amazed to see same sex marriages normalized within the church.
"When I did Jitters, people reacted to it in such a positive way," he told me. "People were amazed to see the normalization of same-sex marriage and a church. You never see that. So then I had an idea to have a similar thing. We have a Christmas wedding, in a church, of a same-sex couple, and around Christmas time, because you don't see many of those stories explored. "
A New York Christmas Wedding stars Nia Fairweather as Jennifer Ortiz, a young professional living a seemingly perfect life. Aside from an overbearing future mother-in-law, Jennifer lives in comfort with her loving and very wealthy fiancé David (played by Abit). When a family dinner becomes uncomfortable, Jennifer leaves for a run. She encounters a young man with whom she instantly feels a connection. Unbeknownst to her, the young man is a guardian angel who shows her what would have happened had she not denied her true feelings for her childhood best friend Gabrielle (Adriana DeMeo).
Making its run at Urbanworld 2020, the film is finding praise for its ability to offer a perspective that has been wholly overlooked — a lesbian couple, one Black, one Brown, who want to celebrate their love in front of their family and friends inside the Catholic Church. For a city as "progressive" as New York City, achieving that detail was a feat within itself as churches throughout the state wouldn't permit Abit to film a lesbian wedding within sanctuary walls. Ultimately a church gave its blessing for the pivotal scene, which features veteran actor Chris Noth (The Good Wife, Gone) as forward-thinking priest Father Kelly.
Abit says, "With this church, they were very nervous about us going in there. They didn't want it to get out to the parishioners that we were doing same-sex marriage in their church. I think there are a lot of Catholics out there, and other Christian people, that can't see this ordinary wedding between two people. I went to many different churches in New York City, and many of them when they heard the content said no. This one church [where we filmed] said yes. We were able to start shooting other scenes, exteriors, and other scenes inside. When it came to the big wedding day, we had about 100 extras, and they began to realize what we're shooting. Then the priest came up to me and said, 'You know, this may be an issue for today. Searching for a place to be married and being denied continues to happen [in real life] to same-sex couples, and it saddens me greatly.'"
A New York Christmas Wedding is a remarkable film in that it doesn't rest on a particular scene to move the story along. Jennifer and Gabrielle's re-imagined love story is a study in the obstacles same-sex couples face when attempting to live in their truth alongside their faith. Additionally, seeing their early beginnings as high school best friends who don't fully understand their feelings is inspirational. With no one to confide in, Jennifer navigates her feelings and emotions. When Gabrielle doesn't immediately return those feelings, she turns her back on them forever. As a result, she finds herself living an incomplete existence. Noth's portrayal of Father Kelly is steeped in realism as he balances his responsibilities as the local church's head while being a spiritual advisor to all his parishioners.
Ultimately, A New York Christmas Wedding offers a refreshing alternative to the typical holiday programming that celebrates a singular version of love. It focuses on the beauty of love between two people instead of focusing on the appearance of love. The holiday season can follow other societal segments by becoming more inclusive and reflective of what is happening in cities worldwide. That in itself is a real Christmas miracle —a time when everyone can celebrate no matter who they love.
The virtual 24th Annual Urbanworld Film Festival runs Sept 23-27th.