Stacey Yvonne
Stacey Yvonne is an entertainment journalist who is often found…
ABC's Abbott Elementary has quickly become a critical and audience darling. Created and written by comedian Quinta Brunson who also plays Janine Teagues, the show follows a documentary crew while they film the lives of teachers and students at the eponymous school. The show also stars Tyler James Williams, Janelle James, Sheryl Lee Ralph, Chris Perfetti, and Lisa Ann Walter.
BGN attended a special panel where the cast talked about what makes the show special and what we can expect next year. Tyler Perfetti is currently starring in King James at the Steppenwolf Theater and was unable to attend the panel. Eccentric janitor William Stanford Davis took his place. 
Abbott Elementary is a character-driven sitcom that uses the popular documentary-style seen in The Office and Parks and Rec. The advantage, according to Brunson, is that you see the small moments that often get mixed when the subjects don't know the camera is on them. Lisa Ann Walter, who plays Melissa Schemmenti, had this to say about the beauty of the smaller performances:
"Sometimes, it's just the tiniest little thing. Like when Chris [Perfetti who plays Jacob] thinks Barbara [Sheryl Lee Ralph] will retire and his reaction to it is to almost burst into tears. Just a moment when he realizes it and then walks — you think, that's gorgeous! And each one of you has a moment like that."
Brunson went on to add Walter to the mix. 
"Lisa has these moments in talking heads — which I don't get to see when I'm on set – where the character is written very hard, or the line was written with a hard voice in mind. She makes a different choice of a soft, quiet voice that shows you how much Melissa Schemmenti loves her kids."
The cast has a true affinity for each other and respect that spans from season veterans like Tyler James Williams and Sheryl Lee Ralph to newcomers like comedian Janelle James.
"Janelle just makes me funnier!" Brunson effuses about James, who plays the wayward Principal Ava. They have a special relationship that is probably more rejection than bonding. But Brunson's character is constantly made better by Ava, and every now and again, the sentiment is returned.
"It's a real blessing to work with people who make you better in every way. It's a real pleasure." Brunson continued with a big smile on her face.
Season 2 is coming up, and Brunson has hinted that we'll now see more of the home lives of our teachers. At the end of the last season, we saw Janine break up with her long-time boyfriend, Tariq (Zack Fox), an aspiring rapper who takes a job in New York City.
We also learn of Jacob's boyfriend Zach (Larry Owens) and see a relationship start to form between Greg (Tyler James Williams) and Barbara's daughter Taylor (Iyana Halley) — possibly to Janine's dismay. It will be a welcome change to see more into the inner lives of the teaching staff, especially the notoriously private Lisa Schemmenti. 
"You know, behind closed doors, they are crazy! And Barbara has a little tick tick boom in her!" Lee Ralph said excitedly on the carpet. Brunson also admitted that she was most excited to take the audience to Melissa's house.
As for the budding yet stalled romance between Janine and Gregory, Brunson stayed coy. But Williams revealed he's been told about what will happen, and he's very excited not only to see how it plays out but how audiences will react.
Brunson has an indefatigable optimism while staying rooted which is a hard vibe to pull off.
The panel moderator, Rebecca Ford, senior awards correspondent at Vanity Fair, made the observation of Brunson, "I have never seen anybody be the head of the show, the lead, a writer, and by the end of the season, everyone still loves that person. The cast and crew would run through a brick wall for her which is just a testament to her character."
Whenever dealing with the press, there is an element where the cast has to turn themselves "on" to promote their shows. Watching the cast, most of whom were relatively new to TV, you could tell there was a passion and enthusiasm not just for the show, but for the message of giving a voice to teachers whose lives are spent trying to make our youth better.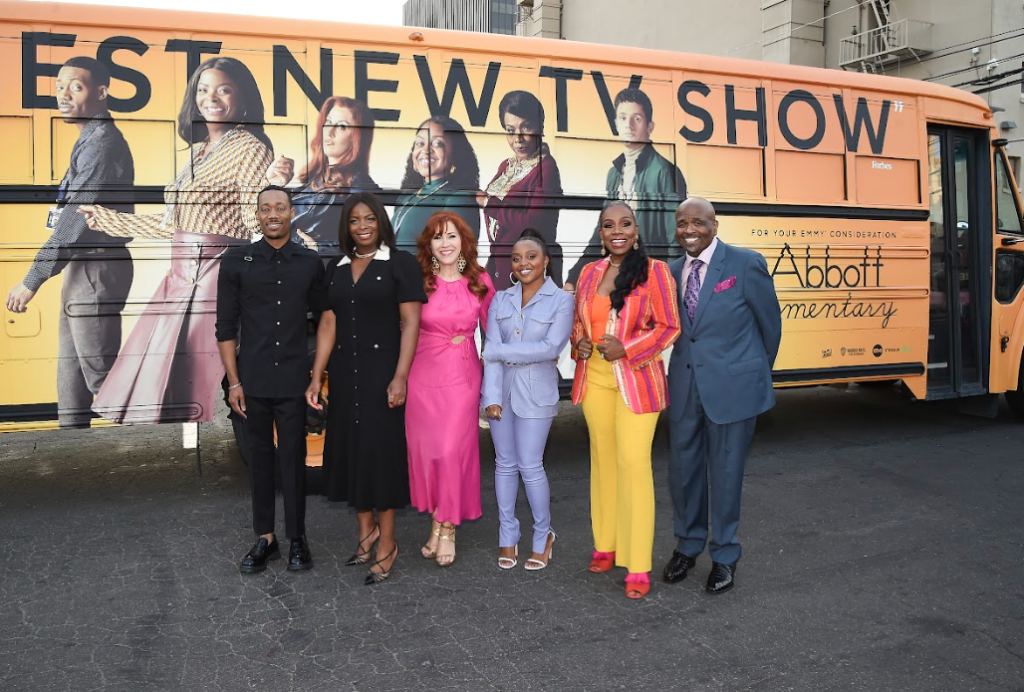 Brunson originally came up with the idea because her mom was a teacher and she saw the obstacles and successes she had. She cared about her students despite uncooperative parents, decreased funding, safety concerns, and more. Brunson wanted to make the show as an ode to her mom and to all of the teachers out there who only want to help. In doing so, she's created a funny, heartfelt sitcom that is as engaging as it is thought-provoking. 

Abbott Elementary will return for the 2022-2023 school year. In the meantime, you can catch up on episodes through Hulu.
Stacey Yvonne
Stacey Yvonne is an entertainment journalist who is often found in some corner of the internet pontificating about pop culture and its effect on women, Blackfolk and the LGBT+ community. You can see more of her work at https://syvonnecreative.com