Diedre Johnson
Diedre Johnson is a Los Angeles-based former staff writer covering…
Do we dare even call Nicole Ari Parker's new character a "girl"? Although Carrie (Sarah Jessica Parker), Miranda (Cynthia Nixon) and Charlotte (Kristin Davis) all live independent, mature, big New York City lives, to fans they will always be "the girls."
Now Parker joins them in their new adventures portraying the glamorous Upper Eastside mom and documentarian, Lisa Todd Wexley. BGN spoke with Parker via phone interview.
You're not replacing Samantha, but you are part of a group of characters providing a new direction on the show. Could you talk about the new direction?
I think my character was in one of the first publicity photos to go out. With all the mystery around what's happening, so everyone just ran with it — that I must be the new fourth girl. And you know, some people were happy, some people were yelling and screaming on social media and having meltdowns.
Then everything calmed down because people didn't realize that I was one of three new characters that are being added to the show, all of color: two African American women (me and Sara Ramirez) and my really good friend of a bajillion years Sarita Choudhury, an Indian actor.
We had to understand how much the show meant to so many people for over two decades and let everyone adjust. It's a big deal for us as Black women who watched this show and never saw ourselves, as much as the fans who loved the four original characters. 
Did you watch the show before?
Yeah, I did. My favorite part was the friendship that they had when they would have their famous lunches and try to solve each other's problems or whoever was having the crisis. I love the crisis management and how valuable that good girlfriend group is to our balance.
Now here they are as grown-ups in their 50s still having messy emotional upheavals, unanswered questions, and unresolved insecurities, and also being extremely dynamic, accomplished, and proactive in their lives.
What do you think longtime SATC fans are going to like about Lisa?
I think they're going to like the fact that she is really dynamic, extraordinary, and committed to her very own style of fashion. And that she's a woman you know — even if you're not uber-wealthy living in New York with the fabulous apartment on the Upper East Side. This is a woman who might be in your family. She's a real character.
I really liked that the writers made these new characters fully fleshed out, as much as possible in a half hour. And at the same time, they didn't skip over the elephant in the room. Okay, here's all the Brown people. What does this mean? Are we going to skip over it? Are we going to deal with that? For 20 years, these four women never had any Black friends. And the fact that they even let the Black character be like, "Well, just like you don't know me, I don't know you either."
So real friendships can be formed or real mistakes can be made in real time. No one is going to get into the broad strokes of the things that we're struggling with as a country and the racism that we're facing, but what does happen is, they've found a way to trickle all of that massive conflict down to real time. How the two moms pick up their kids from school; how they try to become friends. Their tax brackets look like they might be the same, but their experience in life is so different. Then, how do we make that funny and awkward and real?
That's what they are really trying to do because that's how it is. We actually might have a friendship of 30 years with a woman or man outside of our race and have extreme political views. Yet we both have the same husbands. [Laughs.] Or you both have the same kid who's not doing their math homework or the same struggle or unresolved issues with a family member. So that's where humanity is in the writing.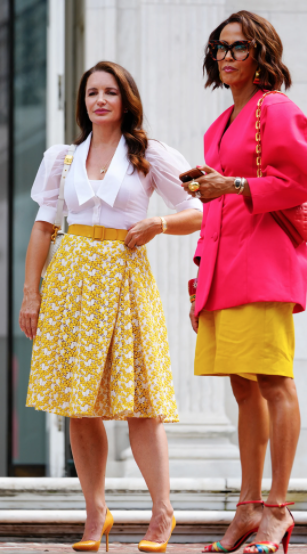 In what ways is the show going to touch on the differences now that main characters are older?
I think that they're doing women justice by showing that grown-up women are still sexually active, sexually desirable, interesting, interested, and managing relationships and love. And at the same time deciding whether or not to keep coloring their roots, you know?
I think that a lot of talk about age is understandable because we met these characters when they were young, but it's if everyone forgot that everyone grows up. We are the people who used to be 20. Some of the stuff is the same, some of the stuff is better, and some of the stuff is different.
What are some of the surprising positives for yourself as you approach middle age?
I don't know. I feel so brand new. We've got to work on it just like everything else. We have to work on getting that out of our heads. You're probably the smartest you've ever been, the fiercest you've ever been, the most confident you've ever been, the sexiest you've ever been. The wealthiest you've ever been. You're more actualized than you've ever been. And so you literally should be the belle of the ball. I feel like I can wear what I want, travel where I want, date who I want, marry who I want. This is an extraordinary time for grown-ups.
I wasn't always this way, but my kids are 15 and 16 now and I feel like they're not babies anymore. I love the family that [actor husband] Boris [Kudjoe] and I have built, and I just feel ready for the next thing.
How did you and Boris manage a showbiz family in the early part of your marriage?
I have a natural resilience, but it was hard. It was really hard. Boris is a great father and we were on the same page. So no matter how many moving parts there were to our careers, we had this center to revolve around in terms of our children.
I love what he said in interviews when the kids were little. They're like, "How do you prioritize?" And he's like, "There's no priorities. There's just my family first, and everything else works around that."
I just feel like that anchored us in the chaos of the industry.
Every job has its perks. Is there anything in the Hollywood/social/entertainment sphere that the two of you like?
I think some of the fun parts with fame are not really perks. They're just temporary, like dinner reservations. I do think that it lends itself to opening doors in places that are outside of the industry — causes, helping people get projects done that can help others.
And Just Like That debuts with the first two episodes on December 9, 2021, on HBO Max.
Diedre Johnson
Diedre Johnson is a Los Angeles-based former staff writer covering entertainment whose work has appeared in Variety, The New York Daily News, TV Guide.com, The Crisis, Vogue Japan and Italia, and Harper's Bazaar China, among others