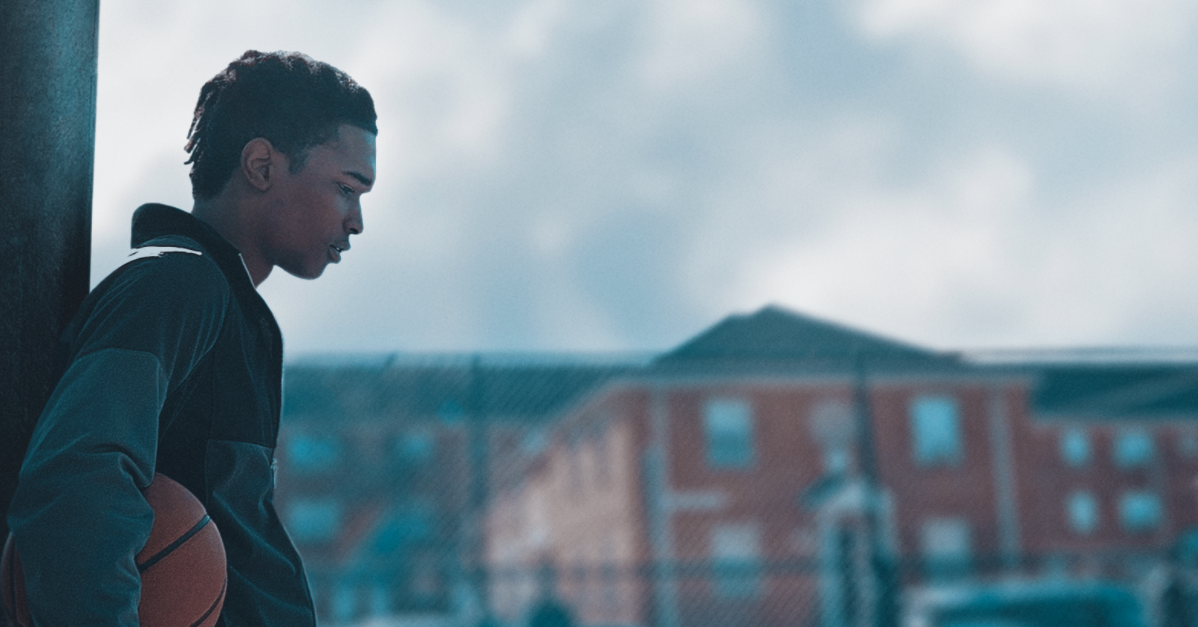 Swagger is the series you haven't heard about but should be watching. I'm not a sports fan, but I do love TV shows and films about sports. I haven't been this moved by a teen-sports, hour-long series since Friday Night Lights.
Swagger is based in the DMV (the Washington D.C.-Maryland-Virginia area), which is the 21st-century mecca of youth basketball. The series is executive produced by NBA star Kevin Durant and is inspired by Durant's experience playing boys basketball on the AAU circuit, when he was in middle school. Legendary TV and film writer Reggie Rock Bythewood is the creator and showrunner of this outstanding drama.
Swagger invites the audience into the world of 14-year-old basketball phenom Jace Carson (Isaiah R. Hill). Jace is the son of a laser-focused single mom Jenna (Shinelle Azoroh), who is so dedicated to her son's success that she takes him to exercise outside, running up steep hills and doing intense push-ups at 5 a.m. Jace's older sister, Jackie, supports her mom by taking on the cooking and chores around the house as she deals with the challenges of high school and playing second fiddle to a talented, younger brother.
Jenna and Jace decide for him to join a team that needs help, led by Coach Ike (O'Shea Jackson Jr.). Fifteen years ago, Coach Ike was the young phenom destined for NBA glory, but he didn't make it and now coaches a struggling youth basketball league while working at a hardware store. His wife Christina (Toya Edwards) is a social worker who is pregnant and supports her husband one hundred percent. 
As with any great sports-themed series, there's a large ensemble cast, each with rich storylines that are nuanced and complex, providing delicious conflict that is gorgeous to witness. With such a big cast, it could be easy for some characters to be underwritten, but nobody is left out.  Every single character on screen has a compelling reason to be there. The majority of the action takes place in Seat Pleasant, Maryland, a predominantly Black suburb of Washington D.C., where Durant grew up. The writing is excellent and the acting is spot-on. 
Showrunner Reggie Rock Bythewood has created a love letter to Black women. It's refreshing to see Black women who are fully realized — loving, passionate, loyal, advocating for themselves and their families — in an industry where writers historically have placed Black people in demoralizing stereotypes. Every single Black woman and girl in this series is someone I know. Jenna is focused, fierce, and determined to give her children the best, and she always keeps her eyes focused on success. Coach Ike is head over heels in love with his wife Christina, and she is his strongest advocate. It's so wonderful to be in a world where there are Black couples thriving and loving and supporting one another. In Swagger, we see that Black people are not a monolith. We have Jenna, the single Black mom with the deadbeat ex who doesn't show up, and we have Christina, the married Black working mom, and we have Ike, the working husband who comprises the ultimate team with his wife.
The show deals with some heavy topics, and the conflict is dealt with in ways that drive the story and draw the audience in. The writers keenly weave in the pressure that young athletes go through, especially when dealing with social media as an essential tool to advance their careers while dealing with haters who aren't just their peers, but fully grown adults who are way too invested in youth basketball. The n-word is not used once in this series; there are no drug dealers centered in the story, and the series is unapologetically Black — I absolutely love all of that.
The storytelling in Swagger is nimble, unpredictable, and keeps me on my toes. The basketball choreography is stunning. The camera angles and use of slow-motion add to the drama and make me leap out of my seat and cheer or cry in devastation when the point goes in the opposing team's favor. The story begins in 2019 and takes into account the reality of the pandemic without being heavy-handed. Swagger also has a sweet preteen love story woven into the narrative. Fun fact: Showrunner Reggie Rock Bythewood is married to Gina Prince-Bythewood, the writer and director of the original basketball coming-of-age love story film, Love & Basketball. Swagger instantly felt familiar in all the best ways that make the audience invest and root for the team.
It's so wonderful seeing so many kinds of Black folks living with one another on-screen. The writer's room throws in social class and all of the mess that comes with it. The stakes are high, and I can see the viewpoint of each character as they deal with the challenges, for example, of competing for limited resources that pit teams against one another as large corporations single out the best players and teams to pump all their money into. Swagger also gives us the inside view of how these corporations jockey to find the best eighth-grade athletes to be brand ambassadors, as the select, best players grow their careers into the NBA. 
There were multiple moments when I was yelling at these boys like they were my own family. In Episode 3, there's this fantastic "Rockyesque" sequence, where the team is doing this intense training session in a waterless pool to a dope loop of "Champ Is Here" by Jadakiss, where I had to just jump up and dance to the TV. Okay, I'll admit — I got up and danced to the opening credits for every episode. Swagger is the kind of series that gives so much, you'll want to watch the episodes more than once. Spread the word and don't miss this series. 
New episodes of Swagger Season 1 stream Fridays on Apple TV+ (Fall 2021).
Jeanine T. Abraham
Jeanine is a Writer, Actor, member SAG/AFTRA, AEA, Podcast host, Producer, CEO VisAbleBlackWoman Productions, Certified Health Coach and Conscious Dance facilitator. Jeanine's mission, centering Black women's stories to preserve our legacies.