From the Obama administration to Hollywood, Carri Twigg is a vital member of the phenomenal Black, Brown, and women-owned premium film and TV production company, Culture House. Last week, Black Girl Nerds spoke with Carri Twigg via Zoom about The Hair Tales, a six-part limited series Culture House co-produced in collaboration with executive co-producers Oprah Winfrey, Tracee Ellis Ross, and Michaela angela Davis.
What inspired you to be a co-founder of Culture House?
When Rae and Nicole [Raeshem Nijhon and Nicole Galovski], my two other partners, and I met, they'd been in filmmaking for a long time. I had just left my former life in the White House doing policy and political work. And I think all three of us were looking to have a company that we could run on our own terms and create projects on our terms. We have a strong shared vision and values. Without a doubt, without them, I wouldn't have a production company. I met two partners who enabled that vision to move forward.
How does Culture House being 75% BIPOC women impact how projects are produced?
Candidly it just means that a lot doesn't need to be contextualized, explained, or defined. We all have a shared vision, even as we're all individuals with our own experiences. Within our group, there is diversity, but there's a shorthand, a comfort level, a confidence that comes with knowing you're in an environment where the barriers between you are lower. You don't have to explain, "Well, as a Black person," or, "Oh, well, as an Indian person", or "Oh, as the kid of an immigrant," or so on. None of that is baked into the experience, so it allows us to make identity-forward entertainment from a place where all that extra energy goes into the creative.
Why is The Hair Tales relevant right now?
As Black women, we know that our hair has many fascinating aspects. I can tell you who did my hair, and that will tell you a lot about my family. It'll tell you how I was brought up. It will tell you a lot about my community and the place of my coming of age. It'll tell you how I socialize myself into the world or how I didn't. The Hair Tales is a way for us to tell a story that hasn't gotten as much time or attention as it should on screen. It also allows us to access those deeper parts of Black life that are so compelling. All with this incredible visual life that Black hair brings. There's artistry, fashion, innovation, history, and legacy, all tied up, sometimes literally, in our hair. That was rich ground for us as storytellers.
Tracee Ellis Ross is a fantastic interviewer; what was the show's process for crafting the conversations?
It was a collaborative process with Tracee at the helm. Myself, Raeshem, and some of the other executive producers would prepare research materials that we would all digest and reflect on what we thought was compelling, what we knew about this person, and what Tracee was most curious about. Tracee is an extraordinary producer. In addition to being on-air talent, she's got comedy chops for days. She's a performer in every right. In the production process, we thought through what would work and what would make sure each episode was distinct and ladder up to our overarching theme. Tracee's mind is incredibly incisive, and her feel for human beings is palpable. She's a very present, plugged-in person. She's incredibly generous when she shares space and time with someone. You can see that when she interviews, she's fully present.
Which hair story was the most emotionally resonant for you?
Congresswoman Ayanna Pressley's story. Not only because of our shared knowledge of the political world and all the things that get projected onto Black women in those spaces, but also because I was challenged and enlightened by her telling us her experience with alopecia totalis. What does it mean to locate your womanhood, beauty, and feelings of desirability outside of your hair when your body has undergone an unexpected, rather radical, and uninvited change? Representative Pressley doesn't have hair, yet she can tell us this fascinating and powerfully resonant story. You don't need hair to wear a crown.
I was constantly thinking about that for weeks after the fact. Where is my sense of my own beauty located? How external is it? I was trying to be honest with myself about that as a grown woman. Now I'm willing and eager to explore those deeper questions about myself and what I buy into and my own vanities and how fragile those things are, and the assumptions we make about what we'll have forever. I'm excited for people to see her episode.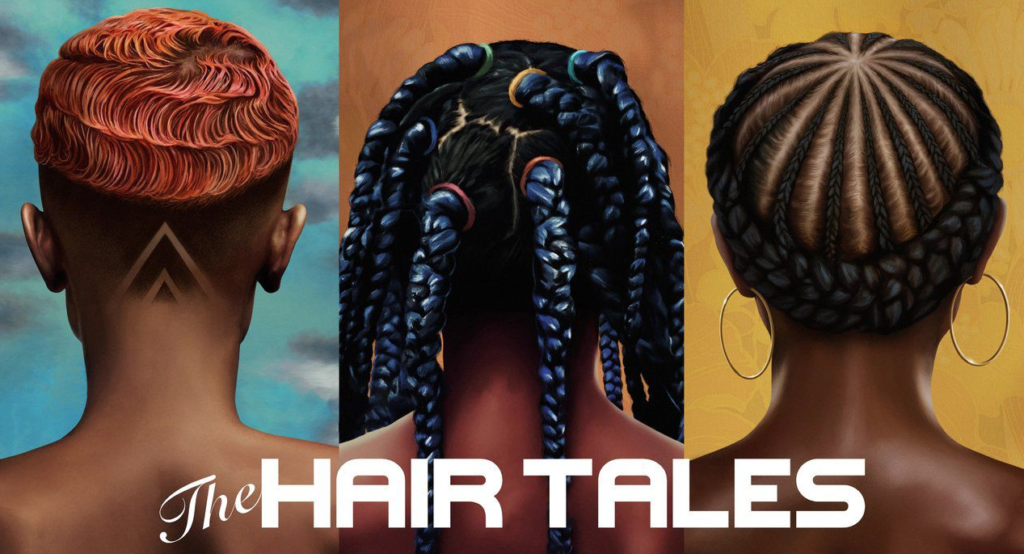 What impact do you hope The Hair Tales will have on audiences?
A sense of depth and richness. So much artistry, history, community and sisterhood, and fellowship comes from our hair and experiences. Yes, there is trauma, hardship, and oppression, and that is an important thing to say because it puts our joy and pride in relief. It is harder to know how tall the mountain is if you don't know how deep the valley goes. We were thoughtful about it without trying to over-explain. We're not trying to take anybody back into the mud, but it is worth recognizing progress when progress has been made. It is worth celebrating and giving flowers for what it takes to be joyful and celebratory, given the circumstances and contexts we sometimes come from. That juxtaposition with a heavy emphasis on celebration is something that we want all audiences to experience and revel in as well. We did our best to showcase joy in the series, and I hope it also impacts audiences.
What's bringing you the most joy these days?
I moved to Los Angeles in February of this year from Brooklyn. And I gotta tell you, the living out here is good. I live the slowest life. I just like to putz around. I live by the ocean. I see dolphins multiple times a week; I've taken up surfing and green juice. It's quiet. I hear birds every day. And so I'm just living my little slow life, which is also amazing and beautiful. I am so grateful.
The Hair Tales premiered Saturday, October 22, 2022, on Hulu and at 9pm ET/PT on OWN. Two episodes stream weekly on Hulu and one episode releases weekly on OWN.
Jeanine T. Abraham
Jeanine is a Writer, Actor, member SAG/AFTRA, AEA, Podcast host, Producer, CEO VisAbleBlackWoman Productions, Certified Health Coach and Conscious Dance facilitator. Jeanine's mission, centering Black women's stories to preserve our legacies.