I'm not a gamer, but I couldn't escape from all the Star Wars news coming out this weekend due to E3.
Information about STAR WARS: BATTLEFRONT II dominated the web and there are some great female characters involved in the new game. Battlefront II has gameplay in all areas of the Star Wars Universe, as showcased in the trailer and other screen grabs. So that means Rey! I love the look of her in this game and the look of the fierce battles she is engaged in.
The reveal I'm most excited about is that of Commander Iden Versio, voiced Janina Gavankar. Commander Versio is an Imperial woman of color. Her story arc in the game seems to begin after the destruction of the second Death Star in ROTJ as the squad seeks vengeance for their Emperor.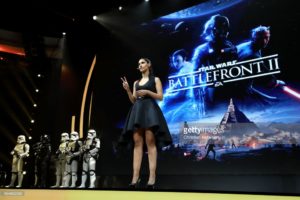 Janina took to the stage at E3 to confirm her role in a stunning dress by Elhoffer Design that is sure to sell out, so order quickly!
If you aren't a gamer, you can learn more about Iden and her team, the Inferno Squad, in the novel Battlefront II: Inferno Squad is written by fan-favorite author Christie Golden. The novel set between Star Wars Episode IV and V, where readers can follow Iden Versio and the Squad as they lead a retaliation attack on Saw Gerrera's remaining forces.
I'm really looking forward to this book!
Guest Blogger
BGN works to feature strong, unique content from writers who speak to our niche. If you are interested in having your work highlighted contact jamie@blackgirlnerds.com to be featured as a guest blogger on the site.