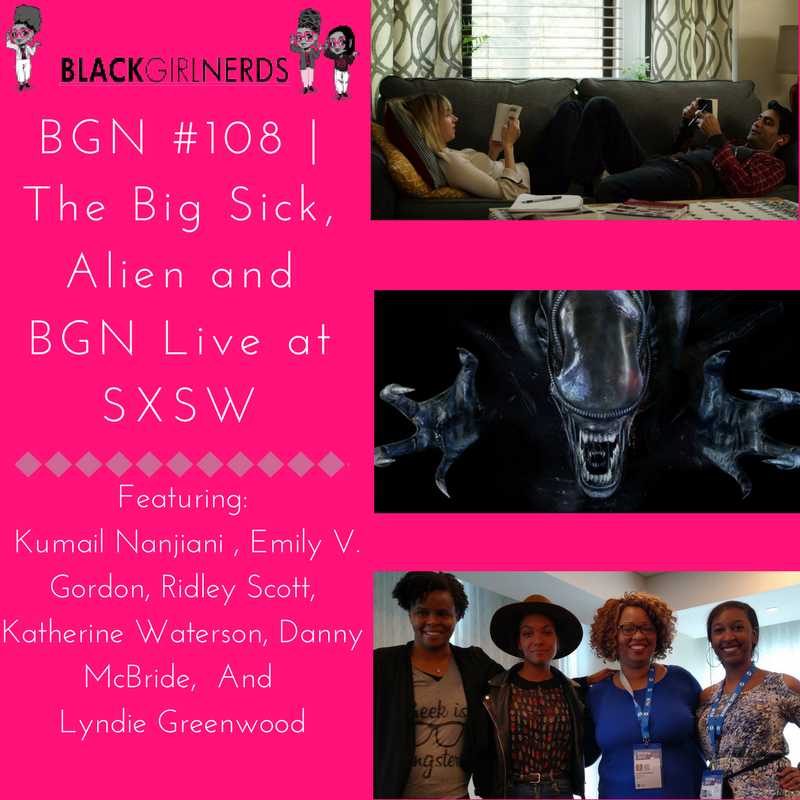 Jamie Broadnax
Jamie Broadnax is the creator of the online publication and…
Segment 1: Husband and wife team Emily V. Gordon and Kumail Nanjiani discuss their latest film "The Big Sick" which premiered at SXSW.
Hosted by Jacqueline
Segment 2: A roundtable discussion on Alien Covenant and the Alien franchise. Featuring Ridley Scott, Katherine Waterson, and Danny McBride.
Hosted by Kyndal
Segment 3: We host a live recording during the SXSW Podcast Stage and invite actress Lyndie Greenwood (Sleepy Hollow) to chat with us about her experiences in Austin and geek out over about fan culture along with a brief Q&A from the audience.
Hosted by Jamie, Jacqueline, and Kyndal
Music by: Sammus
Edited by: Jamie Broadnax
Jamie Broadnax
Jamie Broadnax is the creator of the online publication and multimedia space for Black women called Black Girl Nerds. Jamie has appeared on MSNBC's The Melissa Harris-Perry Show and The Grio's Top 100. Her Twitter personality has been recognized by Shonda Rhimes as one of her favorites to follow. She is a member of the Critics Choice Association and executive producer of the Black Girl Nerds Podcast.