Guest Blogger
BGN works to feature strong, unique content from writers who…
It was a fun night in Hollywood as the stars, producers, and director of the new film Krystal walked the red carpet for the premiere. I got to catch up with director and star of the film William H. Macy, as well as his wife Felicity Huffman, and producer Rachel Winter as they talked about their nerdy moments and what it was like working with the husband and wife duo on set.
Krystal follows Taylor, a young, sweet sheltered man from the South (Nick Robinson) with a rare heart condition as he falls in love with the woman of his dreams – an ex-hooker-stripper-junkie-alcoholic (Rosario Dawson) with a sixteen-year-old son. Taylor's brilliant family (William H. Macy, Felicity Huffman, and Grant Gustin) have a thing or two to say about Taylor falling for this charming yet unpredictable woman. To have even the slightest chance of winning her affection, Taylor must face his own demons and learn to live without fear and finally become the man he's supposed to be.
Cat Combs: Rachel, as a female in the producing world, what do you look for in a film?
Rachel: Oh boy. I think it's pretty basic. It's all about the writing. It's all about the script. And, I think if I read something and it stays with me, where it's like If I conjure up a scene that I read, it will make me like tear up again or laugh out loud. And then I think, oh shit, I'm in it now. Now I'm never going to be able to put this down. So that's it. It really has to kind of just go really deep and stay with me.
So, I'll just ask, is there anything that you love that's nerdy? Because we are Black Girl Nerds and we love the nerdiness.
Rachel: Oh my God. I would say, I'm actually pretty nerdy. Um, I kind of like reality TV in a way to really decompress and I also really love doing lanyards and jigsaw puzzles.
On the topic, do you have any nerdy things that you like to do or watch?
Felicity: I feel like everyone's got a nerd, an inner nerd, or an outer nerd as it were. But um, no I can't think of one…yeah, I mean, no I can't think of one.
Okay. What about your daughters?
Felicity: Oh my God, I don't know what classifies as a nerd. Like, they are obsessed with RuPaul's Drag Race. They're obsessed. Um, they like…you know…cheesy tv shows. That kind of thing.
Cool. So, moving on to Krystal. As an actress, what are some of the pros and cons of working with your husband as the director and also in the film?
Felicity: Well, I don't think in the film there are any cons. Um, you know, he's a brilliant actor and so you just get to work with someone brilliant and that always makes you better. I think it's tricky for most couples to be directed by their husband or wife because on one hand you can always ask for another take, and on the other hand you can never ask for another take. And you're so used to a marriage with a give and take and I found that on the set the best policy is just shut up and do what he says because one I trust him implicitly. And two it's just…that's what you should do. That's what I should do.
I see. Well, congratulations on this, and all the success of American Crime. I loved that show.
Felicity: Thanks. I loved it too. I loved it so much. John Ridley, man.
Do you prefer TV or Film?
Felicity: I think I like TV. I like the family. You know, I grew up in the theater, and so I like the whole, you work with the same group of people. You know, just like in the theater when you come in every night and there's the same group. I like the continuity. And I like that you can tell different stories every week.
Awesome.
So, William. My name is Cat and I'm with Black Girl Nerds.
William: Black Girl Nerds? That's great!
Stranger in the Crowd: It's a great website.
Thank you!
William: There it is.
You're the talk of the town. I love how much passion you have when you talk about everything you do. So, I have to ask, what are the pros, and cons, of working with your lovely wife as a director and as an actor?
William: I don't see any cons yet. I really don't. We have busy lives and sometimes I miss her and it's really nice that when we get to work together, we just get to spend more time together. On this film, she just saved my bacon. I could exhale when she came to do her scenes and for that week I felt good, you know because she's so good. She raised everyone's game and I'm not exaggerating. And then the scenes we did together, I did rehearse those which is not normal on an indie budget. But, we had to because I had to step out from directing and start acting, which is never a comfortable thing to do. But, because we had rehearsed, oh I had more fun than I've ever had in front of a camera. I swear to God. It was great. We would have done those scenes all day.
Do you think it's easy stepping on screen as a couple, since you already are a couple?
William: I think we know each other well. I think it would be easy, you can stumble into taking each other for granted. Um, as a director I think I have to be careful with being harsh or too abrupt. I mean, It's the hardest job I've ever had. It's like trying to build a boat while you're in the water. And you're in some form of panic pretty much all day, every day. So, I think it would be very easy to not take care in speaking with your wife. Just because you don't have to. She's my wife, she'll understand. But, I don't think you can do that. I think you have to slow down enough to be civil with people. But, she's great. I think one of the things we've got going for us is we've been doing this for a billion years. So, we really know what each other are going through. It's easy to say.
Great. So, last question. I'm from Black Girl Nerds, so I must ask, do you have any nerdy likes…do you watch anything nerdy…do you play nerdy games?
William: I think I got a high nerd quotient in my life. I think you'd have to watch me and you'd have to tell me what I do that's nerdy. [laughs] I've been known to wear socks with sandals and I really like it. It feels good on my feet. I like to do it. I know I'm not supposed to, but I do it. What's nerdy? I love hardware stores. I can buy in a hardware store the way Flicka can buy in a shoe store.
Any comic books, any games you like? Any TV shows?
William: No. I've got enough Ukuleles to fund an orchestra. And tools. I don't know…I think I have a sense of style, but it has a tendency to be 10 or 15 years behind the time. [laughs] My wife has saved me many times.
Well, you don't look too shabby tonight.
William: Well this is okay. It's a black suit.
Krystal will be in theaters Friday, April 13, 2018.
---
Written by Catalina Combs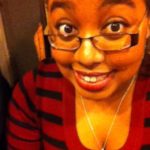 Catalina Combs is an aspiring film critic from California. She loves reading, writing, film, baking, music, drawing, traveling, Disney, and playing soccer. Her life usually revolves around all of these and her family. The oldest of six, Catalina tries to set a good example for her siblings. She graduated from Santa Clara University in 2010 with a BA in English Creative Writing and is pursuing an MA in Film. I also blog on WordPress and contribute to the Examiner.com.
Twitter: @tiggercraze | Facebook: Cat Combs | Instagram: @tiggercraze
Guest Blogger
BGN works to feature strong, unique content from writers who speak to our niche. If you are interested in having your work highlighted contact jamie@blackgirlnerds.com to be featured as a guest blogger on the site.