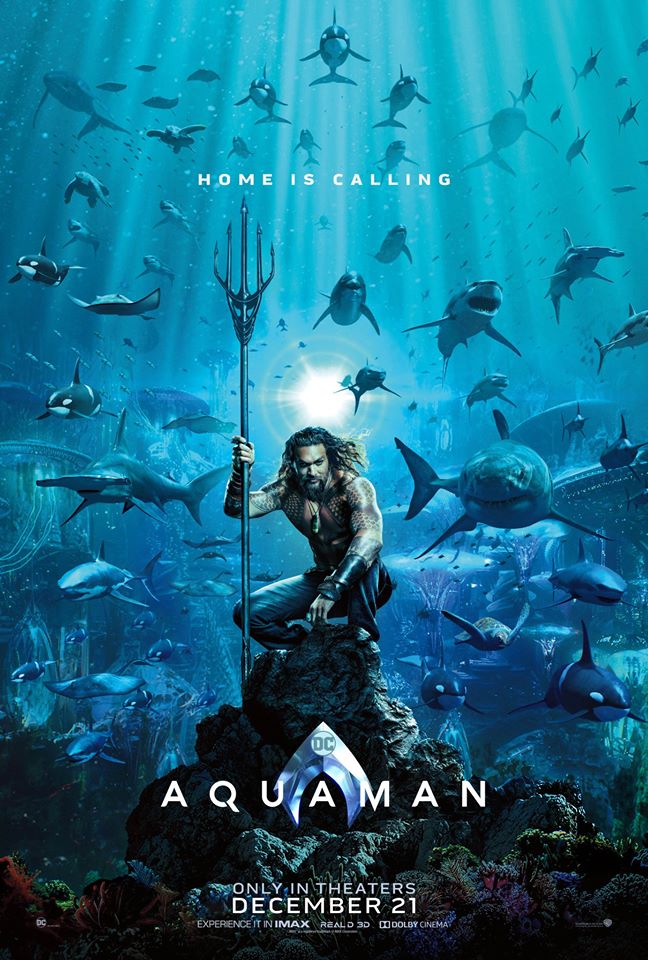 Walking into the theater to see Aquaman, you could tell people were excited yet hesitant to like this movie. The past few DC films were not critically acclaimed with the exception of Wonder Woman. I wanted to like it because a) it's directed by James Wan who is one of my favorite people and b) it stars Jason Momoa as Aquaman which is the fantasy I didn't know I was missing until I saw him in Justice League. It's one of those things you come into, understanding how you feel about the majority of other DC films and really not expecting much from it. Pleasantly, the film is so much better than predicted and I am here for it.
Say what you want about DC, but really nowadays, they are hit or miss with their DC Extended Universe.
Aquaman is a hit.
The story follows Arthur Curry after the events in Justice League. The current king of Atlantis, Orm (Patrick Wilson) wants to become Ocean Master and wage war on the surface. In order to stop Orm from destroying his home, Arthur (Jason Momoa) must embrace Queen Atlanna (Nicole Kidman) — his mother's home and take his rightful place as King. In order to defeat his brother and show the people of Atlantis that he is worthy, Arthur must find the Trident of Neptune.
What's different about this DC hero film, that stands out from the others is the way it embraces its fantasy elements. Aquaman has always been the hero that was made fun of. When first thinking about the character, thoughts of the show Spongebob and characters Mermaid Man and Barnacle Boy come to mind. The cartoonish man that can talk to fish is what stands out. The cool thing about Aquaman, is the fantasy elements aren't cheesy. Some of the dialogue may be, but the little kids will love those lines.
It's a film for everyone.
Even the iconic orange and green suit is worthy. Everything from the powers of the different oceanic talking creatures screams fantasy, but it's done in a way that blends nicely with the action and adventure of a superhero movie. The stunts are amazing. The shots are amazing. And the technology used to do the underwater scenes is amazing.
The fantasy aspect also comes alive with the showcase of a true quest. Aquaman gives audiences a Lord of the Rings meets Avatar vibe. In a good way. Arthur and his comrade, Mera (Amber Heard) have to visit different locations in order to find the location of the trident. It makes for some great moments as we learn about the characters and the locations they are in. This is also where the music comes in to enhance the journey. There are some great songs by composer Rupert Gregson-Williams scored. He worked on the Wonder Woman score as well. As it comes together on screen, it makes for a fun time in this comic book world.
The film boasts some great names to its list of actors alongside Jason Momoa and Patrick Wilson, including Willem Dafoe as Vulko, Temuera Morrison as Thomas Curry and Yahya Abdul-Mateen II as Black Manta.  The one thing I wanted to see from Mera was her red hair. I didn't want another Medusa from Inhumans on our hands. Luckily it was more like Ariel from The Little Mermaid.
What is disappointing are the makeup effects used to make Temuera Morrison look young at the beginning of the movie. The CGI doesn't look natural at all. On the other hand, Nicole Kidman looks fantastic throughout the movie…even when her hair turns to dreads.
There were also some real eye-roll moments that could be classified as tropes in the genre. There is the common one that seems to land in all of the action/adventure films these days. When someone is hanging from a cliff momentarily, only to be pulled to safety by the hero. There was also the silliness that was the kiss between Arthur and Mera. They are in the middle of a battle and they come together for this "epic" kiss with cannons blasting and fire blazing in the background. One of those cheesy moments that's sure to thrill the tweens as they watch.
As I rave about this film, you would think I was a total DC nerd. Don't get it twisted, Marvel is my jam, but Aquaman, like Wonder Woman and The Dark Knight before it, is a stand out comic book film. The characters are recognizable. I mean, Black Manta (Yahya Abdul-Mateen II) is spot on. There's also a reimagining that occurs which works perfectly. Aquaman isn't a white, blonde-haired man here to save the day. Mera nor Queen Alanna, the two female leads, are damsels in distress. It's refreshing and blows some other DC films out of the water…pun intended.
Personally, I'm excited to give Aquaman another watch, but in IMAX because I know some of those water scenes above and below the surface are going to be epic on the giant screen.
Aquaman premieres in theaters December 21.