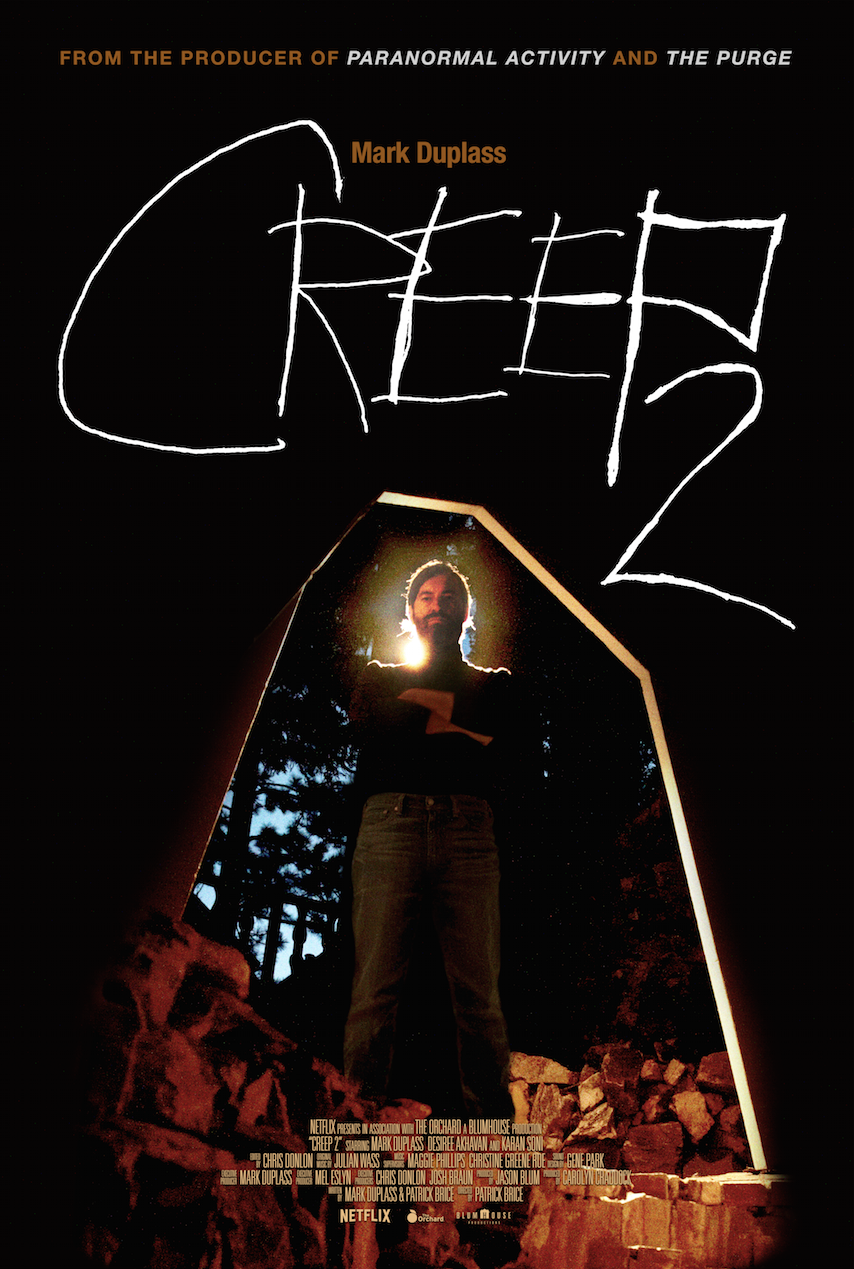 Actor and filmmaker Mark Duplass is back with another installment in his horror Cinéma vérité experiment, the straight-to-streaming sequel Creep 2. It's a bit strange and unwieldy—much like its forebearer—although it charts different scare territory as well. I'm going to mention some slight spoilers for the original, but keep in mind that this sequel is wildly descriptive of the story in the first (including a creative replay of the climax, even), to the extent that it all-but-insists you've already seen Creep. Luckily, the first is still streaming on Netflix at the time of this writing.
Creep is sort of a found-footage film, existing primarily as a showcase for Duplass' talents in a rare character type as the unhinged and deceptive serial killer Joseph. The bulk of the film focuses on his performance, though you also get asides from his documentarian Aaron (played by series co-creator Patrick Brice), a broke Craigslist-hunting filmmaker looking to make a few bucks. Ostensibly on-hand to record a last testament to his son (Joseph's dying of cancer and will not live to see his child's birth), Aaron spends a bizarre day getting to know him, documenting speeches, fatherly monologues, and even bath-time. Except, of course, all of it is a sham, with Joseph concocting an extended theatrical performance with aims to kill Aaron when it's all over.
Oddly enough, although Creep 2 presents a similar arc in many ways, it mines completely different details for its scares. Changing the victim character to a woman this time (Sara, played by the uniquely dark-humored but warily sensitive Desiree Akhavan) immediately mixes up expectations, and she frequently jockeys with Duplass' machinations and pursuit of authority. Interestingly, his character is now called "Aaron" as well, which may be his own weird way of paying homage to his victims.
I found Creep to be the pound-for-pound scarier film, but the sequel is much stranger and more provocative. Throughout the budding, disturbing friendship between Sara and Aaron, there is this migrating gauntlet of control that always risks to unravel the murder hovering above the conversations. There's also some commentary present about internet denizens and their preoccupation with strangeness and cruelty, and the resultant conclusions of Aaron's deception are arguably more disturbing than in the first film.
I want to avoid explaining the story further because there are a few considerable surprises to discover. On the whole, Creep 2 is effective and unnerving, succeeding in its subgenre of low-budget psychological horror. Centering a woman of color (Akhavan is Iranian and, interestingly, a filmmaker herself) as the targeted victim makes the whole thing unmistakably queasier to watch, and Duplass' erratic, pathological egomania is often exhausting (in a good way). It should be harder to sell this character with such a relatively recognizable actor, and yet you find yourself forgetting who he is in the film's finest moments.
Creep 2 will be available On Demand on October 24th, and is coming to Netflix soon.
Trailer below:
Leonardo Faierman
Leonardo Faierman is the senior film editor at Black Girl Nerds. Born in Buenos Aires, raised in Queens, Bar Mitzvah'd at Young Israel, buried under student loans. He writes video game, music, film, and movie reviews, as well as poetry, comic books, bad dreams and good copy. He's 1/5th of the comics podcast #BlackComicsChat and 1/2 of horror film podcast The Scream Squad.