Guest Blogger
BGN works to feature strong, unique content from writers who…
To the great delight of Star Wars fans like myself, we have the next movie extravaganza coming in December 2018, and finally they have announced the cast for the unnamed Han Solo movie. The franchise, of course, is more than just movies and excellent t-shirts (Thanks Disney!!!). I mean, I am seriously eyeing the Star Wars toaster and popcorn popper, so as to enhance my existing Star Wars sheets, blankets, and salt & pepper shakers. Media-wise, in between the movies are a variety of novels, a spectacular array of comic titles and the animated television series. For me, the universe also lives on through various video games, with the most recent release being Electronic Arts' Star Wars Battlefront II. The open beta was held from October 4-9th and BGN took some time to explore it. As the video above attests, four modes were available: strike, galactic assault, Starfighter assault and an arcade mode.
Character development is similar to the previous Battlefront, with different crates earned due to achieving tasks or gaining the next rank. The crates contain cards that can personalize your avatar's appearance, provide different weapon mods, and grant special abilities. The controls are pretty standard, but the weapons are a little interesting.  No longer can you switch to a secondary weapon, so your character choice should be strategic to your location, not just your playing style.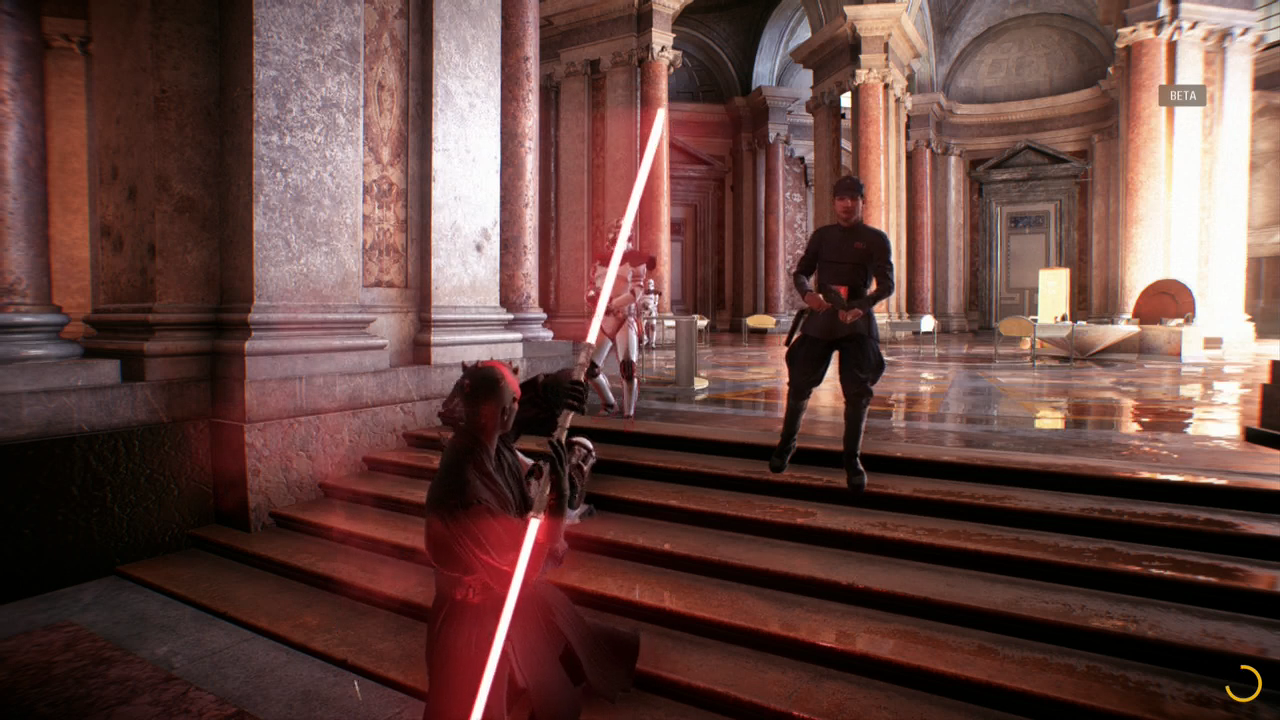 Starting with the arcade mode, I find it helpful to spend some time learning how to most effectively yield those hero abilities, as in the other modes not knowing the right button to toss your light sabre can make your opportunity very short and embarrass the rebellion or Empire as the case may be. Like before you get more points the quicker you clear the area.  The beta has added both special characters and heroes, like the welcome addition of Darth Maul. His controls remind me very much of Darth Vader's, but he is much more agile.
The strike mode is on a small map in a 10-14 player versus player objective mode, highly reminiscent of search and destroy. In the beta, one team is trying to infiltrate Maz's outpost on Takodana to obtain crucial data and escort the data to a nearby ship. Naturally, the other team is trying to protect the data. Much to my delight, the small map size eliminates the ability to do a lot of camping, but the need to maintain a more three-dimensional awareness is a must to prevent getting sniped from the towers, trees, or floating Stormtroopers. In contrast, in the first Battlefront you had the ability to go just about anywhere on the map. This version, depending on the objective has an interesting feature that restricts movement on some areas of the map. It was sometime frustrating if you were trying to flank your opponents, but I think we all know how aggravating it is to spawn and be killed before you even move. We'll see.
In the previous Battlefront, I found this mode intimidating, as the mode hounds who spent days playing only this mode would have you in their cross-hairs before you located your objective. I thoroughly enjoyed this beta, as the mode was more objective. Don't worry, the war of attrition is still a focus, but damaging or protecting ships in your battlegroup, taking out/protecting gun platforms, and destroying/protecting enemy freighters' shield generators give the mode much more depth than the dogfight and domination-based starfighter modes of the past. It really supported better gameplay that there are obvious differences and advantages in the different classes of ships available for play. The bombers can't outrun the interceptors and flying into structures still leads to player "misadventures," not that this was every experienced personally.
The main draw for the beta was the Galactic Assault mode. The huge map is back with everyone and everything available to secure/take the throne room on Naboo. The mode objectives require both teams to successfully attack or defend objectives. Air support is available, but the air map boundaries were an obstacle to setting up good bombing runs to support ground attack objectives. As indicated previously, there are movement restrictions tied to team progress, or lack thereof, toward completing objectives. This can be useful as it make it more difficult to be surprised from the rear and prevents spawn trapping. For this mode, the use of heroes can really tip a match, so the fruits of your arcade runs can turn the tide of battle.
While I seriously enjoyed the beta, the teaser for the campaign left me wanting more. Battlefront II is a good follow-up to the original by successfully updating the game with characters both old and new, pushing the need for diverse skill-sets to accomplish objectives, and adding to the Star Wars universe with a seemingly brilliant new story.  So hike up your armor and join BGN on November 17th for the release of Battlefront II.
For additional gameplay of other modes, check these out:
Written by E.Angel
E.Angel is an engineer and holds a BS in electrical engineering from North Carolina A&T State University. She's a real nerd who loves all things Star Wars and Star Trek, and is an avid gamer. E.Angel can be reached at e9of10@gmail.com or on either game platform as Bunnehs Sister.
Guest Blogger
BGN works to feature strong, unique content from writers who speak to our niche. If you are interested in having your work highlighted contact jamie@blackgirlnerds.com to be featured as a guest blogger on the site.