E.Angel
E.Angel is an engineer and holds a BS in electrical…
From the mind of Jermaine M. Boyd as illustrated by Gwynn Tavares comes the first issue of Amelia Sky.  There are a lot of good titles available on Kickstarter and we have covered a few.  So what sets this apart from the others?  Boyd definitely has a vision for his universe, in his introduction he states:
"I want to dive deep into the consequences of humanity discovering that the universe is far more aggressive and alive than we ever imagined…I have a story to tell you about a girl, evolution, and the end of the world."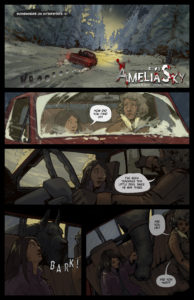 It seems like the beginning of the end, as a couple struggles with what to do with their unconscious child.  A month later the child, Amelia, awakes to find herself alone, with no memory of who she is, which leaves her and the reader wondering – who is Amelia Sky. She wanders the streets searching for herself and her parents.   In this conquered world, the few that survive run from the spider-like aliens known as the "Shriekers."  This is one of those comics that gets you with the cover and keeps you with what's inside.  Boyd was nice enough to answer a few questions for BGN.
E. Angel, Black Girl Nerds: In the first issue of Amelia Sky there are hints about the role various scientific theories play to precipitate the end of modern civilization.  Can you give us some insights into how these theories move Amelia's search for her parents?
Jermaine Boyd: I so love this question and yes I do intertwine various scientific theories of how the end of modern civilization will unfold in Amelia Sky.  But I ultimately focused on the lack of power as the underlying destroyer in Amelia's story. She lives in a world that has been thrown back to a time without electricity. The lights are out and we're left to fend on our own in the dark.  
A fight or flight survival mechanism is spawned by this theory. It not only drives Amelia to fight to see her parents again, it drives Amelia to fight for her own survival. As she progresses she realizes her survival can't exist without the help of the people she meets along her path.  Their stories become her stories, their problems become her problems and vice versa.
That's the beauty of Amelia Sky in my opinion. It's wraped in layers upon layers of scientific theories on humanity and evolution.
BGN: BGN understands that various female artists contributed to the first issue.  How was the group assembled and how were their contributions merged so seamlessly into the first issue?
JB: Yes, there were various female artists that subtly inspired the look of Amelia's world but Gwynn is the artist that deserves all the credit. Of course I have a particular vision in my head that set the stage, but Gwynn's vision, her way of telling my story really brings this world together.
When I first began transferring Amelia Sky from its television show setup to the comic book world, I knew I had to find someone who could see that the story could thrive in both platforms. I came across so many inspiring female comic book artists but there was only one that had both a film background and a comic book background. I consider myself immensely lucky to have found Gwynn through my film background. She possessed these key aspects that I knew Amelia Sky needed in order to be seen in a very serious way.
BGN: Upon her awakening, the first person Amelia meets is Eleanor Rigbi.  The similarity of the name to The Beatles song cannot be a coincidence.  Is there a significance to Eleanor's name?
JB: Yes, I grew up listening to The Beatles. They're one the many artists that inspired me to think outside the box and to be fearless with my art. They really open the door for my love for music and music is another form of storytelling. With that said, as I grew into becoming the writer that I am today music really helped amplify my talent and gave me a way to really hone in on developing my own unique way of writing.
When I was creating Eleanor I embodied her with numerous elements that inspired me to become a writer. "Eleanor Rigby" is one of my favorite songs and when it came time to settle on a name I wanted to pay homage to the song that gave me some of my fondest writer memories.
BGN: While there are some suggestions that spiders can "hear" sound, their ability to vocalize has not been demonstrated. Is there a particular reason why the aliens in the story are known as "Shriekers?"
JB: Eleanor actually coins their name from the sound that emanates from their mouths. It's both a form of communication and echolocation for them. Before I settled on their name I really drove into the question: 'What if humans didn't reach the intelligence marker of evolution first?'  Then I asked myself: 'What species could've reach this marker if given the gifts that we obtained through evolution?' Arachnids really stood out and, in my opinion, could've dominated this world if evolution would've only granted them intelligence.
I could talk forever about the "The Shriekers" and what they really are.  But I don't want to give away to many spoilers.  Let's just say that their origin story will be revealed in latter issues and readers will find out their real name.  When this occurs, I hope to blow their minds with the overarching reason why they're on Earth.
BGN: The style of the book is very reminiscent of Frank Miller's works such as 300. What motivated the style and color choices?
JB: I'm a huge Frank Miller fan and with that said I absolutely love The Dark Knight Returns.  When I was young and was first introduced to graphic novels it was the first graphic novel I ever read and my favorite might I add.  So when it came time to think about how Amelia's world would look on paper I wanted to capture the incredible realism Frank Miller uncannily brings to every story he touches.  
What makes Gwynn and I an extraordinary team is that we both a great appreciation for Miller's work, but it's not just that. We also have an eerily similar view and love for the Si-Fi/Horror genre.  This motivates us to create something very close to our hearts and it definitely shows within the pages of Amelia Sky.  We combined aspects of our own styles and they merged harmoniously.
BGN: Outside of the Kickstarter campaign, how can folks get a copy of Amelia Sky?
JB: Definitely, readers can always go to who-is-amelia-sky.com to grab a copy of Issue #1. They can also get their hands on a copy through the Kickstarter. Most of our rewards have Issue #1 included.  
BGN: The current Kickstarter campaign is intended to support publication of issue 2.  Presuming you are successful, where does Amelia end up next?
JB: …As for what's next for Amelia? In "Issue #3: The Monster Within Tells Us", the path for Amelia will continue to become darker.  She won't just have to face terrifying Shriekers. She'll discover the terrors of what's left of the human race.  This will awaken Amelia to know that the world isn't completely empty but it isn't filled with people like Eleanor.  
The web that Amelia steps in within Issue #3 not only reveals a larger world, and a larger story. It truly begins to reveal who and what Amelia Sky is.  I would say out of every issue I've written so far Issue #3 definitely stands out as a comic you'll never forget.  
The current Kickstarter campaign for Issue #2 of Amelia Sky ends September 13th. 
Written by E. Angel
E.Angel is an engineer and holds a BS in electrical engineering from North Carolina A&T State University. She's a real nerd who loves all things Star Wars and Star Trek, and is an avid gamer. E.Angel can be reached at e9of10@gmail.com or on either game platform as Bunnehs Sister. 
E.Angel
E.Angel is an engineer and holds a BS in electrical engineering from North Carolina A&T State University. In her spare time she works at her comic book store – Brainstorm Comics and Gaming - when she is not reading comic books. She's a real nerd who loves all things Star Wars and Star Trek, and is an avid gamer. E.Angel can be reached at e9of10@gmail.com or on either game platform as Bunnehs Sister.