Jamie Broadnax
Jamie Broadnax is the creator of the online publication and…
Sanaa Lathan never ceases to amaze us. The last time I spoke with the illustrious actress was during the broadcast run of the Fox series Shots Fired. In the episodic series, Lathan played Ashe Akino — an investigator working to solve the case of an unarmed white teen killed by a Black cop. Lathan came back to chat with BGN about her latest project on Netflix aptly titled Nappily Ever After. The romantic comedy is about a woman whose life changes significantly after she's forced to cut her hair. She chats about how much of an impact working on this film had on her, as well as her newest projects she has coming down the pipeline.  Lathan is due to appear in the film Native Son, based on the Richard Wright novel of the same name and The Twilight Zone which will be hosted by Jordan Peele. She also revealed Snowfall actor Damson Idris will be her co-star in The Twilight Zone.
How much of Violet in Nappily Ever After is you?
I'm very different from Violet. However, I always feel like I'm invoking the spirit of the character. I didn't have her upbringing. I kind of grew up with parents who were artists, damn near hippies in the 70s and my mother always, if anything I was the one who was like, "Mommy, put your clothes on." She was just like, "Be yourself. You're beautiful the way you are. Wear your afro puff." I think I was just very fortunate that I grew up with people who really kind of sent the message over and over that I don't necessarily need to conform. Obviously, society influenced me just as it influences everybody. There are pictures that I found of me when I was like five and Tammy my cousin had towels on our head and that was our version of our long European hair, you know what I mean?
Yep.
Of course, we were influenced. And I just love Violet and I love the story because I call it a new fairy tale for the modern woman because if you think about fairy tales they're so European-based and they're not speaking to us. When you think about Cinderella or Rapunzel or Sleeping Beauty, none of those heroines look like us. And what does that do to a little girl who is reading these or being read to? What does that tell us about what we look like? And what does that do to somebody's self-esteem and self-worth? And that's just a microcosm of what all of society is advertising.  The media is kind of inundating us with over and over again in this culture.  I love the fact that this was about saying, you know what? I am beautiful in my Blackness and her hair is a metaphor for that.
So I was very moved by the story as well when I read it.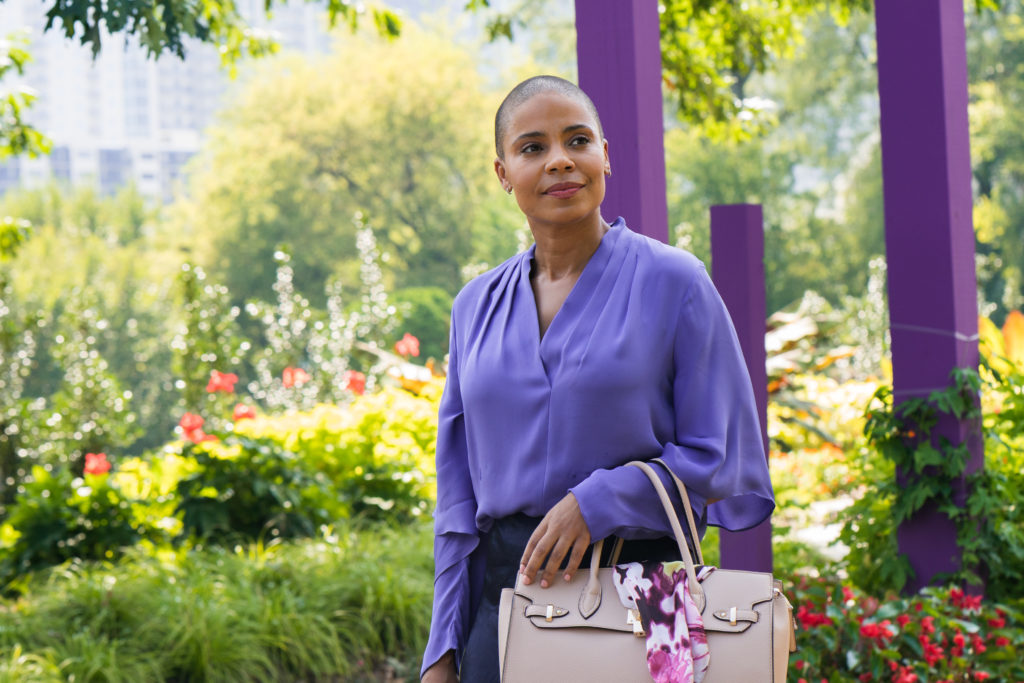 You kind of touched a little bit about this in your answer here, but have you experienced a hair journey that's had a significant impact on your life the way it did Violet in this movie?
Well definitely Violet's hair journey because it's Sanaa going through it. So it was kind of perfect timing for me — because everybody knows what it's like.  This is universal for women but for Black women, it's a whole 'nother discussion. Me being an actress in this business where I was told coming up that I needed to wear the weave and the wigs and that it should be straight. And my generation of actresses and [the ones] before me, we were basically told in so many ways that we couldn't work with our natural hair. You know what I mean?
Absolutely.
And it's so beautiful to see these actresses coming up now wearing all kind of incarnations of their natural hair now. It's really wonderful to see that reflected in Hollywood finally. But yeah. I mean, after shaving my head, it was cathartic for me as well. I was kind of in denial for a while when I was looking at the script and I was like, "Oh well, I don't really have to do it. It's the 21st century, we can find a really great bald cap. Spend a lot of money and it'll look real." I even got examples from other movies, I was like, "This one looks real." But then as I started kind of falling in love with her and really digging into her world, I realized I couldn't not do it. And so, it was terrifying.
Was that something you volunteered to do? Cutting your hair?
Well, they were suggesting it. They were suggesting it and I was like, "You do it with me." And then everybody shut up. But they were suggesting it. I knew ultimately it would be my decision.
I finally made the decision and it was a really intense day. Everybody on set was nervous as well because we knew it was one take so the whole camera department along with hair and makeup, everybody had butterflies for this one scene. Because you had one take. You can't go back because it was all my hair. And it was really beautiful because the scene took about ten minutes to do. We shot the whole ten minutes and I think four minutes of it is in the film. But everybody kind of rushed into the bathroom when actually I called cut because I was done. And they were crying and it was just really a beautiful moment on set. It's like everybody was in support and everybody kind of went on the journey with me.
It has been an interesting year. I had people say to me, "You know people hold energy in their hair and they hold memories in their hair, and when you cut your hair it's like you get a new life. You get a new chance." So it's definitely been a growth-filled, positive year. It's been amazing what the metaphor of hair in my life has done for me.
Especially for us as Black women. Do you believe Black women cutting their hair is a form of activism?
I think so. Definitely. Especially in this culture where there's just been a history of us being brainwashed to believe that it's not as beautiful or it's not "good". And it's really about self-worth, and saying I am worthy, just the way I am. And my kinky hair is powerful and beautiful as is. Do you know what I mean?
It's making a statement.
Exactly, it's making a statement. It's unfortunate that it has to be a statement but it is a statement these days.
I know you have Native Son that's coming up that also stars KiKi Layne who's appearing in If Beale Street Could Talk. Did the two of you film any scenes together, and what's been your experience working on set?
You know, I did not film any scenes with KiKi. I was really sad about that, but I did with Ashton Sanders who is just divine. He's just a wonderful talent, a wonderful person. And I'm excited to see the movie because when you come in and you play a role, a supporting role, sometimes you're kind of … you don't get to experience the other parts of the movie, so for me it'll be just such a surprise to everybody else. But I was a huge fan of the book and such an important story, and kind of tragic in a way that this story is so relevant in 2018 America. The fact that we're still dealing with the same issues.
I'm definitely looking forward to it. It was a beautiful experience for me. 
Speaking of adaptations, another project that you're working on that was recently just announced. You're set to star in Jordan Peele's adaptation of The Twilight Zone.
Yes.
At Black Girl Nerds, we're like big sci-fi geeks so it's very exciting for us.
Oh my God, I love it! Well you know, it's so funny because first of all I was a huge fan of The Twilight Zone. I haven't seen all of them but there were a couple that I just will never forget. They were always so chilling and they always had a kind of moral twist to them. Then I became a really huge fan of Black Mirror and obviously Black Mirror is heavily influenced by The Twilight Zone, right? I love the idea of Jordan Peele doing the reboot. And he's the narrator, he'll be the Rod Serling of it.
Right.
And each episode is almost like its own little movie. Each will have a different story, different cast. And I already shot my episode and I'm not allowed to give anything away.
You're in the first episode, right?
I'm in the first episode. Who knows how they're gonna lay them out. It could be the first. It's definitely the first one that was shot.
But it is…it's deep. It's chilling, it has all those The Twilight Zone kind of edge-of-your-seat chilling kind of moments. It also deals with some contemporary issues that we're dealing with today. And that's all I can say and it's great and I'm starring with Damson Idris, who is a fine young actor and we had a great time. I'm excited.
Will we see sci-fi or more horror from your filmed episode?
Both. Well, not horror. It's more like sci-fi with thriller tendencies. Gerard McMurray directed it, who's fabulous. 
What's been the most remarkable thing about working on Nappily Ever After?
We just had a blast doing it. There was a lot of love on set. It was a labor of love for everybody that kind of joined on. We got such amazing people to work with us. So the actual experience of it, I think you kind of feel it when you watch the movie. It was a really special experience, lots of laughter and fun while we were shooting.  I want to entertain but I also want to kind of do thought-provoking and inspiring work as well. And I love that so many women have voiced that they're moved by this movie. That's one of the great things about social media is that you get to see how people are responding and I am loving it. I'm loving that it's kind of starting a movement of women doing the big chop. It's just a metaphor for [women] stepping into their own power. That's awesome and I feel honored to have been a part of it.
Nappily Ever After is currently streaming on Netflix.
Jamie Broadnax
Jamie Broadnax is the creator of the online publication and multimedia space for Black women called Black Girl Nerds. Jamie has appeared on MSNBC's The Melissa Harris-Perry Show and The Grio's Top 100. Her Twitter personality has been recognized by Shonda Rhimes as one of her favorites to follow. She is a member of the Critics Choice Association and executive producer of the Black Girl Nerds Podcast.