Mel Perez
Writer. Podcast contributor. Costume design enthusiast. Lover of fantasy movies…
What's going on in the TV world?
https://www.youtube.com/watch?time_continue=2&v=sjVqDg32_8s
The first official trailer of season 2 of Westworld is out. Against the backdrop of an instrumental, moody rendition of Heart-shaped Box, Jeffrey Wright's Bernard and Evan Rachel Wood's Dolores talk about dreams and actions. War and destruction are the themes running through the trailer. Ed Harris' Man in Black promises to burn the entire thing to the ground. HBO describes the season as 'Chao takes control' and from the trailer, it looks like that is exactly what will happen. You can watch season 2 of Westworld starting April 22 on HBO.
HBO released a teaser trailer for their upcoming docuseries titled, Being Serena. The five-part docuseries "will provide viewers unprecedented access to Serena Williams during her pregnancy, new motherhood, and marriage, while documenting her journey back to supremacy on the court. Viewers will experience her life from every angle as the intimate first-person show delves into her landmark career, family life and expanding role as a businesswoman and investor in the worlds of tech, fashion, fitness, and philanthropy." One of the best athletes in the world, Williams has won 39 Grand Slam titles, four Olympic Gold Medals and the most women's singles match victories in Grand Slam history. The series debuts Wednesday, May 2 at 10 p.m. with new episodes airing on every Wednesday.
Netflix has renewed One Day at a Time for a third season. The series will return for another round of 13 episodes in 2019. From co-creators/co-showrunners Gloria Calderon Kellett and Mike Royce, One Dat at a Time is a remake of a 1970s comedy. The Latinx-themed reboot stars Justina Machado, Rita Moreno, Todd Grinnell, Stephen Toblowsky, Isabella Gomez and Marcel Ruiz. They are all set to return for the third season. The news comes after the second season received critical praise and the show creators, writers, and fans took to social media to get the show renewed. Netflix has also renewed another reboot – Queer Eye – for a second season.
Last weekend FX announced that it would no longer be moving forward with its Deadpool animated series citing creative differences. Donald and Stephen Glover were set to serve as executive producers and showrunners. On Tuesday, Donald Glover tweeted "for the record: I wasn't too busy to work on deadpool." He then tweeted pictures of 15 pages of a script he wrote for the series. It takes shots at Marvel including a line that said the company "was trying to sell toys to 7-year-old boys and 50-year-old pedophiles." At one point Deadpool asks if the series was cancelled "cause of racism?!" "All the writers were black," Deadpool continues. "And the references were pretty black too. I heard they went over the lunch budget ordering Jamaican food at least once a week." Deadpool then goes on to criticize those who claim to want change but really don't: "It just feels like everyone wants something different, but no one wants to do anything different to get it. Doesn't Marvel have enough feel-good minority shows everyone supports but doesn't watch? I mean, I think our show woulda been funny. I just wanted a place to be honest. And I guess that place is Freeform." The tweets have since been removed.
Sony Pictures Television has teamed up with Nigerian broadcaster and studio, Ebony Life. One of the three scripted television series included in the deal will be based on the Dahomey Warriors. The Dahomey Warriors were an all-female regiment that served for over 200 years in what is now the present-day country of Benin. They are considered to be one of the inspirations for Black Panther's Dora Milaje. Sony will begin developing the series soon. "Ever since our launch in June 2013, our vision has always been to change the narrative about Africa and to tell our stories from our perspective. We have invested in the creation of quality programming and the development of our people and their ideas. It is this ethos that has given us the opportunity to partner with a world-class organization like Sony Pictures Television. Now we have the opportunity to bring the fascinating story of The Dahomey Warriors, and many others like it, to audiences around the world. It has been hard work getting here, but that's what we are known for at Ebony Life. As I always say, 'If you can think it, you can do it,' said Ebony Life CEO Mo Abudu.
CBS is starting a new syndicated talk show hosted by Vivica A. Fox titled Face the Truth. It's coming out this fall and is being described as a "conflict-resolution talk show where guests reveal their problems to a panel of experts in related subjects who aim to provide constructive feedback. The studio audience then weighs in and votes on who is at fault in the situation." Bar Rescue host Jon Taffer, attorney and advocate Areva Martin, psychologist Dr. Judy Ho and actress-life coach Rosie Mercado are all set to be panelists.
The History Channel is commemorating the 50th anniversary of Dr. Martin Luther King Jr.'s death with a new documentary on the civil rights movement. Rise Up: The Movement that Changed America is being executive produced by LeBron James and Freedom Riders filmmaker Stanley Nelson. It includes interviews with Civil Rights activists, politicians and historians including Harry Belafonte, former President Clinton, Jesse Jackson, Senator Cory Booker Andrew Young, Senator Doug Jones, and Color of Change executive director Rashad Robinson. Rise Up tracks "the movement's dedication, sacrifice and commitment to change – even in the face of withering violent resistance – told by the women and men who led the way."
https://www.youtube.com/watch?time_continue=1&v=dKoIPuifJvE
A new trailer for season 2 of The Handmaid's Tale was released this week. "Is this freedom looks like?" asks Elizabeth Moss' Offred at the beginning of it. We follow a pregnant Offred on the run while her husband from before Gilead and her friend Moira fight for the Resistance in Canada. We also get a first look at the Colonies and the fate of Emily and Janine who were sent there after disobeying the rules of Gilead. Stars Joseph Fiennes, Ann Dowd, Yvonne Strahovski, Max Minghella and Samira Wiley are all returning for the second season which will explore the social and political conflicts that led to Gilead's succession from the United States, Offred's pregnancy, and her attempt to escape. You can watch the second season beginning April 25 on Hulu.
Pilot Season 2018
The Leftovers' Amanda Warren has been cast in the upcoming series The Purge out of USA Network and SYFY. She will have a starring role opposite Gabriel Chavarria and Jessica Garza. Warren will portray Jane, a dedicated and hardworking finance professional. Convinced that she's hit an insurmountable glass ceiling at her firm, she hires a Purge-assassin. The series is from the TV division of Blumhouse Productions and Universal Cable Productions. The Purge franchise is about a single day each year when all crime is legalized. Franchise creator James DeMonaco will oversee the series which will be an entirely new chapter in the franchise set to be released in conjunction with the next installment in the movie franchise, The First Purge.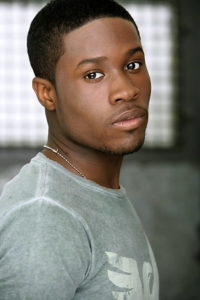 The Get Down's Shameik Moore is set to star in the pilot for the NBC's single-camera comedy Bright Futures. The series is from black-ish and grown-ish creator, Kenya Barris and grown-ish writers Hale Rothstein, Danny Segal and Isaac Schamis. Bright Futures follows a "group of friends all stumbling through the transition from the clueless, immature twentysomethings they are now to the successful professionals they're destined to be." Moore plays Aaron, one of four friends living in an apartment in L.A. After passing the bar, he has grandiose ideas of what his future will be. Ideas that are quickly put to a halt after a drinking blowout. Now he works as a personal injury attorney. Moore also starred in Dope is is the voice of Miles Morales in the upcoming Spider-Man animated film.
In Movie News…
Filming has begun on Captain Marvel. The studio released a behind the scenes photograph to mark the occasion. Directed by Anna Boden and Ryan Fleck, this will mark the 21st film in the Marvel Cinematic Universe and the first female-led one. In the picture, a pilot suit-clad Brie Larson poses in a cockpit alongside Brigadier General Jeannie Leavitt, 57th Wing Commander. Larson shadowed Leavitt at Nellis Air Force Base to prepare for her role. It was also announced this week that Lee Pace and Djimon Hounsou will be reprising their Guardians of the Galaxy roles as Ronan the Accuser and Korath in Captain Marvel. Clark Gregg's Agent Phil Coulson and S.H.I.E.L.D. will also be making an appearance in the film. They will be joining Samuel L. Jackson as Nick Fury, Jude Law as Mar-Vell, Ben Mendelsohn, Lashana Lynch, Gemma Chan, Algenis Perez Soto, Rune Temte, and McKenna Grace. Captain Marvel hits theaters March 8, 2019.
Pedro Pascal is joining the cast of the Wonder Woman sequel. Patty Jenkins is bringing him on for a key role that hasn't been specified yet. Pascal was the star of Netflix's Narcos in addition to playing Oberyn Martell in HBO's Game of Thrones. He will be joining Kristen Wiig, who was tapped to play the villain role of Cheetah. There's also a rumor that Riz Ahmed will also be joining the cast. Jenkins is returning to returning to write, direct, and produce the film. Warner Bros. is aiming for a release date of Nov. 1, 2019.
Over at Fox, the release dates for X-Men: Dark Phoenix and The New Mutants have both been pushed back. Dark Phoenix has been pushed from November 2 to February 14, 2019 in hopes of replicating the numbers Deadpool and Black Panther did. Test screenings revealed that it needed a few touch ups but they ran into scheduling conflicts with their A-list cast necessitating the pushback. The New Mutants, on the other hand, is said to be undergoing massive reshoots. This is the second time The New Mutants was pushed back. Reshoots were given as the reason for each time. These won't be small changes. It's being said that 50% of the movie may be reshot. They will also be adding one or two new characters who will be present throughout the entirety of the film. It's moving from February 22 to August 2, 2019.
Lakeith Stanfield and DeWanda Wise are currently in talks to join the cast of Someone Great. Wise might play the third female lead, starring alongside Gina Rodriguez and Brittany Snow. Jennifer Kaytin Robinson (MTV's Sweet/Vicious) is directing from her own screenplay. The film follows a young woman, played by Rodriguez, who suffers a devastating breakup. She decides to seek adventure in New York City with her two best friends before she moves across the country for her dream job. Stanfield will play the ex-boyfriend. The story explores love, loss, growing up, and above all, the everlasting bond of female friendship. Wise is the star of Netflix's She's Gotta Have It which was renewed for a second season earlier this year. Stanfield can next be seen in theaters this summer in Sorry to Bother You.
Speaking of Netflix, they earlier announced a Carmen Sandiego animated film for 2019. Jane the Virgin's Gina Rodriguez would be voicing her. Now Netflix has acquired the rights for a live-action feature film of Carmen Sandiego. Once again they have attached Rodriguez to play the title character. Rodriguez will produce Carmen Sandiego through her I Can and I Will productions alongside Kevin Misher and Caroline Fraser who will also produce. The film is currently being described as a standalone Carmen adventure that will embrace the beloved '90s property. No writer or director is currently attached to the project.
There's a trailer out for The Darkest Minds, the YA book adaptation from director Jennifer Yuh Nelson. Based on Alexandra Bracken's YA novel of the same name, the film stars Amandla Stenberg. In the near-future dystopian film, a disease has killed off 98 percent of children. When some of the survivors begin developing powers they can't control, the governments deems them dangerous and sends them to internment camps. Ruby Daly (Stenberg) was sent to one of these camps. She escapes with a group of teens and ends up starting a revolt. Stenberg is no stranger to YA book-to-movie adaptions with roles in The Hunger Games and Everything, Everything, and the upcoming The Hate U Give. The Darkest Minds hits theaters August 3.
Finally, Whoopi Goldberg is joining the cast of Tyler Perry's comedy The List. Tiffany Haddish, Tika Sumpter, and Omari Hardwick will also star. Haddish will play a woman who reunites with her sister after being released from prison. Sumpter will play the sister is who is in an online relationship with a man who is possibly catfishing her. Perry is directing and producing from his own script.
If you have anything I missed, email me at mel@blackgirlnerds.com or tweet me at @jane_anon. Check back in next Monday for all the exciting news happening next week.
Mel Perez
Writer. Podcast contributor. Costume design enthusiast. Lover of fantasy movies from the 1980s and bizarre deep sea creatures. Can be found tweeting about comics, Yuri on Ice, Doctor Who or Star Wars at @jane_anon or on the Nerds of Prey podcast.