https://www.instagram.com/p/BYrNcwmjxp1/?taken-by=sanaalathan
Want to see what BGN was up to at DragonCon? Keep your eyes posted to our DragonCon tag.
What's going on in the TV world?
https://twitter.com/ToyaDelazy/status/905810435722665986?ref_src=twsrc%5Etfw&ref_url=http%3A%2F%2Fnerdist.com%2Fpowerpuff-girls-fourth-member-cartoon-network%2F
Great news for everyone who grew up loving Cartoon Network's The Powerpuff Girls, a new member is joining our crew of crime fighting super girls. Voiced by South African singer Toya Delazy, the new member will make her debut in the five part event, The Powerpuff Girls: Power of Four. Tune in September 17 at 5:30 ET. Keeping on with the cartoon news, the trailer The Magic School Bus Rides Again is out. The updated theme song is by the amazing Lin-Manuel Miranda. The series will premiere September 29 on Netflix.
Netflix is also producing a new anime series. Neo Yokio stars Jaden Smith as a demon slayer and features voices by Susan Sarandon, The Kid Mero and Desus Nice, Jude Law, Willow Smith and Amandla Stenberg. The 6 episode first season and will premiere on Netflix September 22.
https://www.youtube.com/watch?time_continue=1&v=hwc6fTnsdBI
Gina Rodriguez, star of Jane the Virgin, is developing not one but two series about the Latinx community through her I Can & I Will production company. The first is a drama set to premiere on CBS. Have Mercy is based on the German series Dr. Illegal and follows a Latina doctor immigrating to Miami. Unable to practice legally, she opens a clinic in her apartment to serve her community. The second will be a CW dramedy called Rafael. The titular character is a teenager who discovers he is undocumented. It's based on the life of Jane the Virgin writer, Rafael Agustin, who will also serve as co-executive producer and writer for the series.
Finally, check out the promo for Scandal's final season below:
In Movie News…
BGN is currently wrapping up our coverage of the Toronto International Film Festival. Make sure you check out our TIFF tag to see all of it.
From director Haifaa Al-Mansour, Netflix's original film Nappily Ever After stars Sanaa Lathan as Violet Jones, a woman who begins to re-examine her life after an accident at the hair salon. Earlier this week Lathan posted her post-big chop video. American Gods star (and Universal FanCon guest) Ricky Whittle and Lyriq Bent have also been cast as her love interests.
The cast of Night School continues to grow. Yvonne Orji, best known as Molly Carter on Insecure, joined the cast which includes Kevin Hart and Tiffany Haddish. Girls Trip's Malcolm D. Lee is directing.
Thankfully Chewing Gum won't be the last we'll see of Michaela Coel. Netflix, in their largest purchase of a British property, gained the rights to the musical Been So Long, a romance starring Coel as a young single mother who meets a handsome stranger, played by Arinzé Kene. The musical is based on play by by Ché Walker and Doctor Who's Arthur Darvill. On the other side of the pond, Atlanta's Brian Tyree Henry is returning to Broadway. He will star along side Chris Evans and Michael Cera in Second Stage Theater's production of Lobby Hero. Set in the lobby of a Manhattan apartment, the main characters grapple with a murder investigation taking place there.
After his massive success with Get Out, Jordan Peele is teaming up with Spike Lee to tell the story of a black police officer who infiltrated the KKK. Black Klansman will star Baller's John David Washington. Peele and Lee will co-produce with Lee directing the movie.
OutKast's Andre 3000 is joining High Life. From French director Claire Denis, the science fiction film is based on a script by Zadie Smith and stars Robert Pattinson.
Perhaps the biggest news this week, outside of Hollywood's dismal summer box office returns, was that the director of Star Wars Episode 9, Colin Trevorrow, is leaving the production. In a statement released by Disney, they said the following of the parting:
"Lucasfilm and Colin Trevorrow have mutually chosen to part ways on 'Star Wars: Episode IX. Colin has been a wonderful collaborator throughout the development process, but we have all come to the conclusion that our visions for the project differ. We wish Colin the best and will be sharing more information about the film soon."
According to Variety's sources, disagreements over the script seem to be once again the reason for this split. The most recent version of the script was written by Trevorrow and Derek Connolly. Last month Jack Thorne was brought in to 'polish' the script. Whether polish meant make a few changes or re-write it completely is unknown. Based on Trevorrow's exit, I'm guessing it was more of the latter. Trevorrow is best known as the director Jurassic World.
This was a great week for Ava DuVernay. She made the cover of Time magazine in their Firsts series highlighting female leaders. DuVernay was the first black woman to direct a film nominated for a Best Picture Oscar. In Saturday's Creative Arts Emmys, her documentary 13th won four awards: Writing for Nonfiction Programs, Outstanding Motion Design, Outstanding Documentary or Nonfiction Special, and Outstanding Original Music and Lyrics for "The Letter to the Free." Common, who wrote and performed "The Letter to the Free" is one Tony away from an EGOT.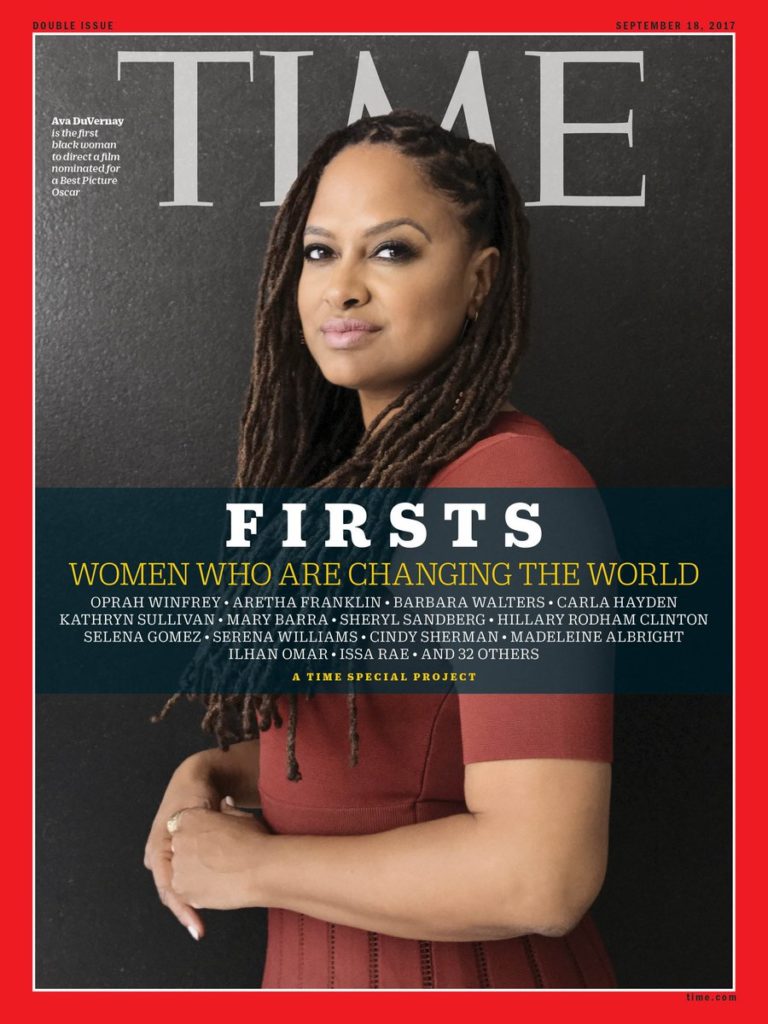 Also on the Disney front, they announced they're moving their Marvel and Star Wars properties to their new streaming service which launches in 2019. In news that spread far and wide over twitter, mostly for mocking purposes, Billy Magnussen was cast as a brand new character in Disney's live action Aladdin. Yes, a white actor has been added to a story about people of color. I wish this was surprising but Hollywood has long since made it clear that they don't believe people of color led films will succeed without a white face. Magnussen at least has musical experience having sung opposite Chris Pine in Into the Woods. Aladdin will be directed by Guy Ritchie.
Finally, Entertainment Weekly gave us the first peak at Rami Malek brilliantly channeling Freddie Mercury for the biopic Bohemian Rhapsody. Thor Ragnarok dropped several character posters that reveal a beautiful rainbow when put together and a new trailer.
If you have anything I missed, email me at mel@blackgirlnerds.com or tweet me at jane@anon. Check back in next Monday for all the exciting news happening next week.
Mel Perez
Writer. Podcast contributor. Costume design enthusiast. Lover of fantasy movies from the 1980s and bizarre deep sea creatures. Can be found tweeting about comics, Yuri on Ice, Doctor Who or Star Wars at @jane_anon or on the Nerds of Prey podcast.