Mel Perez
Writer. Podcast contributor. Costume design enthusiast. Lover of fantasy movies…
What's going on in the TV world?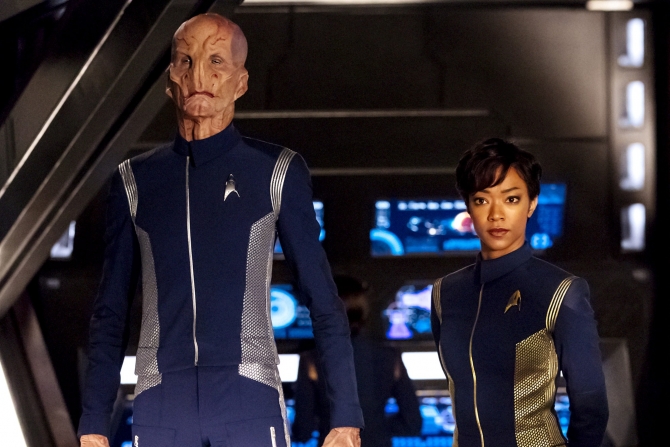 The wait for the premiere of Star Trek: Discovery has seemed endless. The date of the premiere was pushed back multiple times. Finally, we all had the chance to see it last Sunday night and it was amazing. In case you were wondering how the premiere did, 9.6 Million people watched. CBS expects 15 million with seven-day delayed viewing. It also spurned a record number of signups for their streaming service. Not bad for a franchise helmed by a Black woman serving under an Asian female captain. Check out BGN staffer Monique Jones' article on how much Sonequa Martin-Green's Michael Burnham meant to her.
Iron Fist's Lewis Tan is joining the cast of Into the Badlands as a recurring character. I can't help but feel like BGN played a part in making this happen. Tan will play Gaius Chau, the younger brother of the icy and deadly Baron Chau. Gaius was imprisoned by her after trying to free her cogs and will play a reluctant warrior in her battle against the Widow. Westworld's Sherman Augustus, Guerrilla's Babou Ceesay, and Clique's Ella-are also joining the cast as series regulars. Game of Thrones Charles Chapman will play another recurring character.
In the realm of martial arts shows, though this isn't one we asked for, Fox is bringing us a reboot of Kung Fu. David Carradine starred in the original which aired from 1972 to 1975. The white David Carradine played the half Chinese Kwai Chang Caine, a Shaolin monk traveling through the Old West. The casting wasn't the only issue with this show. It has long been said that the original idea was stolen from Bruce Lee. In the reboot, the lead will be a woman named Lucy Chang searching for her lost child in 1950s America. She will team up with a Korean War veteran. Given the history of Kung Fu, it's entirely possible that Lucy will be played by a white actress. Let's hope Fox has learned from the series of whitewashing disasters and pick an Asian actress. Justin Lin, director of Fast & Furious 6 and Star Trek Beyond, had a few words to say about this reboot. Want to know more about Warrior, check out my article.
Saw that they are remaking KUNG FU, the idea they stole from @brucelee.
About to start production on WARRIOR- Bruce's original idea.
GAME ON!

— Justin Lin (@justinlin) September 29, 2017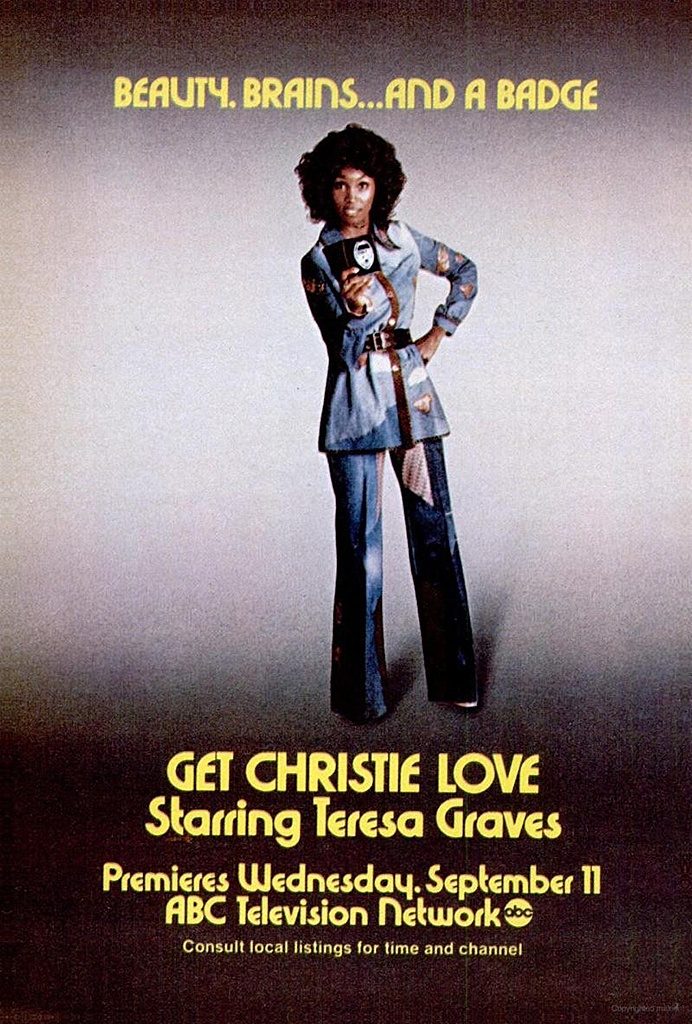 More reboots are on the horizon.  Courtney Kemp, the creator of Power, Debra Martin Chase producer of The Princess Diaries and Courage Under Fire and Vin Diesel are teaming up to reboot Get Christie Love. Originally a 1974 ABC TV movie that was turned into a series, Get Christie Love was the first American drama series helmed by a Black woman. Sadly, it was the only series until Kerry Washington in Scandal. According to the Hollywood Reporter, the series is "an action-packed, music-driven drama that centers on Christie Love, an African-American female CIA agent who leads an elite ops unit. She transforms into whomever she needs to be to get the job done, especially when it's down to the wire and the stakes are life and death. The high-adrenaline missions of the series are anchored by an emotional mystery about Christie's first love — unearthing the truth about this relationship will be the biggest mission impossible of her life." Check out THR article to see a scene from the original.
After Donald Glover was cast in the untitled Han Solo movie and then The Lion King, the second season of Atlanta seemed to be moving further into the future. Finally, we have some good news! According to Atlanta Magazine, season 2 started filming on the 20th. For my Atlanta people, they've filmed in Mechanicsville, Eastpoint and Southlake Mall. Netflix's Nappily Ever After, a movie I mentioned in previous News Beats, is also filming in Atlanta along with Night School and Ant-Man and the Wasp.
Amazon has just picked up three big futuristic sci-fi projects. Joe Cornish, the writer for Ant-Man and Attack the Block, was adapting Snow Crash for film but now will be adapting it into an hour-long drama series for Amazon. Snow Crash is a novel by Neal Stephenson about a pizza delivery guy/hacker who plays a warrior prince in a virtual reality game. Before they even start talking about casting, let's make it clear that the main character is half Black and half Korean. Don't mess this up, Amazon. Amazon is also adapting Larry Niven's Ringworld, a story about a 200-year old man a young woman who leaves Earth to explore an artificially created world and Greg Rucka's Lazarus which is like a futuristic Game of Thrones where each family has an almost impossible to kill soldier fighting their battles.
Finally, in who asked for this news, Lee Daniels is making a series about black women in journalism. There are no other details on this series as of now including whether or not it will join his other shows, Empire and STAR, on Fox. As a palate cleanser, look at these cute pictures of the Family Matters cast as they are now.
Family Matters: Exclusive Cast Reunion https://t.co/Wvo8R01wlT

— Entertainment Weekly (@EW) September 27, 2017
In Movie News…
Annihilation released their first trailer. Check out our write-up on it here.
Tarell Alvin McCraney, the playwright for Moonlight, is now working on a musical for Disney. Currently titled Cyrano the Moor, it will be a mashup of Shakespeare's Othello and the French play Cyrano de Bergerac. David Oyelowo is set to star in and produce the musical with his wife Jessica Oyelowo and Yoruba Saxon.
Straight after directing Mudbound, Dee Rees onto a new project – adapting The Last Thing He Wanted by Joan Didion, a tale of a Washington Post reporter who gets caught up in a world of conspiracies and arms dealing. Marco Villalobos is writing the screenplay.
Hollywood is continuing on the reboot/remake/adaptation train. The sequel to Coming to America is still happening. The good news is that the script is being rewritten by Black-ish creator Kenya Barris. It's being directed by Jonathan Levine who also directed Snatched and 50/50. The writing team behind Iron Man and Transformers: The Last Knight, Matt Holloway & Art Marcum, are working on a spin-off of Men in Black. Will Smith and Tommy Lee Jones probably won't be back for it. The remake of Charlie's Angels is shopping around for stars. Elizabeth Banks has already signed on as the director. Lupita Nyong'o and Kristen Stewart are both being considered.
J.J. Abrams' Bad Robot and Paramount Pictures will be making a live-action version of Japanese anime, Your Name. They will be working with producers of the animated film, Toho Co. Ltd. Yoshishige Shimatani, CEO of Toho Co. said of the project, "We are excited to collaborate with an extremely talented team in Hollywood and to create with them a live-action version of the iconic Japanese film 'Your Name.'" Hollywood adaptations of anime have so far been awful this year. Let's see how this fares. Eric Heisserer, who wrote the screenplay for Arrival, will be writing. Your Name is about a teenage boy and girl who discover that they can switch bodies. You can read our review of it here.
Speaking of Arrival, its director Denis Villeneuve is moving on from Blade Runner 2049 to Cleopatra. The movie will be based on Cleopatra: A Life, a bestseller by Stacy Schiff. David Scarpa will write the screenplay. This movie has been in the works for years. Angelina Jolie was once rumored to play the titular character. If this iteration of it makes it out of the production graveyard, I will be very interested in who is cast as Cleopatra.
Sony's Venom movie continues to add to their cast. Tom Hardy is starring in the film which will be directed by Ruben Fleischer. Recent Emmy winner, Riz Ahmed is also attached to the project. Now Michelle Williams is in talks to star as Hardy's possible love interest. In case you're wondering, this movie will not tie into Spider-man: Homecoming. Avi Arad, a familiar name from Marvel movies, will be producing the film along with Matt Tolmach and Amy Pascal. Jumanji's Scott Rosenberg and The Dark Tower's Jeff Pinkner will write the script. Though the casting and script writing choices seem strange, I'm still willing to give this movie the benefit of the doubt.
Finally, check out the cool new poster for Pacific Rim: Uprising.
Up next! pic.twitter.com/YVROeCBUFu

— John Boyega (@JohnBoyega) September 26, 2017
If you have anything I missed, email me at mel@blackgirlnerds.com or tweet me at jane@anon. Check back in next Monday for all the exciting news happening next week.
Mel Perez
Writer. Podcast contributor. Costume design enthusiast. Lover of fantasy movies from the 1980s and bizarre deep sea creatures. Can be found tweeting about comics, Yuri on Ice, Doctor Who or Star Wars at @jane_anon or on the Nerds of Prey podcast.