Mel Perez
Writer. Podcast contributor. Costume design enthusiast. Lover of fantasy movies…
What's going on in the TV world?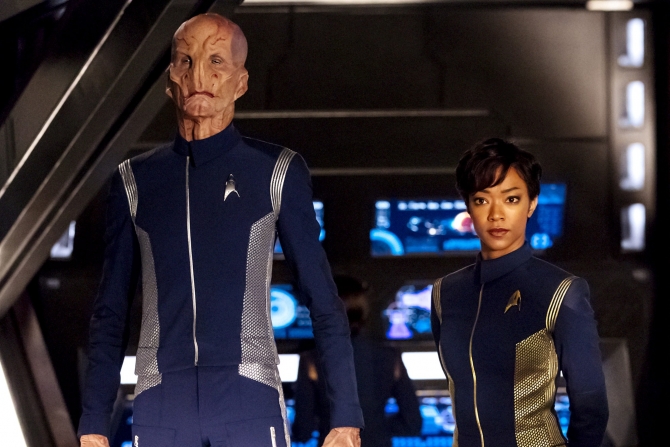 There was concern about how Star Trek: Discovery would fair airing only on CBS All Access. That concern can now be put to rest. The show is doing well enough that it has be ordered for a second season. The only negative is that the second season might not air until 2019. Given the expense of the show and the gorgeous visuals, that does make sense. The president and chief operating officer at CBS Interactive said:  "In just six episodes, Star Trek: Discovery has driven subscriber growth, critical acclaim and huge global fan interest for the first premium version of this great franchise. This series has a remarkable creative team and cast who have demonstrated their ability to carry on the Star Trek legacy. We are extremely proud of what they've accomplished and are thrilled to be bringing fans a second season of this tremendous series."
We have a new trailer for Netflix's Punisher and more importantly a release date. Check out our write up of it here. To see the continuing dark and no doubt bloody adventures of Frank Castle, tune into Netflix November 17th.
Disney is in the process of pulling all of their animation from Netflix, but the streaming giant won't lack in the animation department. By the end of 2018, they plan on adding 30 original anime. That's not only thing coming to Netflix. They also plan to add 80 original movies. Ted Sarandos, Netflix's chief of content, said he eventually wants the streaming service 50 percent original content by the end of 2018.
According to Deadline Ryan Potter, best known as the voice of Hiro in Big Hero 6, has just been cast as Beast Boy in Warner Bros. TV's digital series Titans. He joins Brenton Thwaites, Anna Diop and Teagan Croft who will be playing  Dick Grayson, Starfire and Raven respectively. Titans is being produced by CW alum Greg Berlanti, DC Comics creator Geoff Johns, Akiva Goldsman and Sarah Schechter.
Gail Simone and Cat Staggs's Crosswind is coming to the small screen. This Image comic is described as a "slick and ruthless Chicago hitman. A smart but downtrodden Seattle housewife. When an inexplicable event strikes these two random strangers, their bodies, souls, and lives are switched to potentially deadly effect. It's Freaky Friday meets Goodfellas!" The show is being produced by Vanessa Piazza and her company Piazza Entertainment. Piazza is best known for producing SyFy's Dark Matter and Lost Girl. Simone will serve as an executive producer while Staggs will be a consulting producer.
Comedy Central has picked up the pilot South Side for series. South Side comes from former Late Night with Jimmy Fallon writers and performers Diallo Riddle and Bashir Salahuddin. The two will write the series along with Bashir's brother Sultan Salahuddin. Bashir Salahuddin also wrote for Glow and Riddle for Marlon. South Side, which is a working title, is set in a rent-to-own store in the Englewood neighborhood of Chicago. The show will focus the trials and tribulations of two life-long friends trying to better their lives. They plan to draw their cast from Chicago actors.
Comedian Wyatt Cenac will star in a 10 episode HBO docu-series covering social and cultural issues. For more on this series, read our article on it. Also check out our breakdown of who's coming back for the new Allstars season of RuPaul's Drag Race.
Aline Brosh McKenna and Rene Gube are teaming up again to bring a new comedy to CBS. According to Variety, the series which is currently titled Big Men follows "an Asian-American rookie professional basketball player who dreams of a baller lifestyle. But standing in his way are his 13-year-old twin sisters whom he co-parents with his overbearing immigrant father." McKenna and Gube will serve as both writers and executive producers for the show. McKenna is a writer and the show creator of The CW's Crazy Ex-Girlfriend. Gube plays Father Brah on Crazy Ex-Girlfriend as well as serving as a writer, co-producer and executive story editor for the show.
Lena Waithe is keeping busy after her historic Emmy win. This week she dropped the trailer for her new drama series The Chi. The show will air on Showtime and is being co-produced by Waithe and Common. It's a coming of age story that follows multiple characters in Chicago's south side.
https://twitter.com/lenawaithe/status/920706347141705728
In Movie News…
Finally we have a name for the untitled Han Solo movie. Principle filming has wrapped. To celebrate director Ron Howard took to Twitter to make the announcement via video. The Star Wars spin-off will be called Solo: A Star Wars Story. A little anti-climactic but still better than calling it the untitled Han Solo film. The movie stars Alden Ehrenreich as the titular character. Joining him are Donald Glover as Lando Calrissian, Joonas Suotamo as Chewbacca and Woody Harrelson as Han's mentor. Thandie Newton, Emilia Clarke, Phoebe Waller-Bridge, Paul Bettany, Warwick Davis, and Clint Howard play undisclosed roles. Solo: A Star Wars Story will be released on May 25, 2018.
Hey #Twitterville we just wrapped production so here's a special message #StarWars pic.twitter.com/8QJqN5BGxr

— Ron Howard (@RealRonHoward) October 17, 2017
Lone Wolf And Cub, the classic manga series by Kazuo Koike, is getting a live action adaptation from Paramount studies. The story follows a disgraced assassin who is forced to flee with his infant son after their family is murdered. Over 28 volumes the two go on an epic quest of revenge.  Justin Lin, Marissa McMahon and Kamala Films are producing the film. Lin is also looking to direct. This adaptation follows a series of small and big screen anime adaptations, most of which have been mediocre at best. Here's hoping Lin can break this trend.
The Predator has found a new way to release its poster. The Predator is neither a sequel or prequel to the other movies, instead existing in the same universe. The cast features Sterling K. Brown, Trevante Rhodes, Edward James Olmos, Olivia Munn, Alfie Allen, Boyd Holbrook, Thomas Jane, Jacob Tremblay, and Yvonne Strahovski.
The Boy Who Harnessed The Wind by William Kamkwamba and Bryan Mealer is being adapted into a movie written, starring and directed by Chiwetel Ejiofor. The book follows Kamkwamba as a 13 year old who is forced to leave his school after he can no longer afford it. He later finds a way to build a windmill out of scrap material that ends up saving his village from famine. Kamkwamba will be played by Maxwell Simba and Ejiofor will play his father. Chiwetel said of the project:
"William's story represents what has to be the future in countries like Malawi: developing countries, overflowing with beauty, and with potential [that] simply needs access to opportunity in order to be fully unleashed. William's determination and inventiveness created something that not only meant the end of the 'hungry season' for his community, it also catapulted him into a future where all his potential could be realized. I want this to be a film that allows people to see that Malawi, and the world, will be all the better for everything William and those like him are able to contribute when they have the opportunities they urgently need to carve out their own extraordinary destinies."
The Hellboy cast continues to grow. Sophie Okonedo, star of The Hollow Crown and Hotel Rwanda, has just joined the cast in an unnamed role. David Harbour plays the titular character and Milla Jovovich will play the Blood Queen. Daniel Dae Kim was recently cast as Ben Daimio. Rounding out the cast are Brian Gleeson, Alistair Petrie, Ian McShane and Penelope Mitchell. The film will be directed by Neil Marshall.
Riz Ahmed, who recently won an Emmy for his role in HBO's The Night Of, is gearing up for his next role and it's going to be a classic one. He is set to star in a contemporary adaptation of Hamlet for Netflix. He is developing it with his college friend and writer Mike Lesslie. According to Deadline it will be set "in a modern-day London of economic and political uncertainty, the story follows the intersecting themes of familial honor, moral duty and dynastic corruption."
Finally in literary news, Viola Davis is adding children's book writer to her long list of titles. She is working with Viking Children's Book to write a sequel to the beloved children's book Corduroy by Don Freeman. The sequel, which is entitled Corduroy Takes a Bow, is illustrated by Jody Wheeler and will be released on Sept. 11, 2018 to commemorate original book's 50th anniversary.
If you have anything I missed, email me at mel@blackgirlnerds.com or tweet me at jane@anon. Check back in next Monday for all the exciting news happening next week.
Mel Perez
Writer. Podcast contributor. Costume design enthusiast. Lover of fantasy movies from the 1980s and bizarre deep sea creatures. Can be found tweeting about comics, Yuri on Ice, Doctor Who or Star Wars at @jane_anon or on the Nerds of Prey podcast.