Here is this week's Reality Round-up! Remember, if you'd like to be a contributor and gush about your fave reality shows, shoot me an email at connie@blackgirlnerds.com.
July 22
Biggest Jaw-Dropper

Braxton Family Values
Toni Braxton finally introduces the world to her new boo – Birdman. That's right, Birdman. By now, we have all seen the hilarious memes of the two of them together at an award ceremony. But I still just cannot wrap my mind around it. They seem like complete opposites. Still, Toni says that they have been close friends for at least 15 years and that he is a great guy. The rest of the Braxton sisters don't seem to be against the idea of the two of them together. If I had to make a prediction, I don't see the relationship lasting very long. But hey, stranger things have happened…
SMH Moment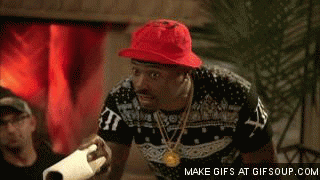 Marriage Bootcamp
During an exercise, Memphitz shares with the group that his father was killed by a KKK member. He admits that he believes this horrible tragedy is at the root of his anger problem. It was a very emotional moment that gave us a deeper look into the person that is Mickey Wright Jr. aka Memphitz. Upon further investigation, I learned that the man who killed his father was initially only sentenced to 15 years for the murder. However, the case was later picked up by the feds because it was deemed to be a racially-charged (hate) crime. The killer was later sentenced to life in prison. It's great to learn that justice was eventually served in this case, but it will not bring this man back. Hopefully, this experience at Marriage Bootcamp will help Memph to continue the healing process and get his life straight.
Best BFF Moment

Love and Hip Hop Atlanta
I love the big sister-little brother dynamic between Tammy and Scrappy. Tammy and Scrappy have a heart to heart talk about The Bam aka Bambi. Even though Tammy is going through her own drama (separation from Waka), she makes time to give Scrappy some real talk. She tells him that love is unselfish and he should want Bambi to be happy, whether or not it's with him. She continues by saying that if he can bring her that happiness, then go for it. But if he can't, he needs to let her go. Well said Tammy, well said.
Pettiest Moment

Love and Hip Hop Atlanta
So while Karlie Redd was still reeling from Lyfe's almost-marriage proposal with that bootleg engagement ring, Jessica Dime decided to kick her while she was down. Jessica seems hell bent on making sure that Karlie does not want to be with Lyfe. She claims she just trying to protect her friend, but this next move makes me question her motives. She invited Karlie to her photoshoot; the same photoshoot that she invited two other young ladies to. One of the ladies, Bianca, said that Lyfe got her homegirl (Indiya) pregnant. The other young lady, Indiya, then chimes in to admit that she has Lyfe's baby and the baby was conceived during Karlie and Lyfe's relationship. Indiya then presents Karlie with a copy of the paternity test. For some reason, a brief scuffle happens between the two women, all while Karlie calls Indiya thirsty for walking around with a paternity test. Why are you mad at Indiya, Karlie? Be mad at Lyfe for not keeping things 100 with you.
July 29
Shadiest Moment
Braxton Family Values
Trina's ex-husband, or was-band, Gabe seems to feel that he made Trina, her brand, and her career. He basically tells her that he helped to nurture her career and sacrificed so that she could develop her career. Uh, bitch swerve. Trina quickly reminded Gabe that she was already Trina Braxton by the time they met, and she was already a professional singer with a career. Why does Gabe keep trying to take all the credit for Trina's success? And as far as sacrificing so that she could develop her career, isn't that what married folks do for each other? I am quite sure that she did the same for him, because according to Trina, Gabe was not nearly as successful when they first met. So Gabe truly needs to gone and have several seats.
Biggest Jaw-Dropper
Love and Hip Hop Atlanta
We all knew that Tommie had issues – she's an angry alcoholic. However, I don't think we quite knew how deep her issues ran. This past week, Tommie decides to go to therapy to deal with her issues, including the incarceration of Scrapp. First off, the girl shows up to therapy clearly intoxicated. The therapist asks her about this, and Tommie dismisses her as if this is not a big deal. Sure, everyone shows up to therapy drunk. But soon after, Tommie begins to open up. She talks about her rocky relationship with her dad – how he denied her, went to prison for 17 years, then, within a year of release, he passed away. Tommie goes on to admit that she has been in and out of jail, and that she gave birth to her first baby in county jail. She also talks about going to juvenile detention centers and group homes as a child. I'm not saying that all of these events are a great excuse for her behavior, but I definitely sympathize with her now.
Sweetest Moment

Love and Hip Hop Atlanta
Scrappy decided to take Tammy's advice and give Bambi his last name. Scrappy proposed to The Bam in a beautiful setting in front of their family and friends, and she said yes! I sincerely hope that Scrappy doesn't fuck this up. Bambi seems to truly love him, despite his many flaws. Not to mention she has a pretty great relationship with his (and Erica's) daughter, Imani. Even Momma Dee has given them her blessing. I wish them a long, happy life together.
Anique Toussaint is a Brooklyn native living in Atlanta. When she's not working or volunteering, she's watching cartoons while enjoying cookies and wine. She's a mom 24/7 and enjoys plotting world domination with her awesome kid.