This week's Reality Round-up is here! Check out the categories and moments below. If you want to participate, email connie@blackgirlnerds.com with the subject "BGN Reality Round-Up."
February 14-21
Shadiest Moment
Ashlee: Real Housewives of Atlanta
This week, Cynthia Bailey shot the commercial for her new eyewear in Jamaica. Cynthia chose Kim Fields over Kenya Moore as director for her "mercial," which apparently Kenya is still bothered by. Girl, it's Kim Fields — she has a list of receipts long as my dining room table — she played Tootie for goodness sakes, no further explanation needed. At the "mercial" wrap party later that night, the ever so salty Kenya Moore begins to throw shade at Kim's husband, who is a Broadway singer and dancer…..Kenya, now explain to me what exactly you do besides try to stay relevant….I'll wait? Anywhoo, Kenya goes on and on about how Kim husband, Chris is gay and how all her industry folks refer to him as Chrissy. I'm still trying to figure out what industry folks she's referring to since I haven't seen her in anything that wasn't a straight to Netflix movie, but whatever girl can't beat 'em or join 'em…shade 'em!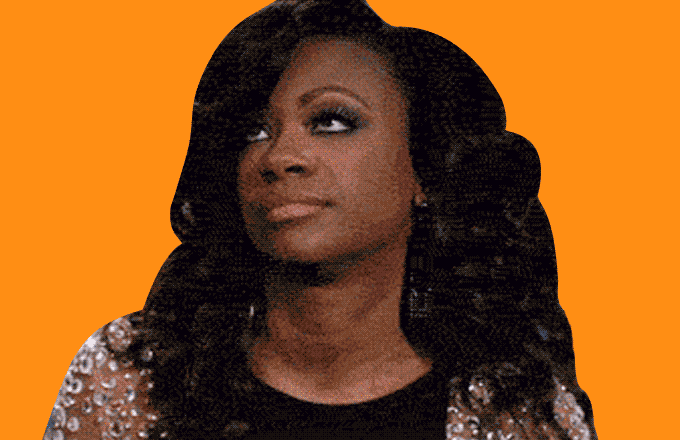 Anique: Mob Wives
I never thought I would say this, but Drita has become shady, manipulative, and, dare I say it – disloyal. Previously one of my favorite Mob Wives, Drita has become the puppet master and poor, unsuspecting Brittany is the puppet. Everyone can see it except Brittany. Drita seems to get Brittany to do her bidding by hyping her up and turning her against the women that she dislikes (Karen and Prissy Marissy). Of course, Drita denies that this is the case, but I find it highly suspicious that Brittany, new to the group, has beef with the two women that Drita also has beef with. The worst part is that Karen brought Brittany into the group and now they are being split apart. Their families have a long history together, so hopefully Brittany will see Drita for who she really is before it's too late.
In other news: Fan fave Angela "Big Ang" Raiola lost her battle with cancer this week. RIP Big Ang – you will definitely be missed.
Pettiest Moment
Ashley: Little Women of Atlanta
Minnie had an all-girls birthday party on this week's episode. Even though Minnie planned for there to be no more drama in this dancery, things quickly changed once Juicy showed up.  Juicy previously went out to lunch with Bri and Emily hoping to get the 411 on Minnie upcoming birthday party; and they fell right into Juicy's trap, giving up all the deets. So eye rolls and strange looks were on the girl's faces when Juicy sashayed herself in the party like she was invited knowing good and hell well that Minnie didn't like her. Minnie, who vowed to have a drama free night, played it cool even when Juicy kept making snide comments. However Minnie's friend Monie? Not so much. Monie didn't take to kindly to Juicy inviting herself or about the fact she keeps insulting her friend at her own birthday party. Needless to say from this moment on, it was on and popping between Monie and Juicy… Welp! There goes Minnie's hopes of a drama free birthday. Can't we all just get a long?!?!?
Anique: Total Divas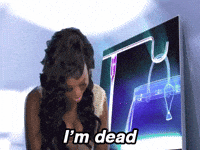 Alicia Fox and Paige are tasked with planning Rosa Mendes' baby shower. These women need to buy a clue. They come up with the idea of hosting a "haunted" gothic-themed baby shower. Rosa does not get on board with this idea, but Alicia seems to think that this is her shower so she'll do what she wants. Things really get crazy when Rosa advises that she will be 6-months pregnant at the time of the shower and won't be able to travel from L.A. (her home) to Jacksonville, FL (Alicia Fox's home). She asks Foxy if she can host it in Cali instead because it will be more convenient for her and her family and friends. Alicia actually gets angry with Rosa because she wants HER baby shower to be in L.A. and proceeds to call Rosa selfish. Where they do that at?! Whose shower is it, anyway?
Most Touching Moment:
Ashley: Preachers of Atlanta
This week, Pastor LeAndria Johnson took the highways and byways….literally. She wanted to minster to the prostitutes, so as a strategy she thought if she dressed like the people she was trying to reach her message would be received better. Boy was she right. While ministering to the ladies of the night, LeAndria comes across this homeless man who was wondering what she was doing out here in these streets. LeAndria explained her purpose to the gentleman and in return he begin to tell her his story. He's story was quite sad: he was homeless due to a decline in his career and lost his job, along with being unemployed he also has stage 4 cancer. LeAndria was so touched by his story, that she bought him food and a hotel for the night; she even went as far as to find him long-term housing. The gentleman was so thankful that he came to LeAndria church the next Sunday to share how much of a blessing she was to him….look at GOD!!!
Anique: Teen Mom
Tyler is concerned about his father, Butch, wanting to move out of his and Catelynn's house. Butch, a former drug addict who has been in and out of jail for most of his life, reveals that he is dating someone and ready to be out on his own. Tyler is concerned that it is too soon for Butch to be out on his own again, and that the move, along with his new relationship, may compromise Butch's sobriety. The two go to therapy together, and Butch reveals that he was physically abused as a child. Tyler gains a better understanding of his father, and the therapy session brings Tyler and Butch closer together.
Biggest Jaw Dropper
Anique: Marriage Boot Camp: Reality Stars
Where do I even begin? This was the final episode of the season, where they do the ring ceremony. Those who receive a ring from their mate stay together and those who don't receive a ring, separate. Four of the five couples exchanged rings including: Ink & Sarah, Mama June & Sugar Bear, Benzino & Althea, and Sean & Catherine. The only couple that did not exchange rings was Sundy and Cedric. The crazy thing is this – at the very end of the episode, the show captions a brief follow-up on what happened to the couple, months after taping the show. Of the four couples who decided to stay together, only two remained together after taping the show (Benzino & Althea and Sean & Catherine). Mama June left Sugar Bear because his sexual addiction became too much for her to deal with, and Sarah left Ink because he failed to get her a Christmas gift. Even MORE crazy – the one couple that did not leave together, Sundy & Cedric, end up reconciling and remarrying months after taping the show! Ahhhh, love can be so unpredictable.
SMH Moment
Anique: Teen Mom
Farrah Abraham…SMH for real. Every week, I tune in and cringe when she appears on the screen. In that moment, I cannot help but to wonder "what stupid thing is going to come out of her mouth this week?" or "what ridiculous thing is she going to do this time?" Well, wait no further to find out! Farrah gave her 6-year-old daughter, Sophia, 800 pounds courtesy of the tooth fairy – that's approximately $1,143 in the U.S. We all want better for our children than what we had, but this is just overdoing it. Farrah's spoiled behind is doing a disservice to her child by raising Sophia to be just like her.
Contributors This Week:
Anique Toussaint is a Brooklyn native living in Atlanta. When she's not working or volunteering, she's watching cartoons while enjoying cookies and wine. She's a mom 24/7 and enjoys plotting world domination with her awesome kid.
Ashley Cobb a teacher by day, blogger by night. Loves Trap music, ratchet TV, Black folks, and all things Dope. When not taking over the world one student at a time, you can find her celebrating blackness on my blog dopeblackchick.com