BGN TV is trying something new! 
With our increasing TV coverage this year, BGN TV didn't want to leave reality TV completely out of the game. So we're starting weekly "Reality Round-Ups" where some of our writers submit their favorite or most shocking moments across all the reality shows throughout the week. Check out the categories and moments below.
February 7-13
Shadiest Moment
Anique: Total Divas

The Bella twins are at odds. Nikki Bella, feeling inspired and empowered as a woman because of a speech by Maria Shriver, decides to try her hand at motivational speaking. Her twin, Brie, tells her that no one will take her seriously because she has large breasts, dresses sexy, is uneducated, and sucks at public speaking. Hating much? Instead of encouraging her sister, she basically tells her she is setting herself up for failure if she attempts to do anything besides look like a bimbo and wrestle.
Ashley: Little Women of Atlanta
The twins Andrea and Amanda were definitely passengers on the Tried It Train this week. Andrea and Amanda, who are new to the Atlanta area, arrange an interview at the same club where Bri and Emily — better known as Right Cheek and Left Cheek — perform. Not only did they try to take "The Cheeks'" job, but they came to the interview throwing major shade about how they are prettier, can dance better, and are real twins.
Biggest Drama Queen
Anique: Love and Hip Hop
Cisco is our drama queen of the week. He is doing too much! Apparently, Cisco is still feeling some type of way about his friend, Rich Dollaz, dating Diamond Strawberry (Cisco's ex) last season. Although Rich thought that they had buried the hatchet, Cisco admits that he isn't over it and only dated MariahLynn (Rich's woman of the moment) in an attempt to get back at Rich. This was a failed attempt, as Rich advises Cisco that he does not care that much for MariahLynn. This further infuriates Cisco, leading to a brief scuffle. Cisco, grow up. It's just not that serious.
Ashley: Married At First Sight
Ashley and David- Ashley "fake" gets mad at David, because he wanted to get to know her better by meeting up with one of her friends. Now mind you Ashley has the personality of a robot, she's not attracted to David and never really put in any effort to make this marriage work since day one.  Ashley, girl, bye!! Poor David hasn't even gotten a real hug from you but now you wanna play victim? We all know you're not hurt and furthermore, don't even care. You couldn't even say three nice things about David but now you wanna make this a big deal?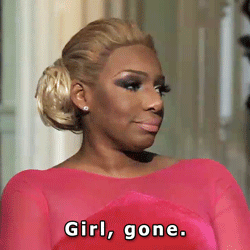 Sweetest Moment
Anique: Teen Mom
Everyone's favorite couple, Catelynn and Tyler, finally go on their honeymoon in Hawaii. Catelynn has been struggling with anxiety and the stress of being a new mom. Tyler, supportive as always, tells Catelynn that he will be more active with their newborn when they return home in an effort to help take some of the stress and anxiety away from Catelynn.
Ashley: Tamar & Vince
On this week's episode Tamar went back to work after being homebound for two weeks following her surgery. Even though she still wasn't 100%, Tamar felt the need to get back into her normal routine as quick as possible. As a result of working long hours, she barely got the chance to see Logan (her son). So Vince thought it would be a good idea to surprise Tamar with a date for her and Logan. Tamar came home late from work to a candle-lit dinner on the patio with Logan's favorite food, pizza. It was so a much needed bonding moment.
Biggest Jaw-Dropper
Anique: Mob Wives
A definite tear-jerking, jaw-dropping moment this week was the moment Big Ang's doctor advised her that they have spotted something on her lung, and she may have lung cancer. Big Ang is very upset about this, but not in the traditional way that you might think. In true gangsta fashion, she doesn't become sad, she becomes very angry. Big Ang had surgery on her throat recently to remove a cancerous growth, and she does not want to go under the knife again. Big Ang has a huge family of loved ones who depend on her and love her very much, so I hope she goes through with it. We wish her well.
Pettiest Moment
Anique: Love and Hip Hop
Rah Ali feels super salty that Remy Ma not only befriends Yandy (her professional rival), but asks her to assist in the planning of her wedding. Rah Ali feels a bit betrayed and replaced because it seems that Remy Ma became close with Yandy during the short time that Remy Ma and Rah Ali were not speaking to each other. During their first wedding planning meeting together, it is crystal clear that Rah Ali does not care for Yandy and has no intentions of making this process easy on her. Rah Ali, it's not about you – this is about Remy's big day, so play nice.
SMH Moment

Anique: Teen Mom
Talk about struggle. Last week, Ryan did so well in stepping up and proving that he can be a better, more involved parent to Bentley. Well, that was short-lived. This week, he completely blows off accompanying Maci and family to take Bentley trick-or-treating. We all know that Ryan has an undercover girlfriend now that no one knows about yet. My guess is that he was booed up with her instead of taking care of his responsibilities.
Ashley:  K. Michelle: My Life
K. Michelle and Bobby (her cheating ex) are trying to reconcile and rekindle their relationship. Previously Bobby promised to win her back at any cost *coughs* ….BS! As soon as those words left his mouth, Bobby channels his inner Yo Gotti and tries to make it go down in the DM. What's the saying once a cheater, always a cheater…? Bobby, honey, if you're going to cheat at least be good at it!  You can't be inboxing random chicks and leave your phone out in the open….that's in the Cheater's Handbook Chapter 1!!!
---
If you want to participate or have category suggestions, email me at connie@blackgirlnerds.com.
What are your choices for best, pettiest, shadiest, most shocking moments in Reality TV this week?
Contributors This Week:
Anique Toussaint is a Brooklyn native living in Atlanta. When she's not working or volunteering, she's watching cartoons while enjoying cookies and wine. She's a mom 24/7 and enjoys plotting world domination with her awesome kid.
Ashley Cobb a teacher by day, blogger by night. Loves Trap music, ratchet TV, Black folks, and all things Dope. When not taking over the world one student at a time, you can find her celebrating blackness on my blog dopeblackchick.com