Carolyn Hinds
Carolyn is an aspiring film critic, Bajan nerd living in…
From September 7 – September 17, the Toronto International Film Festival took over downtown Toronto, to showcase hundreds of films in multiple theatres. The films ranged in genre from shorts (The Drop In) to feature length (The Mountain Between Us, Mudbound), they give light to stories and cultures from all over the world. At its culmination every year, TIFF conducts an award ceremony, below is a list of this year's winners, including the prestigious Grolsch People's Choice Award, whose previous winners have been 12 Years A Slave, Queen of Katwe, and Lion.
Grolsch People's Choice Award:
Three Billboards Outside Ebbing, Missouri, A frustrated and grieving mother (Frances McDormand) antagonizes her local police force (including Woody Harrelson and Sam Rockwell) to call attention to the lack of progress in the search for her daughter's killer, in the latest from dark-humor master Martin McDonagh.
People's Choice Award Runner-Ups:
I, Tonya, Margot Robbie stars as controversial Olympic figure skater Tonya Harding in this alternately tragic, hilarious, and absurd look at one of the biggest scandals in US sports history.
Call Me By Your Name, The latest from Italian auteur Luca Guadagnino (I Am Love, A Bigger Splash) explores the tender, tentative relationship that blooms over the course of one summer between a 17-year-old boy on the cusp of adulthood (Timothée Chalamet) and his father's research assistant (Armie Hammer).
People's Choice Midnight Madness Award:
Bodied, A satirical exploration of the world's most artistically brutal sport — battle rapping — from music video director Joseph Kahn, based on a script by Toronto rapper Alex Larsen (Kid Twist) and produced by Eminem.

People's Choice Documentary Award:
Faces Places, French master Agnès Varda collaborates with mysterious street artist JR in this wondrous travelogue, in which the duo travel through small villages in the French countryside and immortalize the faces of those they meet in immense public murals.
The FIPRESCI Prize for the Discovery Programme:
Ava, A 16-year-old girl's relationship with her family is challenged after her mother takes her to a gynaecologist in order to ensure she's still a virgin.
The FIPRESCI Prize for Special Presentations:
The Motive (El Autor), Searching for literary inspiration, an aspiring novelist in Seville insinuates himself into the lives of his apartment-dwelling neighbours and attempts to instigate drama in this hilarious, thought-provoking, and self-aware meditation on art and authorial intent.
Toronto Platform Prize: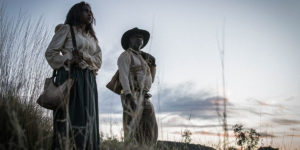 Sweet Country, Accused of murder, an Aboriginal stockman and his wife try to stay ahead of a fervent posse in the harsh outback of the Northern Territory, in this period drama from acclaimed Australian filmmaker Warwick Thornton (Samson & Delilah).
NETPAC Award for World or International Asian Film Premiere:
The Great Buddha+, The latest by Huang Hsin-Yao follows a security guard and his best friend who become entangled in a web of dark secrets after stumbling upon videos that document the promiscuous meetings of a wealthy factory owner.
Best Canadian Feature Film:
Les Affamés, A remote village in Quebec is terrorized by a flesh-eating plague, in the latest from Robin Aubert.
Best Canadian First Feature Film:
Luk'Luk'I, Wayne Wapeemukwa directs a complex portrait of five Vancouverites living on the fringes of society during the 2010 Winter Olympics.
Best Canadian Short Film:
Pre-Drink, Alexe, a trans woman, and Carl, her gay best friend, disrupt the boundaries of their friendship when they decide to have sex for the first time — and raw emotional truths collide with illusions of breezy detachment at a time of transition.
Best Short Film:
The Burden (Min Börda), In this comically-acerbic musical epic, the animal occupants of a generic shopping plaza next to a freeway sing out their existential angst — doomed by the apocalyptic banality of subsistence in the modern age.
Honorable mentions to Matthew Rankin's The Tesla World Light (Tesla: Lumière Mondiale) and Qiu Yang's A Gentle Night – Xiao Cheng Er Yue.
Carolyn Hinds
Carolyn is an aspiring film critic, Bajan nerd living in Toronto and an avid Jane Austen fan. I enjoy speculating on plot theories for my favorite TV shows, such as The Walking Dead, The Expanse, and black-ish. Oh, I will do karaoke anytime, anywhere. Follow on Twitter @Carriecnh12