Jamie Broadnax
Jamie Broadnax is the creator of the online publication and…
Based on the true story of Rick Wershe Jr, is the new Sony Pictures film White Boy Rick. Set in 1980s Detroit during the war on drugs, the movie is about a teenage boy who becomes an undercover police informant — later charged a life sentence for selling drugs. Rick Wershe Jr (Richie Merritt) was eventually released from prison in 2017 and served one of the longest sentences for a non-violent offense in the state of Michigan.
The title of the film is the nickname given to Rick by the kids in his neighborhood whom he sold guns to. Rick Wershe Sr., Rick's father (Matthew McConaughey) sells guns to make ends meet and we find that the fruit doesn't fall too far from the tree. However, Rick Sr has his own code of no drugs, and the crack epidemic of the 80s ran rampant during this period.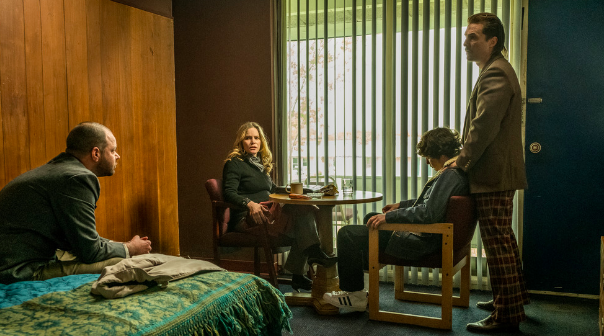 When FBI agents Byrd (Rory Cochrane) and Snyder (Jennifer Jason Leigh) don't get the information they want about local drug activity from Rick Sr, they approach Rick Jr aka White Boy Rick along with detective Jackson (Brian Tyree Henry), and offer him a role as an informant in exchange for some kickback of cash on the backend. Rick Jr reluctantly agrees and becomes the youngest ever FBI informant.
Rick blends in well in his community. He's a white boy but he fits in with the brothas and has the swag to go with it. His skin color is the only thing that makes him different from his peers, and the beauty of that is no one seems to care. His confidence rises with his crew as he starts using the very guns his father owned to sell to use as target practice on rats. He hangs out at the club and even meets a young girl and it seems that Rick Jr is living the dream.
However, things take an unfortunate turn when shootout takes place in a Detroit neighborhood which resulted in the death of a child. Rick feels a deep sense of guilt and slowly transitions away from guns to drugs — as if that's any better. He's now working as an informant for the FBI, so he gets to live his lifestyle without suffering the consequences.
Or so it seems.
Rick's upbringing has been in shambles ever since he was a child. His mother abandoned him, and his sister Dawn (Bel Powley) is addicted to drugs. Rick Jr's path is spinning out of control. After his role as an informant ends, Rick convinces his father to get back in the drug game for real and the purpose is only to make ends meet.
White Boy Rick suffers from the disease of a movie that lacks charisma.
Even Matthew 
McConaughey's role was a bit bland for this story and if you were to ask me what was the most memorable scene from the film, I'd be hard-pressed to tell you. Newcomer Richie Merritt does deliver a stellar performance and is quite convincing as a kid from the wrong side of the tracks trying to do right by his family.  Sadly, Merrit's performance couldn't save this movie if it tried and even adding veteran actors Bruce Dern and Piper Laurie as Rick Jr's grandparents didn't help.
There are some comical and endearing moments in the film, like the scene where Rick Sr asks his son if he's converting to Judaism because Rick Jr is flossing a Star of David medallion.
During his stint as an informant, he grows into a close relationship with
Johnny "Lil Man" Curry — who is a patriarchal figure to Rick Jr. Unfortunately, there is not enough exposition here to explain why Curry welcomes Rick so freely into his circle and it comes off as lacking plausibility as to why he would even choose to mentor him. 
There's a lot going on in this film between the informant plot, Rick Jr becoming a father, Rick Sr trying to get a handle on his drug-addicted daughter and the FBI agents who clumsily allow a minor to do hard time caused this movie to just be all over the place.
Ultimately White Boy Rick is truly a story about the connection between father and son, but tragically we lose sight of that with so many other distractions happening in the story.
White Boy Rick will premiere in theaters September 14, 2018.
Jamie Broadnax
Jamie Broadnax is the creator of the online publication and multimedia space for Black women called Black Girl Nerds. Jamie has appeared on MSNBC's The Melissa Harris-Perry Show and The Grio's Top 100. Her Twitter personality has been recognized by Shonda Rhimes as one of her favorites to follow. She is a member of the Critics Choice Association and executive producer of the Black Girl Nerds Podcast.