Lisa D. DeNeal
Lisa D. DeNeal, of Gary, IN, is a freelance journalist,…
By Lisa D. DeNeal (@diolette)
I'm picky when it comes to watching reality TV shows. Rather than the continuous cat-fighting, name-calling, wives versus girlfriends, and, table flipping, I enjoy shows where the before and after have positive outcomes and valuable lessons.
Which is why I am sure to enjoy OWN's latest, 'real life' series, Mind Your Business with Mahisha. The series premieres August 11th on OWN (you can watch the premiere on OWN.com or the OWN app), following the hit series, Iyanla: Fix My Life.
When you hear the comment, "mind your business,' it usually means, stay out of other people's personal conversations, situations, and, business. However, entrepreneur Mahisha Dellinger, makes it her business to get into aspiring entrepreneurs' businesses for the greater good. The entrepreneurs featured in the weekly, hour-long series, are women.
Mahisha is CEO and founder of, CURLS, a natural hair care brand of products she established in 2002 while maintaining her corporate career at Intel. She is also the author of, "Against All Odds: From the Projects to the Penthouse". In the show's opening, Mahisha explains the need to reach out and help aspiring entrepreneurs with improvements so they can move to the next level of success. One quote she makes in the show's opening, is, 'If you don't mind your business, no one else will,' a quote that rings true in the premiere episode.
Titled, Up in Smoke at My Father's BBQ, the premiere episode centers on professional chef, Shalamar Lane, owner of My Father's BBQ, in Carson, CA. It's a family owned and operated restaurant that Lane co-owns with her brother, Marvin Hardley, Jr. The menu features items that are family recipes. They opened three years ago with financial backing from their parents (a lot of money that Shalamar has not even reimbursed), and, the staff includes a niece, a couple of friends, a senior citizen, and, some people who are given a chance to hold a job. In this staff, there's one who drinks on the job, another who drinks, gets high, and likes to fight, and, a thief in the night shift, among other things.
You know the saying, 'if you can't take the heat, stay out of the kitchen?' Shalamar can't stand to come to her own restaurant. "I'll drive up and sit in the parking lot for 45 minutes before I come inside my own restaurant, because I don't want to see my employees." It gets even better as the revelations come to a boil. This, and, adding that she's yet to call the police on any of her employees, made me want to stick around and see how Mahisha handles this situation. And, you can't have a good show unless the star gets a taste of the business. Mahisha comes to the restaurant, and, is immediately thrown into the fire, witnessing how Shalamar and her staff, uhm, communicate.
Mahisha's facial expressions are priceless when Shalamar goes off on an employee who brings a square of cornbread with crumbs on top. Now, you may think nothing of this, but when you are bringing samples of your menu to a millionaire entrepreneur, presentation is everything. "That girl makes $20 million a year and you gonna serve her cornbread with crumbs everywhere?" Shalamar screams off camera while Mahisha is visibly taken aback. But she also keeps mental notes on what's happening. She sees that part of the problem includes Shalamar's lack of control.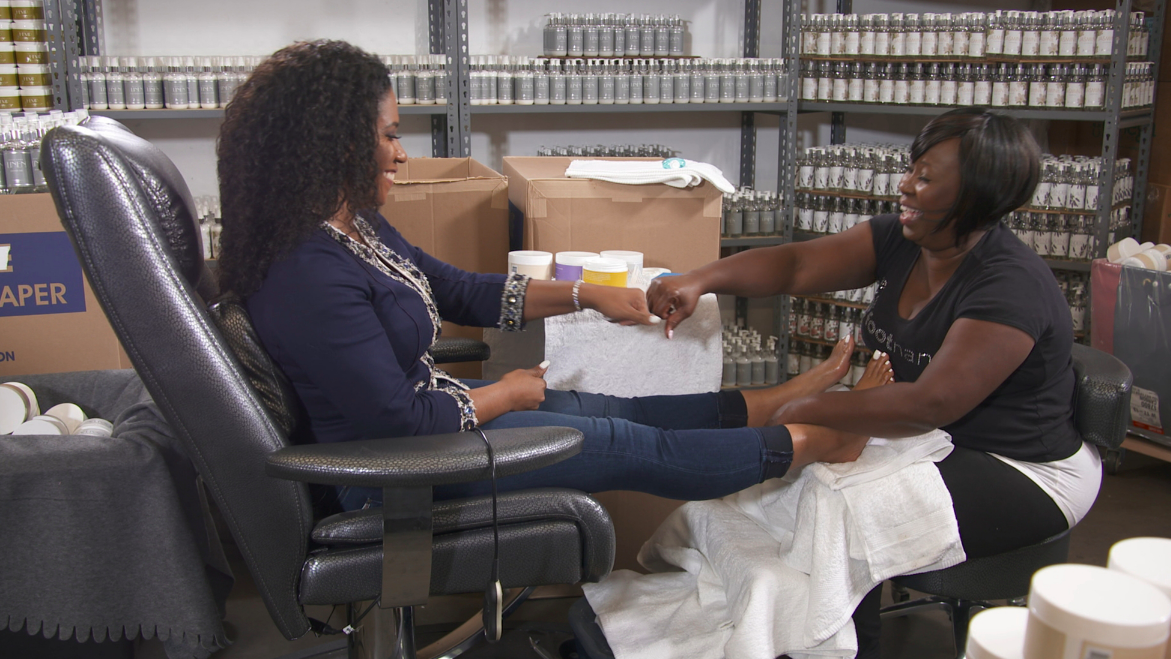 Besides the drama, and, there is plenty of it, Mahisha gets to the root of the problems. In the beginning, Shalamar admits, and, shows, that she does not have the management skills to run a restaurant, and, that her lane is being the head chef. Shalamar comes off as someone who wants success, but has way too many excuses for not doing what she needs to do to make it happen. Mahisha is no punk; when Shalamar talks about juggling motherhood, marriage, and, a business, Mahisha counters with her story four kids, her job, and, entrepreneurial goals in a span of almost 16 years. I mean, an example of overcoming obstacles and challenges to be a success story, is sitting right across from Shalamar and she needed to see that. "You have to boss up," Mahisha says in one scene.
I was a member of #TeamMahisha, agreeing with everything she said to Shalamar on making some drastic changes. I mean, some of the staff needed to be let go or told to shape up. But, I was also #TeamShalamar, talking at the TV, pushing for her to, 'boss up' and do what she needs to do to own her responsibilities and take control of her business.
Once Shalamar is serious about making changes, Mahisha guides and directs her through evaluations with the staff, which gets heated at times, and, meeting with the right people to make moves.
I look forward to watching upcoming episodes, like, Bad Girl of 800 West and Something's Afoot at Footnanny. Mahisha sets the bar in entrepreneurship. She arrives at a business, not to be your BFF, but a teacher, a guide, and, a motivator. It is up to these women, to mind their own business.
Mind Your Business with Mahisha premieres August 11th on OWN.
Lisa D. DeNeal is a freelance journalist, and, published author.
Lisa D. DeNeal
Lisa D. DeNeal, of Gary, IN, is a freelance journalist, editor, and, author. Her latest novel is the romantic comedy, "Extra! Extra! Love!" Other books include, "Dead Lies," "The Panthers Club (with Alethea Pascascio-Gordon) and, "Unflappable (with Carolyn E. Mosby)."