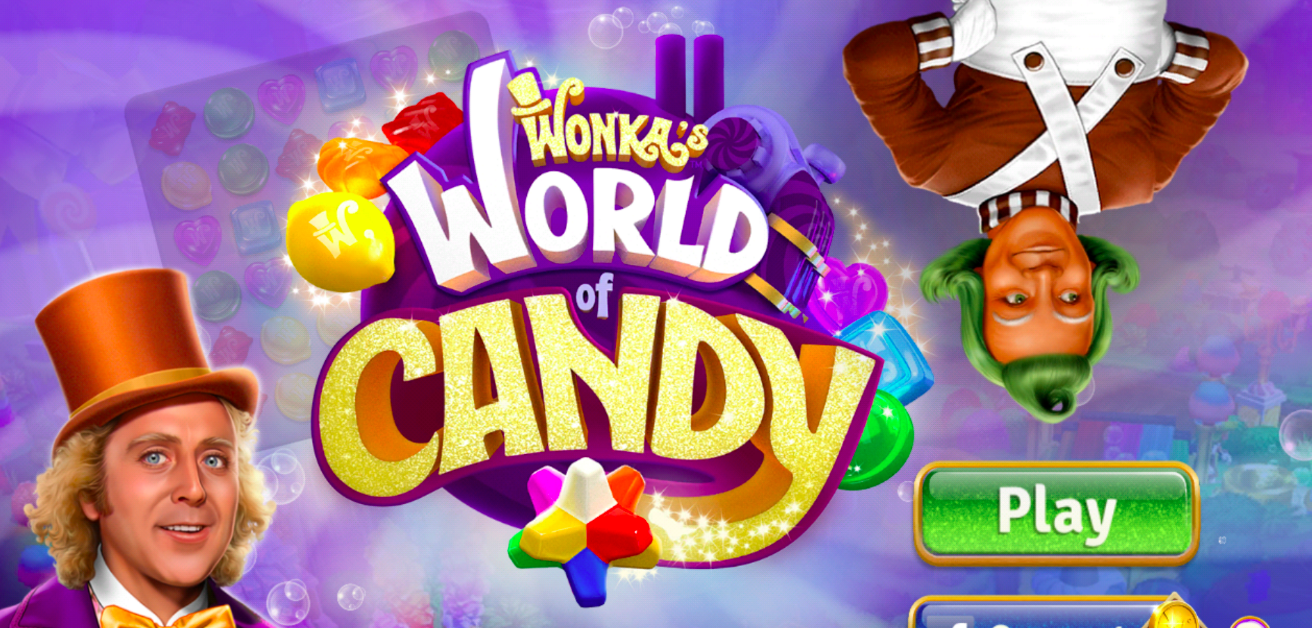 Guest Blogger
BGN works to feature strong, unique content from writers who…
Written by: Ashley Turner
If a company wants to boost your game's visibility with a beloved children's pop culture hero, they can't go wrong with Willy Wonka. Zynga places its bets on the appeal of the highly recognized property to help raise enthusiasm and expectations for their new mobile tile-matching game Wonka's World of Candy. The video game company utilizes a historically significant entertainment franchise to enhance the amusement and attractiveness of a familiar formula that is still highly popular.
Considering the theme, this was a clever move on Zynga's part. Willy Wonka and Candy Crush are a perfect fit. At its essence, the game is a continuous loop of "play puzzle, earn stars, build your factory."
The game screen is adorned with bright colored candies and chocolate Wonka bars. Willy Wonka is introduced right when the game starts, and the player is placed in the role of helping Wonka rebuild his factory.
In order to decorate the factory, you need stars.  And it is necessary to play the match 3 game in order to get them. Each puzzle has a goal that must be met, such as clearing all of the lemon drops off the board. Actions take the form of different numbers on stars denoting how many boards you need to play.
For example, to complete one action of fixing a couple of broken benches, I needed two stars, which started a round of two games. The puzzles are typical matching fare, using Wonka-inspired confections to swipe the same kind of specific candy off the board in groups of three.
Some notable challenge elements exist that can help clear the board faster. Everlasting gobstoppers will clear the board of a single color while matching a set of rockets will smash sweet treats on the board too far to reach. Matching candies also extends to finding them in 'T' and 'L' shapes, and pulling in a candy ensconced in a fizzy bubble will net you more points. These added gameplay elements were welcomed as a reprieve from repetitive matching. They also liven up the game display with some appetizing art and snazzy animations. The puzzles also have a very generous help system that can be turned off when things get too easy.  Nevertheless, I did find it to be a lifesaver for the moments in which I got stuck.
Stars are gained from beating the puzzles and are used to initiate redecorating. The building mechanic is an engaging addition and adds an extra edge of motivation to gameplay. This a neat little activity with a colorful model of the factory. Stars indicate where the improvements go, along with how many the decoration takes. After my first set of puzzles, I was allowed to plant a candy tree.
There are three or four options for decorations, with one option gated behind a slightly higher payout of gold coins. The building is a pleasant addition that breaks up puzzle gameplay into palatable little chunks. The decorating also presents a nice objective for completing each stage. It's easier to keep busy clearing puzzles with a little goal to work towards.
The flood of pay-for-gold game packs and other cosmetic extras can be a bit bothersome. However, it can be easily ignored. What can't be ignored is the movement system. When playing the puzzles, the player is limited by the number of moves afforded to them. If you run out of moves before you reach your goal you can continue…as long as there is enough gold (won from completing puzzles).
The accumulated gold can be used either to continue the stage or replay it, which causes you to lose a heart, of which you only have a set amount of. Once hearts run out, it's time to play the waiting game. It's not abnormal for games like these to force a waiting period, and there's no pressure to make a purchase. It is an ever-present occurrence in the world of mobile game apps, but it doesn't make it any more pleasant.
Because of the move gating, the game is best played in spurts. Long game sessions are guaranteed for a premature end once the difficulty spikes and the hearts disappear.
On a lighter note, the game is brimming with sound and color. The art captures the whimsical and slightly psychedelic feel of the first film perfectly. It matches up so well that at times, the animations and sound effects can lead to sensory overload (just like the movie). Wonka and the Oompa Loompas are rendered in a pseudo-reality with minimal animation.
The factory is bright and appealing with a suitable selection of decorative items for display. There are little caramel shrubs, Gummi bear bushes, and lollipop trees to adorn the factory with.  It's a nice little reward for completing the puzzles, and I found myself wanting to know what my next decorations would look like.
Zynga has dressed up the match 3 game in the Willy Wonka formula, and it wears the costume well. Wonka's spirited musical soundtrack, colorful candies, challenging puzzles and zippy animations all combine to create an unparalleled rush of accomplishment when completing a stage. It's the delightful feeling of planting two perfectly placed Gummi bear trees next to a row of chocolate bar bushes. This is an easy, enjoyable romp back through Wonka's candy land. And that's enough to keep me coming back for more.
Wonka's World of Candy is free in the App Store or Google Play with in-app purchases.
Guest Blogger
BGN works to feature strong, unique content from writers who speak to our niche. If you are interested in having your work highlighted contact jamie@blackgirlnerds.com to be featured as a guest blogger on the site.