In late April, an idea was birthed by our BGN social media curator and podcast co-host Kayla Sutton called the #BGNPlaylist.  The idea first started with featuring playlists from content creators behind Black Girl Nerds.  This first started with yours truly and my playlist you can find here.  This post features a ton of screenshots of our playlists, so if your Spotify list is need of some more tunes added to it, check out some of ours!
As you can tell from the look of my playlist, I'm a bit of a Sammus and Jon B. stan.  I loved Kayla's idea, and she encouraged many of us to be as creative as we wanted to with our playlist. Kayla's playlist has a great 90s R&B throwback vibe to it.
Here are some more playlists featuring Marqueeda, Connie, Kyndal, and Cherra!
However, in addition to the women of BGN, we also asked for our fellow friends, fans, and followers to be a featured guest on our playlist.  Stephanie Williams, the host of The Lemonade Podcast and Misty Knight's Uninformed Afro, shared her famous R&B comics playlist
And there's also fellow podcasters MEGASheen.  I just want to say the fact that Patti LaBelle's "Stir It Up" is on their playlist tells me that I want to the MEGASheen crew to DJ at my next party!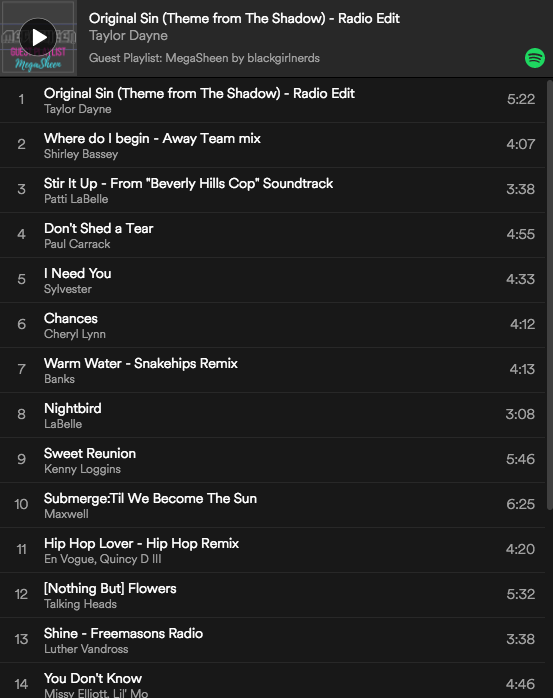 There were musicians that have also joined our Spotify playlist group too!  Our favorite nerdcore artists Sammus and MegaRan shared some of their favorite tunes!
Sammus who is everything that embodies black girl nerdy magic took the liberty of letting us know what songs she loves to listen to.  If you are familiar with the #BGNPodcast and have listened to the opening theme song of our show, I'm pretty sure you're familiar with Sammus and her sounds.
Mega Ran who is also huge in the nerdcore scene dropped by and gave us some of his faves.  Shoutout to the Ruff Ryders anthem!  It's one of those songs where I have to stop everything I am doing at that moment and start dancing!  I also love how he has Sammus' 1080p as a track on his list.  It's such a beautiful song.
We reached out to a lot of folks to be a part of this list.  And was excited when #BGNPodcast guest and actor Jake Choi shared his music with us.  I was not expecting to see so much 2Pac on his list!  I'm sure he's probably going to be there opening weekend when the new Tupac Shakur biopic All Eyez On Me premieres!
As the #BGNPlaylist began to grow in popularity, other people in our Twitter feed began to take notice.  And I must admit, Kayla does an excellent job whenever she is curating the @blackgirlnerds Twitter account to tag celebrities when it's just the right time and moment and when it has some merit.  Kayla who came up with the idea for the playlist felt inspired by the musings of none other than the musical maestro himself Mr. Lin-Manuel Miranda!  He wanted to know what we here at BGN wanted for a theme, and I only told him to curate his list with hip hop sounds, musical theater and filled with nerdiness, primarily the work of Miranda in a nutshell.
And here is what he brought us:
Hey! This week's mix is for our friends at @BlackGirlNerds! Badass women of color/comic book/nerd shit all mashed up! SO FUN to make. https://t.co/aez3KoljX0

— Lin-Manuel Miranda (@Lin_Manuel) May 15, 2017
Stay tuned for more lists from our BGN contributors and special guests!  THIS IS BANANAS!
Jamie Broadnax
Jamie Broadnax is the creator of the online publication and multimedia space for Black women called Black Girl Nerds. Jamie has appeared on MSNBC's The Melissa Harris-Perry Show and The Grio's Top 100. Her Twitter personality has been recognized by Shonda Rhimes as one of her favorites to follow. She is a member of the Critics Choice Association and executive producer of the Black Girl Nerds Podcast.