Jacqueline
Jacqueline is the Director of Festivals and Conventions for @BlackGirlNerds…
It was a real Sophie's Choice. The morning that provided me a highly coveted ticket to the new Sundance film festival favorite The Big Sick was coincidently the same morning of the Women's March. Could I betray the sisterhood, to catch a movie? Could I pass on a very hard to come by ticket, to the film on everyone lips? I know these are some HI-KEY first world problems, but admittedly I agonized over it. Deciding that if I didn't go to the already painfully Caucasian event in Park City, there might not be a woman of color to pick out of the crowd, I put the sisters first. I was surprised at how many Black and Brown women I saw at the march. I, unfortunately, was unsurprised that the event dripped with white feminism – but I stand by my decision.
I stand by it primarily because; thankfully a few weeks after Sundance, the SXSW film festival announced The Big Sick would be playing as a festival favorite. The Big Sick pairs producer Judd Apatow with director Michael Showalter returning to SXSW following his 2016 sleeper hit Hello, My Name is Doris. Doris cast member Kumail Najiani and Emily V. Gordon's real-life love story adaptation doesn't look akin to anything either filmmaker has previously produced but is it equally hilarious and authentic. Judd Apatow is quietly morphing into the most prolific comedy producer in modern cinema. Whether shepherding his projects or 'herding the cats' so young talented comedy writers can be left alone to be funny, Apatow's brand has become synonymous with bankable humor. I sincerely hope his magic touch takes effect with The Big Sick. Sold for 12 million to Amazon Studios at Sundance the film has already had very high expectations, but it looks to explain those expectations when it hits theaters later this year. Every film is a gamble but fresh off the Audience Award win at SXSW; this one has an inside straight.
The film places a finger on something that's hard to describe but universally felt – families teach us how to love so who we love, and family is inextricably linked. The message behind The Big Sick, a story about a Pakistani-American Comedian's modern day courtship with a southern WASP, is about how our families affect out relationships. The simple comparison would be to call it a culture clash and I sincerely hope people will see the film because twenty minutes in you know it is so much richer than that. Obvious Child starring Jenny Slate was a similarly quirky modern romance featuring two leads from contrasting backgrounds but no one called that a culture clash. So let's not do that here. The love story that unfolds between Kumail, playing himself, and Emily (played by Zoe Kazan) is messy, complicated, yet unconsciously romantic. The first act of the film follows what you expect, two characters from unique backgrounds, meet-cute, fall in love, and then break-up because they discover some differences insurmountable.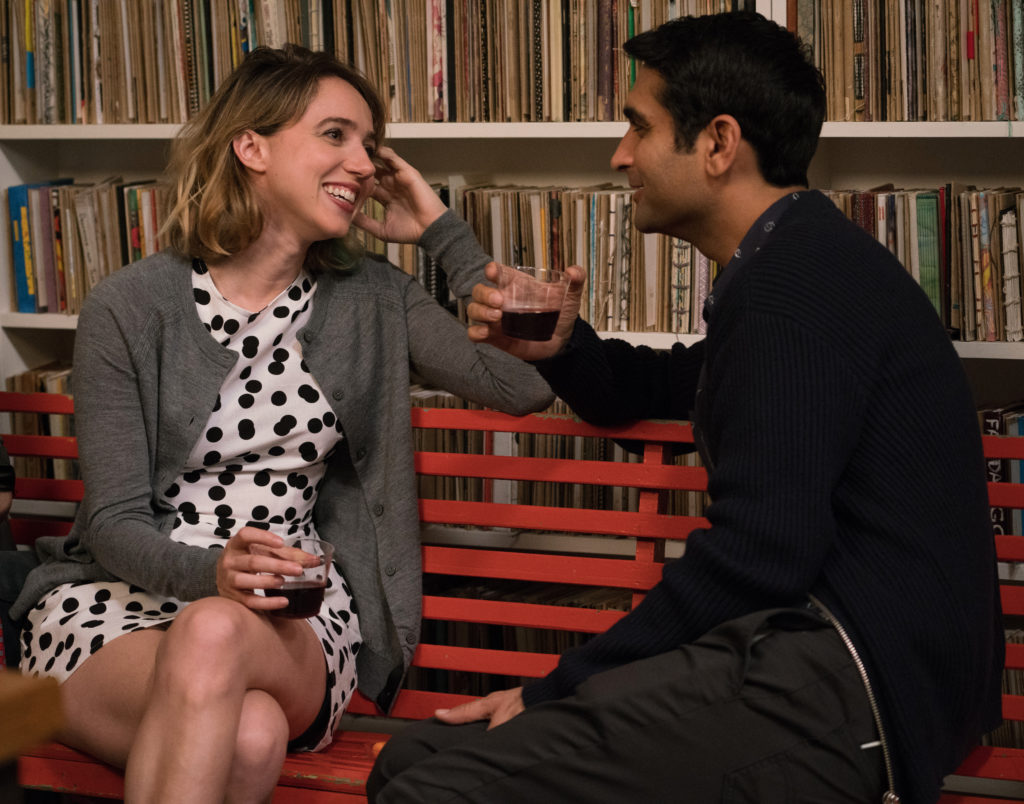 Kumail, months into his relationship with Emily, is still being set up blind dates by his mother because he has yet to tell his family they are dating. This is found out when Emily discovers a box of photo info cards from his various setups. The box is a visual representation that despite being his girlfriend, in the movie of Kumail, she doesn't fit the 'casting' for his leading lady. The 'breakup' is so succinct in how it plays out. It's not a screaming match, but rather quietly painful – just like real breakups tend to be. Emily asks Kumail point blank "Do you see a future with me" and his silent non-committal expression is all she needs to confirm they will not make as a couple and she abruptly leaves. This is a problem couples from similar cultures struggle with, and though the reasoning behind it may be different the emotions are the same.
The pedestrian culture clash tagline is such a disservice to the film primarily because family is what drives the conflict and resolution on both sides. Kumail's close relationship with his traditional Pakistani family seems to cause the conflict, but we discover later that perhaps Emily's close familial relationship put his lack of sharing in stark contrast. As someone who keeps all of my family on a very need to know basis, the idea of sharing anything about my relationships is cringingly uncomfortable. A boyfriend not telling his parents about me is not an affront to me at all but every family is different, and that's the point. After Kumail and Emily's courtship goes off the rails, a sudden and mysterious illness brings everyone back together. With her well-informed parents in tow played by Ray Ramano and Holly Hunter, Kumail must now decide if he wants the future he could not picture. The majority of the film centers around Kumail getting to know Emily's parents and subsequently Emily herself. Emily spends the third act in a medically induced coma, and Kumail spends time with her parents. His time with them helps spur his desires to remain in her life, not out of a sense of obligation but because he learns they are not so different after all.
All of this plays out along the backdrop of an increasingly awkward and terrifying medical emergency situation. The scene in the hospital waiting room and later scene in the cafeteria have two of the funniest bits in the film. Based on the real-life writer's early relationship, the 'real' in The Big Sick is what makes it so enjoyable. The chemistry between the two leads is funny and playful. As great as their chemistry is it, pales in comparison to the real thing. Having interviewed Kumail and Emily, I can say first hand they are that couple you meet at a party and immediately say "Wow, you guys are great, you should be on TV (or a movie, or a podcast)." Fortunately for us, if you're Judd Apatow and that happens, you can make that dream come true. Hitting theaters on July 14, 2017, The Big Sick, marks the 10th anniversary of the couple's wedding. That pretty much beats every anniversary gift in the history of marriage, but especially the traditional tin.
The Big Sick is in Theaters July 14, 2017
Jacqueline
Jacqueline is the Director of Festivals and Conventions for @BlackGirlNerds and a film correspondent for @RottenTomatoes. She is also a Gamer, Cinephile, Theater-kid, internet addict, and lover of all things geek. Follow her on Twitter @ThatJacqueline