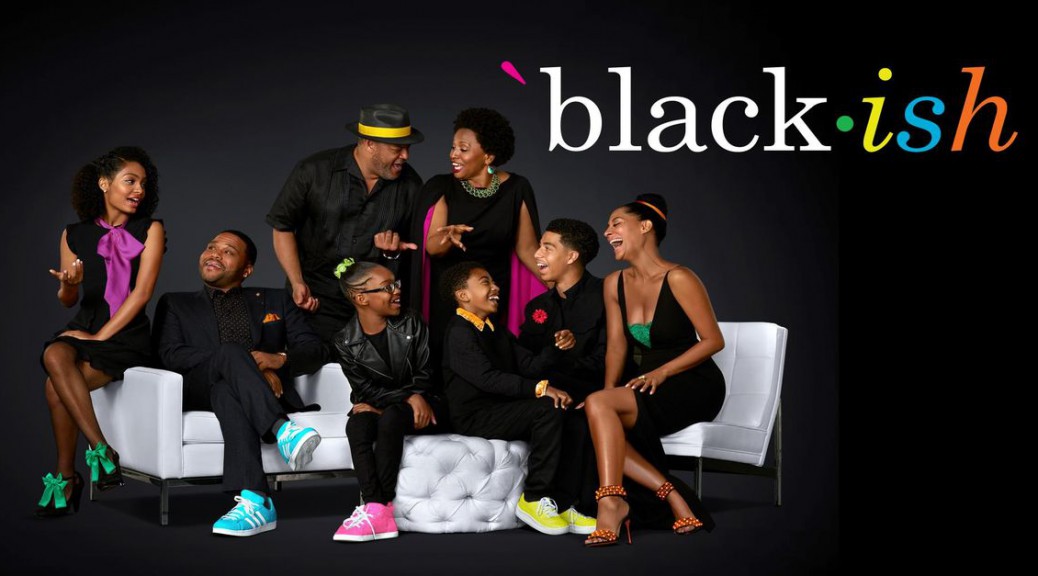 Carolyn Hinds
Carolyn is an aspiring film critic, Bajan nerd living in…
In black-ish's eleventh episode "Inheritance" Dre and his sister discover sometimes everything isn't a given and Bow tries to adjust to life as a stay-at-home mom, though it seems Junior has that position on lock.
According to Dre, he's perfected being a great dad because he has the three rules of parenting covered; 1) Be a good comforter when your children are hurt, 2) Protecting them from the scary things of the world, and 3) Make sure they're provided for now and in the future. Hold up, (thinking emoji) have you guys realized that literally every episode starts from Dre's perspective, hmmm?!
Ruby and Dre's sister Rhonda (Raven Simone) are sitting down for some bundt cake, Dre walks into the dining room and immediately becomes suspicious because Ruby only bakes cake when she has bad news. Ruby assures Dre that she's fine. When he asks if it's a "death cake," she says she wants to discuss her rental property. But before that gets done Dre leaves the table because he refuses to talk about Ruby dying. Pause, ever notice that Dre does this a lot? When someone (usually Bow) says something he doesn't like he walks away or makes a comment to change the topic and I'm starting to notice quite a few things that are beginning to irritate me, but more on that later.
As she sits down to a glass of wine, and Bow's sister Santa Monica (Rashida Jones) walks in and I wanted to know if no one locks doors in their neighborhood, but I digress. Santa Monica tells Bow that she's changed her name to Santa Maria because she found Jesus and wants to build a mega church and all I can say is "Girl whut?" Junior walks in with DeVante and tells Bow it's the baby's feeding time, noticing the glass of wine, he proceeds to comment on Bow having an alcoholic drink at 5 O'clock, lectures her on how to store breast milk in the fridge, and I gave black-ish major side eye.
I didn't appreciate Junior's tone and condescending attitude, last I checked Bow is a grown woman and she's his mother. Junior was way outta place, and I became irked because this child then had the audacity to try and school his MOTHER, the woman who raised him and three other children, on how to look after DeVante.
After Rhonda informs Dre that she's getting Ruby's duplex while he gets her hat collection, he goes to Ruby and throws a tantrum like a toddler who didn't get his way. When he declares himself as her "special little boy" and therefore should get the property, Ruby chastises him and tells him to sort it out with Rhonda.
While Dre figures out what to do, Diane walks into the kitchen and with an attitude that needs checking, tells Bow she couldn't do a school project because she didn't have glue. Bow asks Junior to watch DeVante so she can run to the store, but he tells her he has to drive Maria to a meeting because she had six glasses of presecco. As Bow tries to come up with a plan, Jack walks in in his pajamas and says he just woke up for sleeping, and wants cereal to eat but Bow is surprised to find there isn't any because Junior is the one who buys it, and ya'll I had to ask for patience, because this scene tried me, let me explain why.
I
In the last episode "Working Girl" Bow decided to stay home instead of going back to work so she could spend time with the children, and be there to do things like helping them with school work. But somehow she's doesn't seem to be doing any of that because it appears that it's Junior who's in charge of the household.
AM
Bow doesn't seem to be in control or aware of anything going on with her children. How did she not know Jack was home all day? Who took Diane to school, Dre, Junior, do they walk there? Why didn't the school call the house and ask where Jack was? How is it that Junior is the person buying groceries and keeping track of school supplies? Does Dre do ANYTHING in the house besides maintain his wardrobe? Why isn't he the one buying the cereal when it runs out, why isn't he the one taking turns with Bow in sleep training DeVante, why the heck does it seem that Junior is the father in the house?
ANNOYED
When explaining why she was staying home from work, Bow said that she wanted to be known for her motherly side, but the Bow I see now is nowhere near the mother we've seen previously. I find the execution of this whole 'Bow staying home' storyline insulting to who Bow is as a character and a mother. I don't appreciate how Bow is being written as this scatterbrained woman who is unaware of anything that goes on around her, to me Bow is becoming someone I don't recognize.
After Bow warns Dre about listening to bad advice from the men at work, Dre talks to Rhonda and they agree to come up with a mutually beneficial solution on how to handle the property. Bow admits to Junior she was taking him for granted and he says he likes being needed by her and decides to stop working for his aunt.
Now I know a lot of people probably won't agree with what I'm about to say but I'm still going to say it, because I believe the best review/recap is an honest one, so here goes, I don't like what black-ish is doing to Bow, and I've felt this way for a while. Black-ish is one of my favorite shows of any genre and has been from the very first episode, but lately there's been a couple of something that has been bothering me the first being Dre. I'm not fond of him, he's very insulting and dismissive of Bow and her feelings, he never seems to take any interest with anything unless he's directly involved interactions with the children included, he pays more attention to his co-worker's advice than his own wife's and frankly he's a self-centered douche.
In my last review, I mentioned how much it irks me the way Dre and Ruby treat Bow, but I've come to realize there's a problem in the way EVERYONE treats Bow. Normally Junior is the one person who treats Bow with true affection and general respect, but not this time. In this episode, I saw Junior exhibiting the same behavior as Dre, Ruby and even Diane and I.  DO. NOT.   LIKE.   IT. Even Santa Maria was disrespecting Bow's position as Junior's mother and asking him to do inappropriate things like driving her around because she was too tipsy to do it herself, and had him looking at her breasts to determine if she was showing too much cleavage.
You know that quote "The most disrespected woman in the world is the Black woman"? Well, I want to make a slight amendment to that; "The most disrespected woman in the world is a Black woman, even in her own home."
Johnson Family Musings
Despite my feeling on how Santa Maria (really?) behaved I hope she sticks around because Bow needs female friends.
Apparently Ruby and Ving Rhimes made a promise to each other to spread their ashes over the other person's grave…..I need the backstory to this.
I wonder what Pops has been up too, probably something shady, best not ask too many questions.
 black-ish airs every Tuesday at 9 p.m. EST, follow the show on Twitter @black_ishABC .
Carolyn Hinds
Carolyn is an aspiring film critic, Bajan nerd living in Toronto and an avid Jane Austen fan. I enjoy speculating on plot theories for my favorite TV shows, such as The Walking Dead, The Expanse, and black-ish. Oh, I will do karaoke anytime, anywhere. Follow on Twitter @Carriecnh12