A new Avengers film has hit theaters, and it is even better than I imagined. It packs a punch. Telling the story of Agent Natasha Romanov, Black Widow has all the ups, downs, and twists that audiences will love. The film is full of great chemistry, fantastic action, and a solid storyline. Forgiving the occasional pacing mishaps, this is the solo female film we've been looking for. It was long overdue.
Black Widow is the expanded story of the beloved character played by Scarlett Johansson. We always hear about Budapest and the ties Natasha has there, but now we get to see some of her adventures there. Directed by Cate Shortland (Lore), Black Widow shows us Natasha as a girl. Given to the KGB at a young age, she is groomed to become the ultimate weapon in the Black Widow program. Amidst the childhood backstory, we get to see what Natasha was up to in between Captain America: Civil War and Infinity War. Besides Johansson, the film also stars Florence Pugh (Little Women) as Yelena Belova, Rachel Weisz (The Favourite) as Melina Vostokaff, and David Harbour (Stranger Things) as Alexei Shostakov aka Red Guardian.
The cast of Black Widow was made for Marvel. Everything about their chemistry, their ease of pulling off action sequences (stunt double or not), and their comedic timing with the dialogue and each other screams Marvel. The talent on screen is amazing. Florence Pugh is a standout. She truly belongs in the Marvel Cinematic Universe, and I cannot wait to see her in action in the Disney+ show, Hawkeye. The chemistry between Johansson and Pugh is amazing. It was divulged during the Black Widow press conference that there was no time for the two to form a bond before filming. The first time they met was on set to perform their fantastically choreographed apartment fight sequence, frequently previewed in the trailer. Scarlett said it probably helped that they were strangers when they started filming, as the relationship between Natasha and Yelena is very awkward throughout most of the film due to them being separated when they were young. It helped, I would say. I enjoyed watching the dynamics between the two, as well as when they are with Melina and Alexei. They are like a Russian Royal Tenenbaum type of family, and it works through the film. I have been a fan of Rachel Weisz since The Mummy, and I was so happy to see her in another great, what looked to be, physical role.
The action sequences are on par with the action we have seen coming out of Phase 4 thus far. I was thoroughly impressed with how they had all the women fighting in the film. It was graceful, yet powerful, and nothing sexualized about it. The action was strategic. Things weren't blowing up just for the sake of the genre. Natasha has some legit fighting skills. One of the negative things about being part of a big ensemble cast, like that of Infinity Wars or Endgame, is that it's hard to stand out. It was nice to see her in the spotlight.
The storyline is also on par with what the MCU Phase 4 has been dishing out, with popular themes like family and reckoning with one's past leading the way. It's a storyline that I cared about and wanted to see from start to finish. For so long Natasha had been alluding to the red in her ledger and how she was trying to make up for it. The film did a great job highlighting her past at a young age, her past between Avenger gigs, and the present where we know she is no longer with us post Endgame sacrifice. Black Widow brings Natasha's life full circle, filling in the gaps, and giving us more of a look at the real Natasha. Given the storyline and themes, what I like most about Black Widow is that it doesn't take itself too seriously. It allows the fans of the franchise and the newbies to fully appreciate what Natasha Romanoff brings to the table. The film pays homage while introducing the world to the real Natasha. Scarlett does a hell of a job bringing her "back" to life.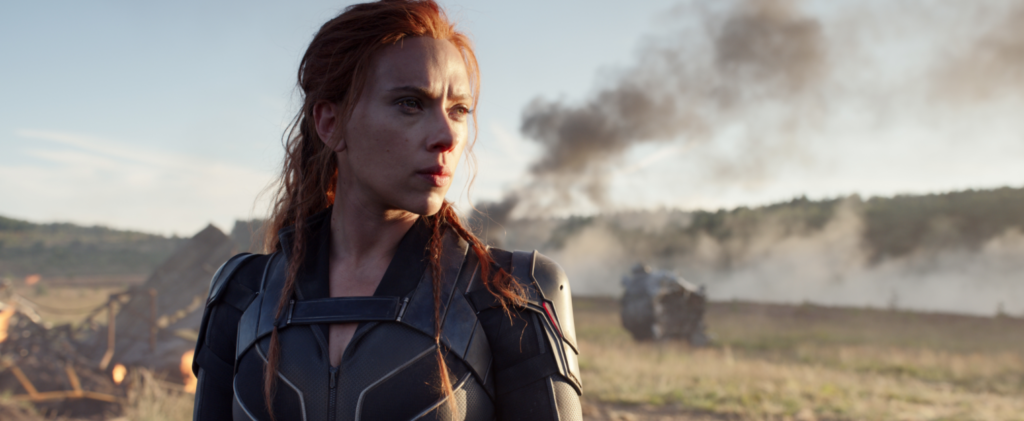 Scarlett Johansson finally got to play a version of the character she deserved. Her co-stars made her even better. I forgot how much I missed watching Marvel Avenger films. More, please! If I could watch all the Disney+ series on the big screen, I would because Avengers deserve to have their action showcased on the largest screens possible. The cool thing about Black Widow is that this is a film directed by a woman and starring women, but it is truly for everyone. You can watch Black Widow on July 9th on Disney+ with Premier Access and the same day in theaters.