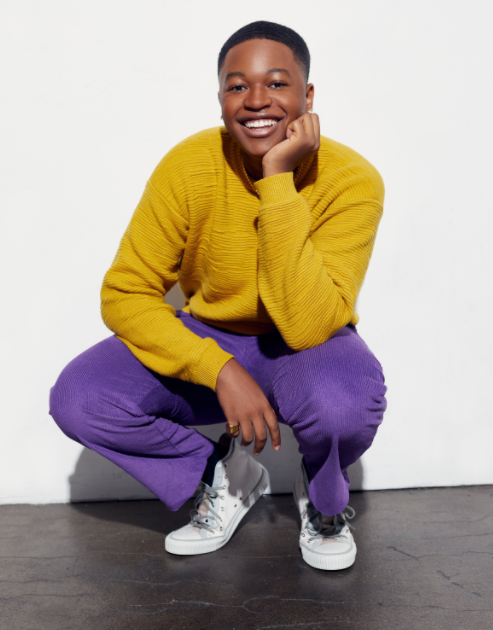 You may have seen Brandon Severs in the hit Disney+ series Diary of a Future President, or the Disney channel's Raven's Home. Now, he's starring in HBO Max's reboot of the hit 1980s sitcom, Head of the Class.
I may be dating myself here, but I'm old enough to remember the original. In fact, I was a fan. In this refreshed version of the show, we'll meet a new cast of smart kids facing challenges we never would have dreamt of in the late '80s and '90s. I am personally glad social media was not a thing during my formative years. Becoming a meme, hashtag, or going viral for all the wrong reasons is the stuff of kids' nightmares in the 2000s. We've seen how wild school is for the kids who aren't necessarily considered cool. However, in the new series iteration, this group of overachievers has a sometimes misguided, eager-to-win-them-over, loving, and goofy teacher who mentors them along the way.
Severs plays Terrell Hayward, a student and the son of original character Darlene, who was played by Robin Givens. He's a standout, and it's not just because of his height. He's cool, calm, and collected — sometimes, much different from the nerds of the original cast.
BGN spoke with Severs on the phone about preparing for this reboot, working with Robin Givens, and how this show has been different from others on which he's acted.
Did you watch any of the original series to prepare for the show?
I did when I got the audition, actually. I had heard about the original before I got the audition, but I hadn't really seen much of it. I'd seen maybe a rerun here and there but never really dived into the show. So once I found out about the audition, I watched some of the original just to really get a hold of the tone, and yeah, the original is really, really funny too.
Tell us about your character on the show.
My character is named Terrell. He is just like all the other kids in the group. He is an overachiever. He's a debate student, and he's really focused on academics. He's also the captain of the swim team. So he's doing sports and academics and is trying to focus on both of those at the same time while trying to maintain a healthy social life. He floats between social groups. Even in the debate class, there are selected groups of friends, and he floats between all of them — not only those but also other groups of friends within the school. So, he's a social person. He's also really lighthearted. I would say he's a fundamental part of the group. He's like the heart of the group. And he's a very, very hard worker. I didn't mention that he also speaks French. So, he's taking French classes as well. He's got a lot going on.
Who have you most enjoyed working with from the cast?
That's a really tough one. I mean, the person who came back from the original cast, Miss Robin Givens, was so freaking amazing to work with. From the moment we met, she was nothing but amazing toward me and everyone. It was so great to have someone tie in the legacy of the original show to ours. It was a really interesting moment as well because when she came onto the lot, she said it was really emotional because she grew up on the Warner Brothers lot. They shot the original Head of the Class on that lot. We shot our version with Warner Brothers as well, just a few stages over. So it was like a full-circle moment because she was around her son's age at the time [that] she was shooting the original. It was really a great moment for her. That was a great moment for all of us, too.
Playing her son has been a dream come true. Honestly, I've had the fortune of having some amazing actors play my parents. Mr. Laurence Fishburne played my father in #FreeRayshawn. Leslie Odom Jr. played my father in a project, and now Miss Robin is my mom on this show. I've got the amazing blessing of having some great parents in the projects that I've worked on.
Can we expect any other appearances from original cast members?
Not in this season. Miss Robin is the only original cast [member] in this season. In the seasons to come, who knows?
How has this series been different from others you've worked on?
The main difference was working with an ensemble cast this big. A cast is usually around four to five people that you're working within a group, but this one was a much larger cast. So, getting to work with and find chemistry and the really minute things that make each character interact with various characters differently — finding all of those different behaviors that these characters have was really different and really fun. It keeps you on your toes.
Both versions of Head of the Class are currently streaming on HBO Max.
Celestial Holmes
Celestial Holmes is passionate about the power of prose, and she uses it to uplift her people for various Afrocentric outlets. She is also a published author, writing under the pseudonym Mbinguni.