Since the murder of George Floyd by officer Derek Chauvin, the streets have been filled with protesters supporting the Black Lives Matter (BLM) movement. Celebrities from across the nation have stepped out in support, either by donating or by rallying their social media followers to speak out against oppression. In the list below, we recount supporters of the BLM movement I didn't see coming. The following identifies potentially surprising supporters. 
Crown Royal: Crown Royal is known for whiskey, especially the limited-edition Peach Crown Royal which made a return to the shelves this summer. Recently, the company took to Instagram to participate in Blackoutuesday. Blackoutttuesday was a hashtag used on June 2nd wherein participating Instagram users would post a black photo with nothing else to spread awareness of police brutality. On June 12th, Crown Royal announced that its participation in the "$20 million community fund to support social justice".
Hennessy: Hennessey also participated in Blackouttuesday and announced plans to donate an undisclosed amount to the NAACP. 
Infinity Ward: The popular company behind Newzoo's number 5 most played game in the United States, Modern Warfare: Warzone,  added "Black Lives Matter" to its loading screen for its 50 million players to see each time they play.  
Old Spice: This company in particular came out swinging. The Old Spice Twitter feed announced the company would be donating a whopping $5,000,000 to several Black Activism organizations. In 2019, Old Spice was number 7 leading in U.S. deodorant sales according to statista.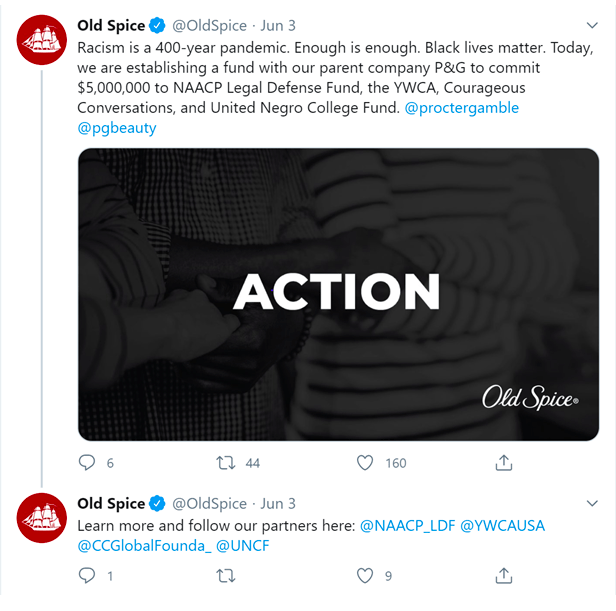 Rockstar: The video game creating team behind Grand Theft Auto 5 and Red Dead Redemption, shut down servers for two hours in recognition of George Floyd's legacy. The company's Twitter account mentioned charities that support Black families and protesters.  
Glossier: In honor of the BLM the beauty brand pledged $500,000 in grants to Black-owned businesses in an announcement made on Instagram. 
Uber: The CEO of Uber took to Twitter to announce that the company stands with BLM and was one of the earlier donations, announcing $1 million pledge May 31.