For one week only, Sony Pictures is re-releasing the teen drama thriller Cruel Intentions in theaters nationwide. The film that launched the careers of Sarah Michelle Gellar, Ryan Phillippe, and Reese Witherspoon celebrates its 20th anniversary. Based on the French epistolary novel and play Les Liaisons Dangereuses  — the story was first adapted on the big screen as the 1988 film Dangerous Liaisons starring Glenn Close, John Malkovich, and Michelle Pfeiffer.  
Fast forward nearly 10 years later, Cruel Intentions premiered and became an instant cult classic. The loose adaptation modernized the romantic period drama of Dangerous Liaisons set in the pre-Revolutionary War era of Paris, and moved it to contemporary day New York City in Manhattan.
The story focuses on two wealthy step-siblings who live in an upscale mansion on the Upper East Side of the city. Kathryn Merteuil (Sarah Michelle Gellar) and Sebastian Valmont (Ryan Phillippe) are spoiled rotten to the core, and in their spare time, they plan diabolical wagers of sexual conquest, seduction and betrayal. As Sebastian curtly says about the women he dates, they are the epitome of insipid Manhattan debutants.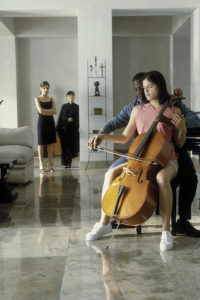 Films about teens doing really bad things, tend to intrigue audiences, and Cruel Intentions was no exception here — receiving the attention of fans and moviegoers everywhere with its successful return at the box office.  The film did so well in fact, that it spawned two sequels and is currently going to Broadway.
To celebrate the 20th anniversary of its return to the big screen, BGN chatted with actor Sean Patrick Thomas, who played Ronald Clifford. Ronald is Cecille Caldwell's (Selma Blair) music teacher. Cecile becomes the target of Kathryn and Sebastian's vicious games and is oblivious to their wicked plans to embarrass and make of mockery of her. Ronald develops a crush on his student Cecile, and that doesn't bode well with her racist mother Bunny Caldwell (Christine Baranski).
Sean Patrick Thomas just moved to Los Angeles a couple of years before Cruel Intentions went into production. "I was just auditioning for anything really, just trying to get my career going." What is significant about this audition for Sean was that he was already familiar with the play the movie is based on.
"I had a particular enthusiasm for this audition though because I had done scenes from the original text of Dangerous Liaisons, and I'd done that in graduate school, so I knew the play very well, I knew the characters very well. So I was super excited to get to audition for it because I knew it was based on a classic text, and I knew that it was great material.
Sean went into the audition confident about what he was doing and how to do it. He knew who Ron was and Ron's place in the story.
Sean didn't know Selma Blair nor the other cast members prior to the production — but got to spend a good part of the afternoon with Sarah Michelle Gellar and Selma Blair for his last audition.
"I guess it was kind of like my screen test, so I feel like I was able to get a good rapport with them from that day. So I had a good vibe with them when we first started shooting. And I hadn't met Ryan Phillippe or Christine Baranski. That part of it was new to me."
Every fan of Cruel Intentions can instantly recall what scenes in the movie resonates with them the most. For Sean, it was his moments with Selma's character Cecile.
"The scene where I'm giving the cello lesson to Cecile, Selma Blair's character, and the character that plays her mother [Christine Baranski] comes in and gets upset that it looks like we're getting intimate or romantic, and she's horrified. And I love the fact that my character speaks up for himself, stands up for himself, and doesn't back away from calling this woman out on her shit, you know?"
Speaking to Sean I recalled the moment when Bunny tells Ronald that she got him off the streets, and he boldly replied, "I live on 59th and Park". Sean says he that moment meant a lot to him.
"I'm very proud of that scene and of that moment because I think that you don't get to see that a lot on film in a way that really has a lot of impact."
Below is the scene Sean is referring to:
While Ronald and Cecile were lovebirds back then, one has to wonder, where would Ronald and Cecile be today? Would Ronald still be interested in Cecile? Would he have left 59th and Park? Sean believes the two would have parted their ways.
Sean adds, "Oh. I would like to think that he would have moved on from Cecile. I think from those experiences with those types of people, he would realize that as much as it looks like fun or as much as it looks more enticing place to be, that he would understand and realize that that's not really where he belongs, that these aren't really his people, that they don't really look at him with his full humanity and with his full potential. I would like to think that he would have moved on from there. And if I was to speculate, I would say that he became kind of like a Hakeem Jeffries type of congressman, somebody that gets into politics, and again, tells it like it is in a way that has an impact."
Sean Patrick Thomas' career went on an upward trajectory soon after Cruel Intentions. He went on to star in Save The Last Dance, the Barbershop movies and he's due to appear in the Warner Bros horror film The Curse of La Llorona.
We're also familiar with the success of his co-stars like Sarah Michelle Gellar. Sean Patrick Thomas still runs into her from time-to-time.
"I see Sarah Michelle Gellar a fair amount because we're both involved with the same charity and stuff, we've done work with the same charity, and I worked together with her on a recurring role on a show called Ringer that she was on a few years ago, so it was nice to get reunited from being on that.  I've run into [Selma] a couple of times. Last time I saw her, I ran into her at the hardware store. But I haven't really seen anybody else in a while."
Sean says that he's shy about watching his own films. But loves and is proud of his work on Cruel Intentions.
"I always look at it and I think, 'Wow, I look like that?' Or, 'Wow, I sound like that?' And I get all self-conscious and shy. But Cruel Intentions, I was very, very proud of because it was unique. It wasn't just your typical teenage romantic screwball comedy. It was really biting, clever, witty, raunchy, wicked, and all those things. It was just a very unique vision of Roger Kumble, the director and the writer. So I think that's why it still has staying power because it's so unique."
Sean gives a great assessment of what Cruel Intentions meant to him and also sheds light on what it may mean to others. With the film opening up soon for the re-release, it will bring in a new audience as well as bring back old fans. The story of wealth and privileged rich kids, even today is a hot topic and Sean explains how the culture today can still connect with a film made 20 years ago.
"I think today's audiences would still get a kick out of it even in light of what's going on with this admissions scandal. These kids in this movie, they're amoral, selfish, greedy, ruthless people, and the way these people are behaving here in this latest scandal are very similar. So I think that it would have a direct correlation and a direct mirroring of that, even 20 years later, that you would be like, 'Wow.' This is just a movie and it's just these fictional characters, but people with this type of privilege really do have these type of insecurities and this type of amoral impulse that they act upon."
Cruel Intentions releases in theaters nationwide March 22nd for one week only
Jamie Broadnax
Jamie Broadnax is the creator of the online publication and multimedia space for Black women called Black Girl Nerds. Jamie has appeared on MSNBC's The Melissa Harris-Perry Show and The Grio's Top 100. Her Twitter personality has been recognized by Shonda Rhimes as one of her favorites to follow. She is a member of the Critics Choice Association and executive producer of the Black Girl Nerds Podcast.