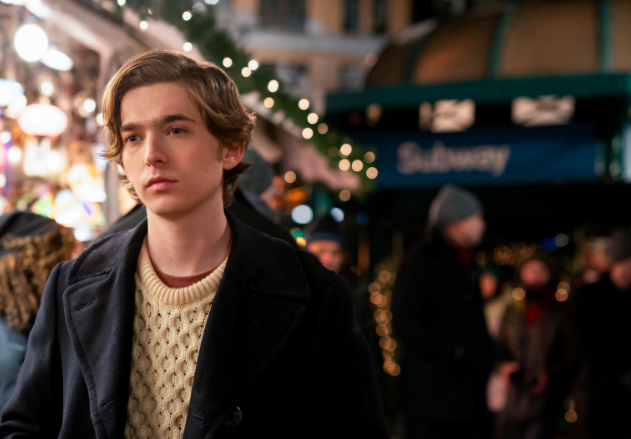 Lebo Malatse
Lebo Malatse is a content creator and writer. She's an…
December 17: A young lady places a red notebook in between books at a bookstore, while outside New York City is enjoying the preparation for Christmas. Dash (Austin Abrams) is not one of those people, as his voiceover speaks on how much he despises the season due to an old girlfriend and his mom going to Hawaii for the season while he suffers. The carolers and Christmas joy are all too much for him.
He finds refuge in a book store: The Strand. After trying to "help" the bookstore employee, Dash happens upon the red notebook. He notices that on the cover it states "Do you dare…"
Dash opens up and finds that there is a coded message that is to be deciphered by books, and he can't use his phone or the information desk employee because the employee promised "her" that he wouldn't help anyone who finds the book. This excites Dash and prompts him to run about the store looking for books and info within. 
Voiceovers of Dash and what I assume to be Lily assist by reading to us what is in the books and their minds. While in the sex and sexuality department, looking for a clue in The Joy of Gay Sex, Priya (Agneeta Thacker), friend of Dash's ex, bumps into him and makes things awkward by inviting him to a Christmas party that his ex will be attending. She notices the book in Dash's hand before she leaves.
Once Dash finishes the task, he reads on in the notebook. The writer commends him for doing the work and being clever enough to figure things out. There are rules that the person attempting the work must be a teenage boy who is interested in girls. The writer also wants to know if he is brave enough to read River lyrics into a mic at the store.
Dash does it and admits to us that he enjoys the songs and wonders if the writer is in the store. Our favorite Strand employee unplugs the mic and informs Dash that the last two words for the coded message he just said. The message asks, "Are you going to be lonely on Christmas?" He is instructed to leave a message telling her how this time of the year makes him feel if he wants. If she likes the answer she will reach out to him. Dash asks the employee who the girl is, but he refuses to tell, so Dash leaves with the notebook in hand.
Dash visits his friend Boomer (Dante Brown), and it seems that Priya has already dished on what happened when she saw Dash. Boomer is supportive. Boomer notices that Dash is into a girl and wants to help, but Dash kills that idea before he heads home. It would seem that Dash's parents don't know who he is spending the holidays with and that's the way he wants it. As he watches a black and white French movie, Dash thinks of when he was with his ex a year ago: at a party, where she informs him that her dad got a job in Brazil. Ouch. As he snaps back, Dash decides to write a note to the writer about his feelings about the year.
The next day Dash has decided to get Boomer in to help. He has left the writer instructions to leave the notebook in the video of the pizza store. Boomer just has to look out for her. String Operation is on. However, Boomer misses the girl during the lunch rush. The writer left Dash a note that Boomer clearly has read. I'm a fit of giggles. She knows that it is a trap and states some rules…not to mention a big dare. The two boys end up at a department store and Santa land. The kids, moms, and elves are not impressed. Dash is kicked out, but he acquired Santa's hat that has a monogram of Lily's name. I guess it was worth it. 
Rewind back to the night before with Lily (Midori Francis). It just so happened that Lily and Dash physically bumped into each other as she was rushing to carol.
This show is horribly cute. I am smiling at all the potential mishaps that the two may get into and I can't remember the last time I shipped two teenagers. Christmas is truly a fun holiday for those who want love.
Lebo Malatse
Lebo Malatse is a content creator and writer. She's an avid reader, tv and film lover, and traveler. To read more of her work, check out her site: lbmalatse.wixsite.com/website and journey into the worlds that she creates.