Lebo Malatse
Lebo Malatse is a content creator and writer. She's an…
Now we get Lily's point of view. Lily is in love with Christmas and absolutely enjoys it. Her family has history of finding their partners around this season. She hopes to find a guy in the Strand who enjoys books like her. I too wish to find such a guy.
She's described as an old soul because she is different from other girls. When she gets home, Lily's hopes are killed by her parents' and grandfather Arthur's packed bags (Arthur is played by James Saito). They are each going someplace warmer, and her brother, Langston (Troy Iwata), found a date for that night. 
As she walks the streets of New York, Lily decides to form her own caroling group, which she decides to tell Langston right away, but he was busy with his date Benny (Diego Guevara) in his bedroom. Knocking is a concept. Langston comes in to check on her and talk. He has concerns about her hanging out with adults and always trying to be happy. She wants someone for the holidays. Langston notices that Lily has stuck to a writing journal that was given by their great aunt Mrs. Basil E. He comes up with a great idea of a quest for her to find a soulmate. Benny assists with grabbing books for clues.
December 18, Lily drags in a Christmas tree then receives a message from cousin Mark. Mark happens to be the employee at the Strand. He's not a fan of Dash but he gives Lily the notebook to find out what Dash wrote. She's not happy with the fact that he hates Christmas. Lily is developing a habit of walking in on her brother Langston and Benny. Benny is excited about the bait, and Langston doesn't think she should give Dash another chance. She doesn't at first, but instead goes caroling. That ends when the adults have other plans. She's told to expand her bubble. Lily goes back to the notebook and reads the instructions, then decides to go along with it.
Remember when Boomer said that he missed the mystery girl? That was a lie. He caught her on her way out and even sits down to talk to her. Lily takes a chance on finding more information on Dash and decides to trust Boomer on what he says about Dash. The two figure out a way for Dash to find out Lily's name without Boomer telling him that he's met Lily. The task is simple: ask Santa. 
Dash doesn't take it as a task to get into the holiday spirit, he thinks she wants him to suffer. Oh dear. Dash struggles getting past the surly elf by the name of Jeff (Michael Cyril Creighton), but assistance from Boomer gets him through. He skips the line, and Santa is sweet enough to request that Dash sits on his lap to get the info he wants. Then, Santa warns Dash about hurting Lily. The two exchange words, then Dash grabs Santa's hat and runs away through the decorated trees before getting cut off by a security guard and taken out by the head elf. This couple is going to be fun to watch.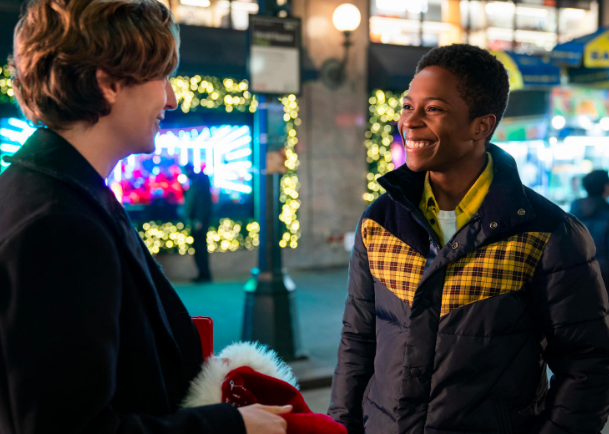 Boomer is genuinely happy that Dash is smiling. Dash asks for a favor that includes going back into Macy's. Santa, aka Uncle Sal to Lily, arrives at her doorstep with the notebook that was next to a plate of milk and cookies. He doesn't approve of Dash, but come on, he is thoughtful. Dash's note to Lily is an agreement to do things her way. Personal questions are to be earned with a dare. His question to her is what does she want for Christmas. The two are in their personal bedrooms, thinking of each other as they listen and sing along to a Christmas song. Langston is enjoying cookies with Benny on the roof.
Lebo Malatse
Lebo Malatse is a content creator and writer. She's an avid reader, tv and film lover, and traveler. To read more of her work, check out her site: lbmalatse.wixsite.com/website and journey into the worlds that she creates.