Jonita Davis
Jonita Davis is a writer, mother, a certified nerd, and…
It is a common refrain that the black experience can't be broken down into one image. That's what makes the stereotypes so insulting. The "thug," "aggressive" Black women are just a few of the things that ignore the nuances of blackness. It also disregards the fact that the people wearing that melanin richness need the space to figure out what their personal relationship with blackness may be. When that space is violated, all sorts of nonsense ensues. That's actually the crux of "Dear White People" Season 2. The Black students introduced in Season 1 are still dealing with a tone-deaf administration and clueless predominantly white classmates. This season, there's also the fallout from a shocking incident that brings an end to the safe space for blackness that is the Armstrong Parker House.
Sam (played by Logan Browning) is still at the center of the "Dear White People" storyline in season 2, but the episodes continue the first season's tradition of using each episode to delve into the lives of the characters. Get ready for some shocking revelations at each student deals with the fallout from last season and the new drama stemming from the loss of AP House. For example, Sam's best friend Joelle (Ashley Blaine Featherson), who was often in her shadow in Season 1, has a storyline that shows her branching out of her AP friends circle. She finds a guy who turns out to be the perfect match…but then she finds all the wrong signs. She may have found that particular Black man that so many have talked about, but few have met in person—the Hotep.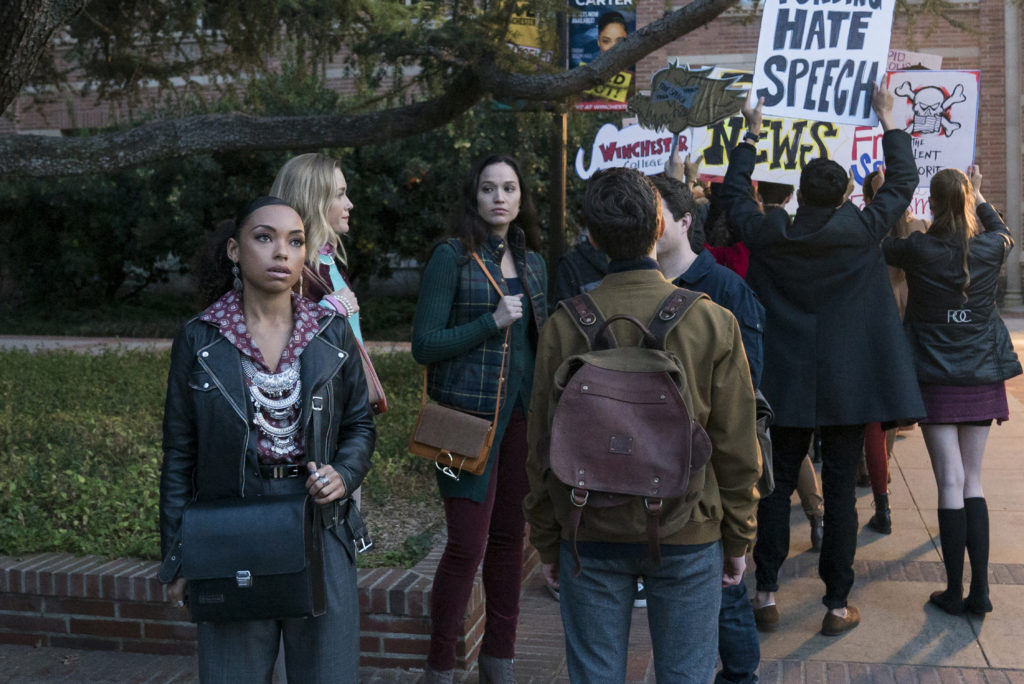 Fans of the show also get a closer look at Sam's life, growing up with a white father she loved so very much while decrying the ills of whiteness and racism. "Dear White People" takes this important storyline to tenderly tease out one of the most important nuances of blackness in interracial families: that love and family brings a lived experience with racism that forces whiteness to take a back seat, and blackness to become the white parent's primary focus. This is not to say that there aren't still problems, and the show reveals this. That's where the complexity lies, making these relationships undefinable. Even my description here is a bit too simplistic. Just watch. You'll see what I mean.
There are also a ton of surprise guests taking the most whacked out positions. I have to admit that I was floored when I saw who was playing the Black version of Anne Coulter. I'm still recovering from the woman's explanation of her choices, too.
During their second seasons, many shows lose their flair or do some drastic change that forces the storyline in a new direction. Very rarely do we see a show that uses the second season to continue to expand what we learned of the characters in the first season. "Dear White People" Season 2 does this without skimping on the stories or the important lessons on race and identity. Netflix has not only given viewers a show they will love to follow, but also one that looks to have some longevity potential, while still being relevant to our time.
Jonita Davis
Jonita Davis is a writer, mother, a certified nerd, and writer of Black Girl Nerds. Davis is a critic and journalist. She has been writing for 13 years about the way pop culture and politics affect our lives as parents, women, black women, nerds, and people of this planet.