Guest Blogger
BGN works to feature strong, unique content from writers who…
Speechless gave us great family laughs before the winter holidays. If you're not watching Speechless, we will continue to tell you to, because it's really a great show.
Speechless 1×9 Lessons Through Hockey
This week's episode of Speechless gave us life lessons along with the laughs. Ray and Dylan had a great growing moment, Jimmy learned a lesson from JJ, and Kenneth and Maya have grown to appreciate each other. What's not to like about this show when it continues to hit home runs every episode?
In my opinion, Ray and Dylan have the best relationship on the show. Sometimes they fight, sometimes they join forces, and sometimes they teach each other wonderful life lessons, as was the case in this episode. Ray tried his hardest to find a place to read his book where he would not be disturbed. I have always longed to find a hidden secret gem behind my closet and Ray did just that. Before he could enjoy it for more than one day, Dylan found his secret get away via his scented candles.
It is so refreshing to see Ray unapologetic to his family for what he enjoys in life. Ray was, however, a little more whiney than usual this episode. I was glad to see Dylan check him and put him in his place. As busy as this family is, it never dawned on me that Dylan shares a room with her two brothers. I have never stopped to think about the logistics of it all. It's funny because when Dylan pointed out Ray wasn't the only one who needed space, even I was speechless. (wink.) It's great when a show can bring out things you as a viewer don't even stop to think about.
Then there is JJ and Jimmy. Jimmy as the loving and protective father on top of is lazy attitude is the best dad combination ever. JJ wanting to play a sport where his teammates don't baby him and people who are also handicapped know what he is going through is a great way to bring in life lessons. Kids from all backgrounds play sports, and they can — and usually do — get hurt at one point or another. It was great to see the family gang up on Jimmy in a funny but realistic way to remind him that JJ should have just as much opportunity as the rest of them. Dylan points out that she got decapitated so JJ should be able to play Sled-Hockey.
Dylan: I did get decapitated.

Ray: I believe it. It explains a lot.
During a practice game when JJ gets smacked in the face, by accident of course, Jimmy's flight response straight to the dentist is hilarious. But of course, as soon as JJ doesn't want to play anymore because he got hurt, Jimmy is all for JJ playing hockey. It is an interesting bonding moment between JJ and Jimmy since Jimmy is the one pushing JJ's hockey sled. This family keeps me on my toes with their extravagant ways to bond.
Maya and Kenneth actually bonded this episode and it was awkward, funny, and sweet. It was a rollercoaster of emotions between the two of them as Maya saw Kenneth naked, then they got super professional, and then bonded in the bathroom with Ray in the shower. So, basically, their hilarious story started in the bathroom and ended in the bathroom. I love the dynamics between the two of them — Minnie Driver and Cedric Yarbrough have great comedic chemistry with one another. It is such a love-hate relationship because they have completely different personalities but bond over the love they have for JJ. The one on one time they had together in the CPR class proved just how much Maya wants Kenneth to be in their lives, but just has a hard time showing it. Kenneth is just a giant teddy bear. He wouldn't leave the Dimeos and they wouldn't let him.
Next up, the Speechless winter finale featured Ray deciding to join the school choir. Oh Ray, you crack me up.
Speechless 1×10 Tis the Season to be Helpful…or Not
Christmas is my favorite time of year and Speechless did the season right. Maya is a whole new person around Christmas. Her enthusiasm and Christmas spirit is not what I expected from her, but was completely welcomed. She was hilarious. The peak, then slow decline of her holiday spirit was a joy to watch.
Faith in humanity seemed to be the theme this week and it was showcased through the entire community.
If there is one thing I have learned about the DiMeos this season, is that they are a 'go big or don't really try at all' type of family. This was apparent with the giant Christmas tree they had this year compared to the falling apart fake, small Christmas tree they had years prior. It was great to see Maya appreciating what blessings they had this year including money saved and Kenneth for JJ. In the beginning of the season, it seemed that the family was a hot mess. This season finale showed how this new community they moved into has helped them grow. Don't get me wrong, they are still a hot mess, but it's endearing and just plain old how the DiMeos run.
Ray's college counselor meeting was definitely art imitating reality. I remember a slew of people joining extra-curricular activities at the last minute when I was in school. Ray's choir experience was definitely just that, an experience. I love Julianne Hough. Her role as the pretty new teacher making all the boys join choir and dance club fits right in. Ray isn't your typical young man, as we have learned throughout this first season of Speechless. He is so stuck on beating JJ and getting his solo for the Christmas concert, that he isn't fazed by her beauty like the other boys. In fact, it is not until Ray is on stage singing with his brother that he realizes the teacher's looks and ruins the performance. Hilarious.
Maya's unfortunate day seems to trickle down to everyone else. What started as a bulldozer of a day, with Maya getting everything done in a timely, albeit chaotic, fashion, took a turn for the worse when Maya thought the van was stolen. The entire act of trying to get JJ places without the appropriate vehicle was entertaining. When the people on the bus wouldn't let Jimmy on with the wheelchair, I too felt that humanity sucked.
As things clearly weren't going their way, the DiMeos seemed to give up on Christmas. It was sort of a depressing moment. They had no gifts, no money, no car, and no hope of getting the Christmas they were planning for. It was a moment where you could see the true character of every member of the DiMeo family. They didn't cry or get angry, they just went along with it. Sure they were upset, but who wouldn't be.
The episode came together nicely with gifts given to the DiMeos by the community in lieu of their car being stolen. It was sweet and just showed how far the DiMeos have come since they first moved in. They truly have been embraced, even with Maya and the entire family's shenanigans. I can't wait to see what the second half of the season has in store for us.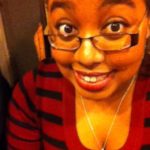 Catalina Combs is an aspiring film critic from California. She loves reading, writing, film, baking, music, drawing, traveling, Disney, and playing soccer. Her life usually revolves around all of these and her family. The oldest of six, Catalina tries to set a good example for her siblings. She graduated from Santa Clara University in 2010 with a BA in English Creative Writing and is pursuing an MA in Film. I also blog on WordPress and contribute to the website Examiner.com. Twitter- @tiggercraze | Facebook- Cat Combs | Instagram: @tiggercraze
Guest Blogger
BGN works to feature strong, unique content from writers who speak to our niche. If you are interested in having your work highlighted contact jamie@blackgirlnerds.com to be featured as a guest blogger on the site.