Through March 31, 2023, Walt Disney World is celebrating its 50th anniversary. BGN came out to the Orlando, Florida, resort to check out #AllTheDisneyThrills happening this season.
After arriving in Orlando on an empty stomach, I headed over to Disney Springs, which is the perfect spot to choose from as many options as you could ever want for dining. Having never tried Planet Hollywood before, this movie nerd decided that was the place to go. Having a meal in front of a big screen listening to Bon Jovi singing "Living on a Prayer" wasn't half bad.
Later that day, I met with some fellow influencers, picked up my credentials and swag, and was ready for the day ahead. Of course I had to get a photo op to let everyone know I was at Disney World. This was a social media opportunity I could not let slip away!
My first official day was after check-in. I spent some time over at Animal Kingdom and decided to take trip over to Africa and navigate on the Kilimanjaro Safari to see some wild animals.
And even though there was some light rain in Orlando that day, the lions, giraffes, and rhinos all came out to see the visitors and were ready for their photo ops.
One of my favorite Disney animated movies of all time is The Lion King. Having never experienced the theatrical production of the popular Disney tale, the kid in me was bouncing around all day with anticipation. The larger-than-life musical was filled with pageantry and puppetry. I was singing every song along with the cast and was amazed by the incredible performances. Disney provided the media and influencers a private viewing of the show with only a few of us in attendance, and we all got photo opportunities with the cast shortly after the performance was over. "The Festival of the Lion King" is a high demand show at Walt Disney World.
Disney wasn't done with us after that show. We were treated to a nice dinner at Harambe Market and went to the Avatar Flight of the Passage ride shortly after. If you have never done the World of Avatar at night, it's definitely an experience worth having. The next day for breakfast I was visited by some very familiar characters in the Pixar universe. You may have heard of them — The Incredibles!
First up were both Bob and Helen Parr. I was pretty psyched to meet them in the flesh. I must say, I've met a lot of celebrities in the line of work I do as an entertainment journalist, but I definitely went into fangirl mode meeting these two.
And next up were Frozone and Edna E Mode. I made a Tik Tok about these two, which you can check out on the @blackgirlnerds Tik Tok page, but I absolutely loved the castmates going all in on their performances! Especially Frozone. He's so into his character you just love to see it!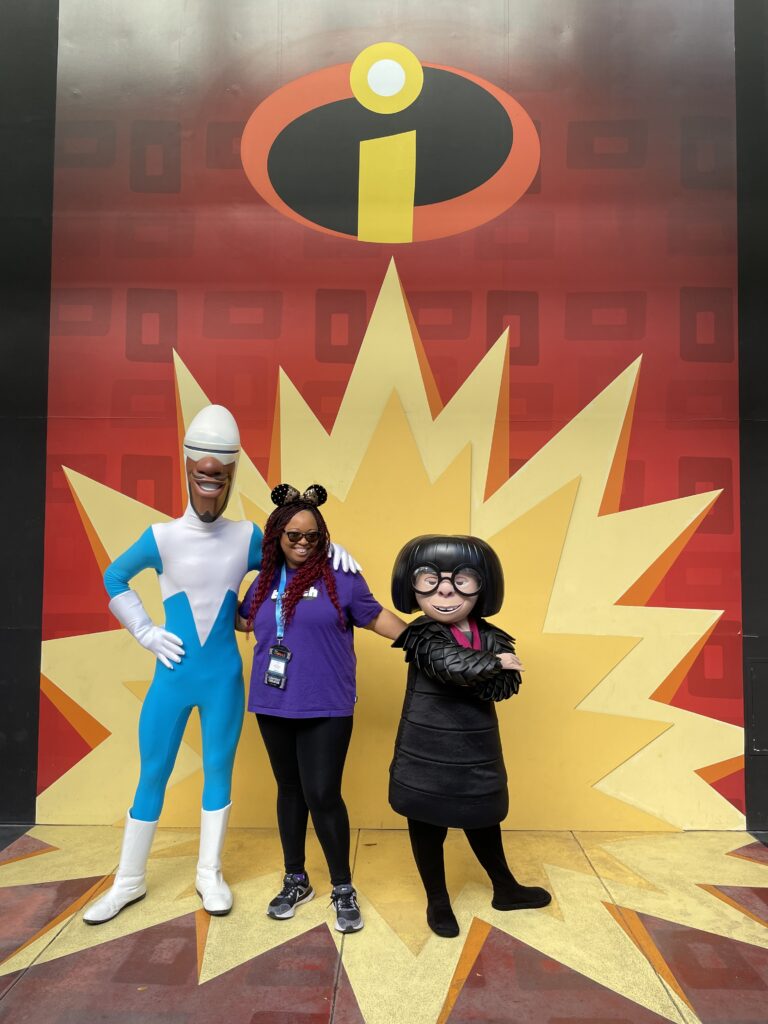 After breakfast and meeting Pixar's biggest celebs, we had some free time to roam around Hollywood Studios. Of course I had to do the Tower of Terror because it's one of my favorite rides at the park. However, I also decided to get on Mickey & Minnie's Runaway Railway because I didn't get an opportunity to ride it the last time visited the park. It was under construction at that time; I interviewed one of its imagineer's Charita Carter back before it opened! The ride is charming and absolutely adorable, and I love the little dance section with Daisy Duck. Lightning lane passes were provided for us as well for these rides so no long waiting in line, which was a blessing, trust me.
For lunch we were offered an exclusive invite to Rodeo Roundup BBQ. We were one of the first groups to dine in at the Pixar-themed restaurant. The country-western stylized diner opens to the public March 23, 2023. Here are just some of the fixins I had on my plate below:
So if BBQ is your thing, you may want to stop by when this place opens, and don't forget to say hi to your favorite Pixar characters too!
Next stop was EPCOT and we were given plenty of time to luxuriate in their kitchens from different countries and take part in some fun rides too. I kept hearing that the Guardians of the Galaxy: Cosmic Rewind was all the rage, so I had to check it out. The thrill ride exceeded my expectations, offering a cool extraterrestrial adventure. The song on my specific ride was "Everybody Wants to Rule the World" by Tears For Fears. The '80s music adds an extra layer of intrigue and entertainment to the ride.
I had never gone on Remy's Ratatouille Adventure and decided to check that one out as well. I wasn't warned about the water that gets splashed in your face.
*Sorry if I spoiled it if you never been on the ride!*
I also enjoyed the aromatics used. There's a nice fragrance that effervesces throughout the ride, which is quite pleasant.
Next up was the barcade! Drinks and games! I had my sip of wine and played some retro '80s games over at the barcade in EPCOT. There were some newer games as well, but I stuck to what I knew, which was Mrs. Pac-Man, Galaga, and Space Invaders. There's a lounge seating and raffle spot where you can win prizes. With yet another great opportunity for a photo, there is a spot where you can create your next profile pic to add to your social media accounts.
But guess what? We still were not done with the day! Disney escorted us over to the Magic Kingdom to a concert performed by none other than Goofy and Donald Duck — and it was lit!
We were greeted by Jeff Vahle, the president of Walt Disney World resort, as well as the legendary team behind Tron — actors Bruce Boxleitner (Tron) and Cindy Morgan (Yori). As exciting as this was, what we were all waiting with baited breath for was to ride the Tron Lightcycle Run. You can check out the full ride here:
It was an amazing experience, and I definitely plan to ride this again when I come back to Walt Disney World. There was also the Happily Ever After event with a beautiful fireworks display. Just seeing the magical castle at night with the 50-year insignia on it made it all the more special that I was here to help celebrate this incredible milestone.
Be sure to check out our socials on Tik Tok, Instagram, Facebook, and YouTube to see all of our content from this incredible event. Follow the hashtag #AllTheDisneyThrills to see other content creators who captured even more special moments.
Jamie Broadnax
Jamie Broadnax is the creator of the online publication and multimedia space for Black women called Black Girl Nerds. Jamie has appeared on MSNBC's The Melissa Harris-Perry Show and The Grio's Top 100. Her Twitter personality has been recognized by Shonda Rhimes as one of her favorites to follow. She is a member of the Critics Choice Association and executive producer of the Black Girl Nerds Podcast.