Jamie Broadnax
Jamie Broadnax is the creator of the online publication and…
Actress Emayatzy Corinealdi is most notably known for her work in the Ava DuVernay film Middle Of Nowhere.
On Sunday nights on CBS, you can catch her playing the role of Tia Young, the ambitious politician with a complicated past in the new series The Red Line. Produced by both Ava DuVernay and Greg Berlanti, The Red Line is an eight-episode original limited series that follows three very different Chicago families as they journey toward hope and healing after a tragedy causes them all to consider how race and racial biases affect their lives.
Tia Young discovers her daughter whom she gave up for adoption as a teen, is also the daughter of an innocent man killed in a fatal shooting by the police. Tia has to tackle her political career and reconnecting with her daughter who has come back into her life. Emayatzy chats about working with Ava DuVernay again and drawing from real life politicians to get into character.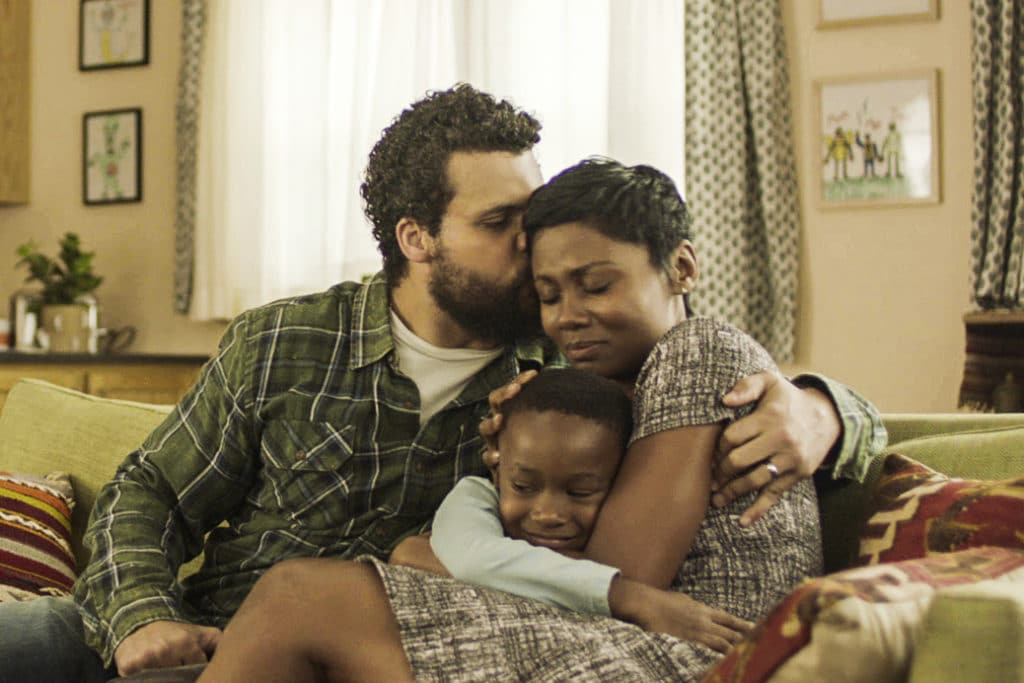 Can you briefly tell our readers who is Tia Young in The Red Line?
Tia Young is a young mother living in Chicago with her husband and her young son. There's a tragedy that happens. There's a Black man who was killed by a white officer and she is affected by that. The show, Tia's role in that is she decides to make a change. She decides to do something about that. She decides to do what she thinks is really the only thing that she can do to find some kind of justice for what has happened, so she decides to run for political office. And in doing so, bad things from her past that come up and then threaten to either derail everything she has going on if she doesn't find a way to reconcile.
I know that this character has a lot of political ambitions. Did you draw from any real-life politicians or civil rights activists while preparing to play Tia?
I did because one of the things that I loved about Tia's political operation is that it really mirrors what was happening right now in our country. She really captured all the women who are running for Congress. For other women, there's a woman named Lauren Underwood in Illinois who is a Black woman, and she ran and to see her in a way that no one ever thought would happen. And she ended up being elected.
Then, of course, we have Laurie Lightfoot. She came after, we were almost finished rolling by that time. But there are so many examples of women going into Congress and women running for office around the Country that I feel all of that energy. I really did try to view Tia with all of that.
Isn't that beautiful that there are so many examples of women going into Congress that you can draw from?
Oh my gosh. You know what I mean? It is exciting in itself.
What scene or scenes resonated with you the most while filming?
Oh boy. Well, there is one but I can't say it because that would kind of spoil the show. So, I will just say, in a general sense, what resonated with me the most in doing the show was being able to have an opportunity with this character, with the show, to speak to something that is pertinent to what is happening to us right now. Black men really are being killed at a big rate, and I feel like every time that we think that we're making some kind of progress, something else happens. And so, we have an issue here. So, this show was hoping to allow people to, from the comfort of your living room, engage in a conversation with other people. When you go to work the next day, when you have dinner with your family, let's have a conversation about what is happening.
So, for me, that's at the heart of the show and that's what my goal is for the show. That's what my hope is, is that people would walk away from this looking to examine themselves. Look at their own implicit bias and see how that is affecting our lives every day, especially when you talk about law enforcement. When people's lives are hanging in the balance. So, there's a need for us to stop. Take a second. See this other person here. Think for a second before we make these kinds of moves. So, that's what the heart of the show is.
I really hope that people will watch this show and see something inside themselves or reflect a little bit more about what's happening in our Country.
Yeah.
I know you've worked with Ava DuVernay before in Middle Of Nowhere, and Ava's also an executive producer on this show. Did she bring you in because of your history together? And what was it like working together again?
You know, working with Ava this time, is just really different. That it's a completely different role. With Middle of Nowhere, we had a director and this has an executive producer so I don't see her like I did as before. A very different role so in that sense, it was a different experience. So, anytime she and I get together, always a lot of fun. She and I have a thing for doing Middle of Nowhere. So, this was … I'm looking forward to it for that reason.
You play a very significant role in this series and your story arc is the vehicle to this story, really. How is Tia unique from any of the other characters that you've played?
I think because she's somewhat in the middle, I'll say, of the other two families, so she's able to have a bit of a different perspective. She's attached but not quite attached, so I think that's given her a different lens that's she's viewing the whole picture from. So, she's able to assess the situation a little bit differently and start to make moves from there.
 And I know that this is a limited mini-series but do you see the story going further if this mini-series gets picked up for another season?
I mean, if it were to get picked up, because we shot it just as you see it, with it being this very pressing conversation that we want to have, this event. But is it worth to get picked up and go for a second season? Absolutely there would be more places for these characters to go, especially Tia's character. Given where she is this season, there are just miles and miles of roads in terms of where she can go. Especially when you think of the Mayor of Chicago right now, Laurie Lightfoot, and how her election, how that impact politics of Chicago. There's just a lot of room for that.
And we do have with the other families, the Calder family, even just dealing with the issues of adoption and things like that. There's so much room for that to play out. And then you have on the other end, you have this officer. Now he has to deal with the aftermath of what he's done. There's an opportunity to see how his bias is affected as time goes on. But there's a lot of room for all of the characters to grow if given that opportunity.
What's next for you? Are there any new projects that we should keep on our radar?
I do have a couple of things that are brewing right now for which I can see really get into. I'm working on that on Ballers to do with our 50's and that's just always such a fun set to be on. I'm working with Dwayne Johnson. He's just so much fun. So, I'm looking forward to that.
Thank you so much. I really appreciate your time.
No problem.
The Red Line airs Sunday nights at 8pm ET on CBS.
Jamie Broadnax
Jamie Broadnax is the creator of the online publication and multimedia space for Black women called Black Girl Nerds. Jamie has appeared on MSNBC's The Melissa Harris-Perry Show and The Grio's Top 100. Her Twitter personality has been recognized by Shonda Rhimes as one of her favorites to follow. She is a member of the Critics Choice Association and executive producer of the Black Girl Nerds Podcast.