Lebo Malatse
Lebo Malatse is a content creator and writer. She's an…
On a beautiful Chicago morning, Emily (Lily Collins) informs her boss Madeline Wheeler (Kate Walsh) that she is in Ad Week. Her company, Gilbert Group, has acquired the small marketing firm Savoir, a company in France.
Madeline is excited to have the opportunity to move to Paris and gives Emily the chance to pitch her idea on meditation and medication. As the two try out a new perfume, Madeline gets sick from the weird scent, but Emily only smells floral accents. Isn't that a pregnancy thing?
Later, Emily meets her man, Doug (Roe Hartrampf), in a bar. She informs him that Madeline is pregnant and has decided not to go to Paris. While Doug thinks that means there's no promotion for Emily, Emily surprises him with news: she's been offered the job in Paris for a year and will come back with title of Senior Brand Manager. He seems stunned by the fact Emily is serious about leaving, despite not being able to speak French. He however supports her. I doubt this relationship is going to last.
Upon her arrival in Paris, Emily is greeted by the handsome Gilles Dufor (Gauthier Battoue), who hands her the keys to her apartment and assists her with her bags up several flights of floors. He gives her a bit of a French lesson then asks her out on date. Très cute. She obviously declines because she has a boyfriend. This show is definitely going to have me brush up on my high school French.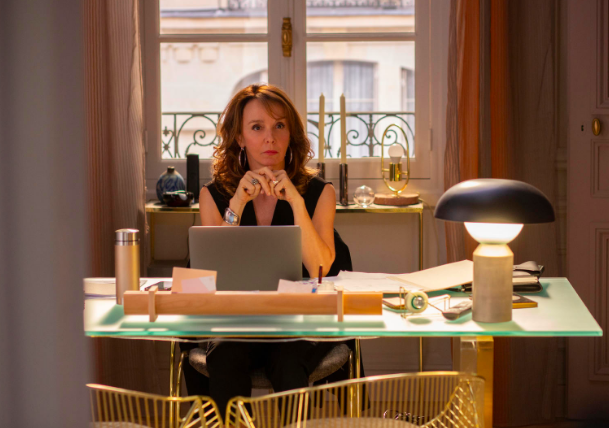 After somewhat setting in, Emily hits the office. She is immediately met with eyes and distaste from the staff and her new boss Sylvie (Philippine Leroy-Beaulieu). I mean the girl doesn't speak a lick of French, and they aren't happy about it. Emily is introduced to Paul Brossard (Arnaud Viard), the founder of Savoir, and he doesn't hold back on how much he didn't enjoy his time in America and how he thinks Emily, as well as Americans, could learn from them. Emily doesn't let this faze her. She requests to share her ideas on social media strategies for the company. She starts out loudly but later explains that she will be giving an American perspective to Savoir's French market. Not one person is excited for this. Sylvie informs Paul that she doubts Emily will make it a year under her.
A quick phone call with Doug gives Emily a bit of encouragement but leaves her yearning for love. Emily mistakenly uses her key to unlock the wrong apartment door and meets her handsome neighbor, Gabriel (Lucas Bravo). The girl is too American with the references. The next day, Emily buys a chocolat un pain (pastry with chocolate inside) and arrives at the office two hours early. Her boss arrives forty-five minutes later. Emily attempts to get the social media expert, Patricia, to sit down and discuss strategies. Patricia flees, and everyone else shuts down Emily's invitation to have lunch with her. While out for lunch, Emily meets Mindy (Ashley Park), a nanny who befriends her immediately and fills her in on how the French are. On her way back to the office, Emily sees that the marketing team went to lunch without her. As they return, they greet her with a new nickname, "la plouc," aka "the hick." Did they forget that the internet is a thing?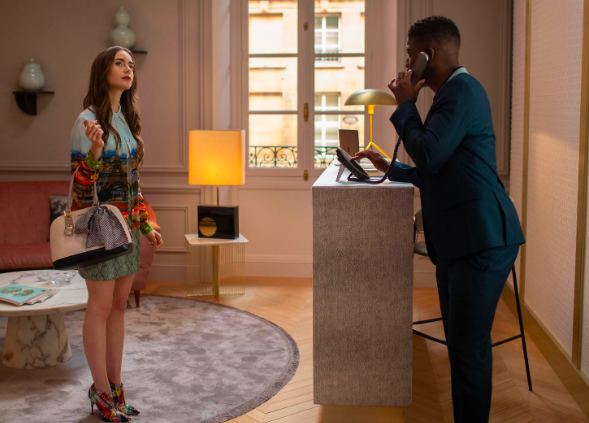 Luc (Bruno Gouery), from the marketing team, bumps into Emily while out. He informs her that he didn't agree to the nickname, hence why he struggled saying it, and that the team is afraid of Emily. She brings in new ideas that would push for them to do more than they are used to. According to him, the French work to live unlike Americans who live to work. He is shocked to hear that Emily is happy to work and thinks she probably doesn't know true happiness. Emily pushes back and says that is arrogant to say, but Luc points out it was arrogant and ignorant for her to come to Paris without being able to speak French. True. Luc advises her not to be early to work. Emily takes in what he says and changes her latest social media post. With each photo she takes, she gets more followers. I probably should pay more attention to her posts.
Doug finally calls Emily — at three in the morning. He suggests a little video phone sex and Emily obliges, but she isn't into it as much as Doug is and the phone freezes. Emily pulls out her vibrator to plug in but that thing takes out the electricity in the neighborhood. Gilles did say that it was an old building!
Emily comes off as the typical young American with an upbeat attitude. While she came in thinking that she could kill the job, she didn't factor in that not everyone loves Americans and that French is probably needed in France. The pushback from her French colleagues is on brand to anyone who has traveled outside the America. Not everyone likes us. However, it will be fun watching Emily make a name for herself in Paris. Also, I'm not mad at Emily's fashion choices.
Lebo Malatse
Lebo Malatse is a content creator and writer. She's an avid reader, tv and film lover, and traveler. To read more of her work, check out her site: lbmalatse.wixsite.com/website and journey into the worlds that she creates.