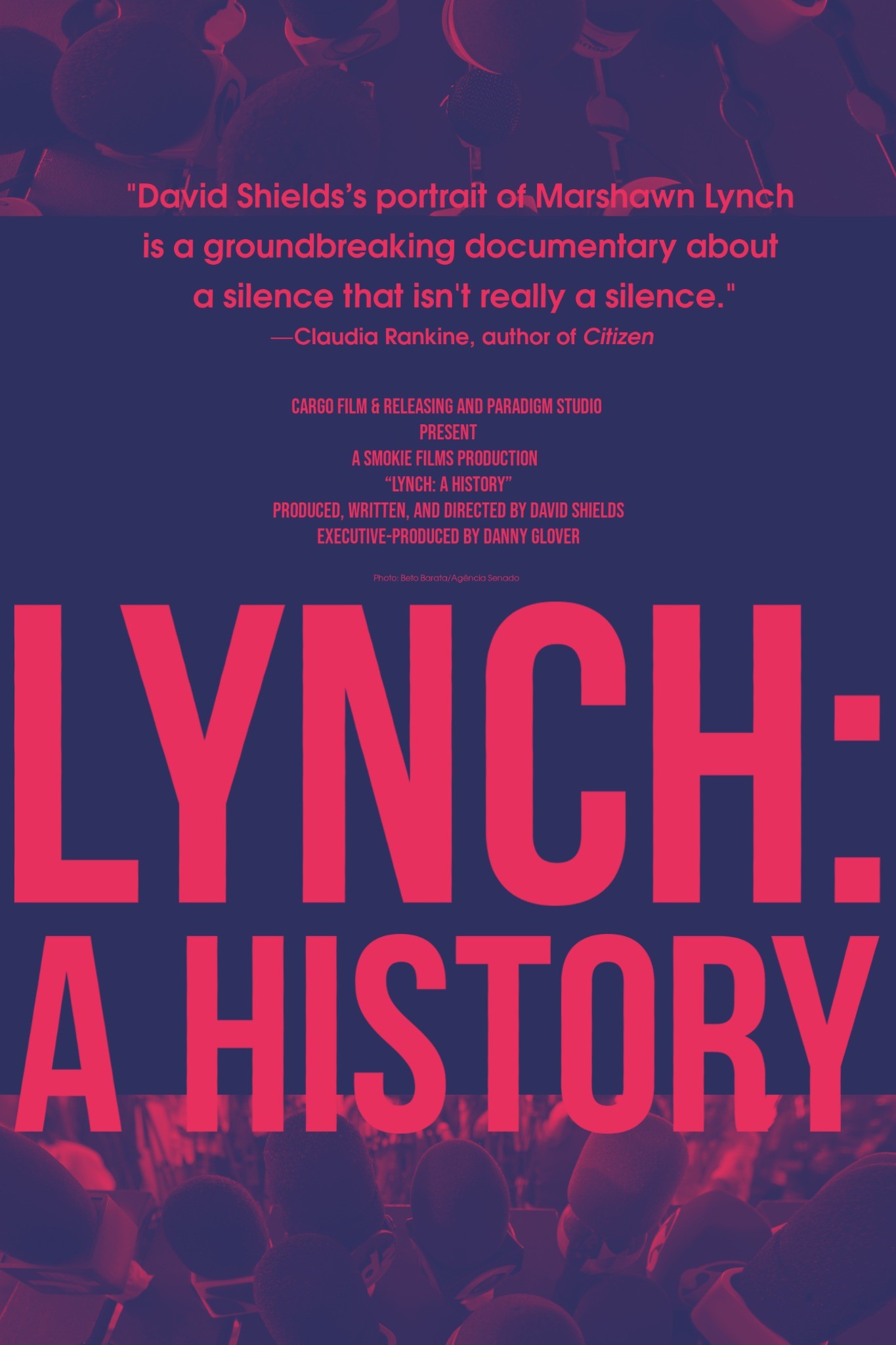 Topic, the streaming service from First Look Media, today announced that it has acquired the exclusive SVOD rights to David Shields's Lynch: A History, a feature-length documentary that explores the silence that nonconformist NFL star Marshawn Lynch deploys as a form of resistance. Culling more than 700 video clips and placing them in dramatic, rapid, and radical juxtaposition, the film is a powerful political parable about the American media-sports complex and its deep complicity with racial oppression. Topic has set a July 9, 2020 premiere for the film. 
Born and raised in Oakland by a single mother, Lynch became an All-American, an All-Pro running back, and a Super Bowl champion, but over the last five years he has emerged as a nationally significant figure precisely because he has refused to "play the game" of being a dutiful, cliché-bound interviewee. Silence-as-rebellion has African-American roots tracing back to slavery, and it's a gesture that has flourished spectacularly in Oakland, where Lynch is deeply involved in the betterment of his hometown and where "troublemakers" have emerged generation after generation—from Jack London and Gertrude Stein to the Black Panthers, Hells Angels, and Oakland Raiders to Bill Russell and Curt Flood to Alice Walker and Ishmael Reed to Tupac Shakur, Ryan Coogler, and Boots Riley.
"After I screened the film in Los Angeles last summer," the director David Shields said, "the Oakland rapper Ise Lyfe came up to me and said, 'No black kid in Oakland would see Marshawn's refusal to talk to the media as anything other than standing up to the police.' And now here we are. I'm thrilled and grateful that the film is now available on SVOD from Topic. I've been a fan of First Look Media for years."
"David has created a fascinating and powerful portrait of Marshawn Lynch—the man, the athlete, and the activist. As protests and demands for social change sweep our nation, it's more vital than ever to spotlight and celebrate Marshawn's story," added Ryan Chanatry, General Manager of Topic. 
The film made its world premiere at the 2019 Seattle International Film Festival. It was also an official selection of the 2019 International Documentary Film Festival Amsterdam, where it was awarded a Special Jury Mention for Creative Use of Archival Footage, and also named by Sight & Sound as one of the five best films at the festival. The film also won an End of Cinema Award for Best Nonfiction Film of the Year. In the New Yorker, Hua Hsu wrote, "Lynch feels like the culmination of Shields's career. The film's relentless rhythm overwhelms and overpowers you. Random acts of terror, across time and space, reveal themselves as a pattern. It's a gradient of American carnage."
Lynch: A History is produced, written, and directed by David Shields, the New York Times bestselling author of more than twenty books, including Black Planet: Facing Race during an NBA Season (which loosely inspired the film), Nobody Hates Trump More Than Trump: An Intervention, and Reality Hunger: A Manifesto (which LitHub recently named one of the 100 most important books of the last decade).
The film is executive produced by Danny Glover (Sorry to Bother You, Hale County This Morning, This Evening, Lethal Weapon). John W. Comerford (Icons Among Us: Jazz in the Present Tense) is a consulting producer. World sales and theatrical distribution by Cargo Film and Releasing. A Smokie Films production. 
Topic's VP of Acquisitions Jennifer Liang negotiated the deal with David Piperni, President of Cargo Film & Releasing.