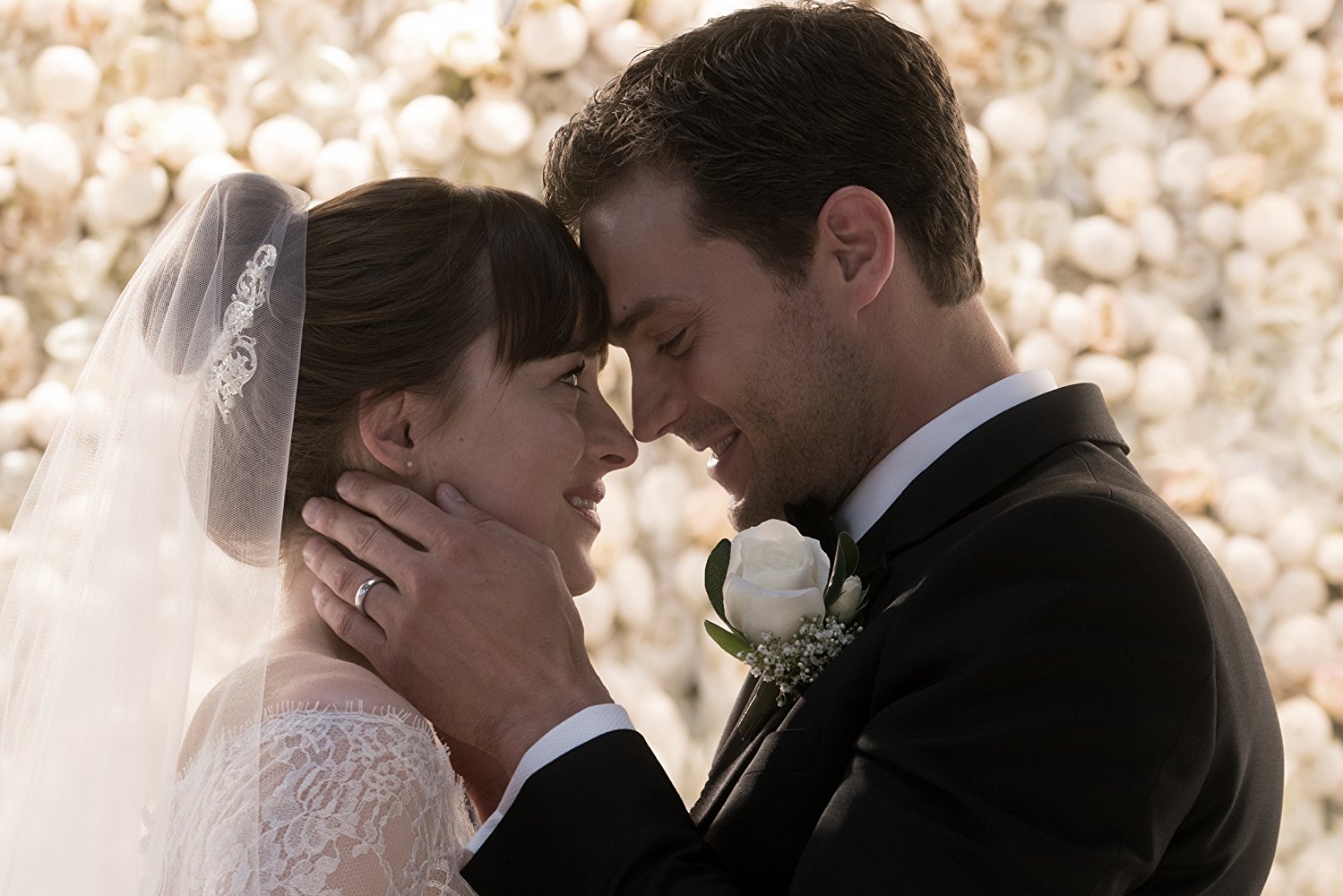 I will start off this Fifty Shades Freed review by saying that if you have not seen the Fifty Shades movies or read the books…it's ok. Those of us did this so you wouldn't have to. There are much better ways to spend your Valentine's weekend (BLACK PANTHER).
The draw of these films stems from the allure that came from the books, a way for the reader/viewer to have an escape into sexual fantasy. And while others have issues with the franchise as a whole, I try not to knock anyone's kink. I do have issues with poorly written kink, material that is unresearched, and actors spouting lines that sound like a Logan Paul/Lena Dunham forced apology.
The synopsis of the film: Believing they have left behind shadowy figures from their past, newlyweds Christian and Ana fully embrace an inextricable connection and shared life of luxury. But just as she steps into her role as Mrs. Grey and he relaxes into an unfamiliar stability, new threats could jeopardize their happy ending before it even begins.
With a plot that plays out like a Lifetime movie a la The Craigslist Killer, the pacing of the film (which could've been adjusted from the book) leaves the viewer lost in time jumps without explanation. And yet, one shouldn't expect much from this, considering its origins out as Twilight fan fiction. While I do appreciate the attempt to bring some light to Ana (Dakota Johnson) with her dialogue, it's too little too late. As for Christian, I will die on the sword that Jamie Dornan is sexier and brings more life as a serial killer in The Fall then he ever did through this trilogy. I want more for the actors in this film, and it was clear from the first film that they were not going to receive it from this project.
The sex scenes, where one would assume that the bulk of the film's excitement would be found, left little to be desired. The actors' chemistry, while non-existent, should have been at least feigned to a certain degree to where the viewer could find at least an ounce of enjoyment between them. I looked, and I saw none. 
With a villain fit for a bad WGN Sunday afternoon movie, the supporting characters were pushed to the back and it was clear in the dialogue that they were supplied. Bella and Ed—I mean, Christian and Ana—are supposed to be the main focus of the viewer, and it's truly unfortunate, especially when you have Marcia Gay Harden in your ensemble.
The screening I attended was one of the only two things that the made film tolerable. Model Cynthia Bailey hosted a screening here in Atlanta, and as I walked in the theater I was greeted by men without shirts in the signature Christian Grey jeans. The theater was filled with people that look like me, and their reactions to the film made it an enjoyable and hilarious evening. The second component that made the film more enjoyable was the music selection featured in the film, as every song that was chosen fit perfectly with the corresponding scene. This is tough to do, and sometimes even a great film can be undone by a bad compilation soundtrack.
The film's weakness falls in trying to not make the relationship between Ana and Christian look abusive to an outsider. No matter how you spin it, the amount of control Christian holds over Ana is dangerous, especially in the wake of the #MeToo movement. Powerful men using their position to interfere with your career, money, and restricting access to friends—it's a bad combination all around.  So, while most will still go out and see this film to complete the Fifty Shades trilogy, I advise that you go with caution.
Kayla Marie
When she's not busy saving the world one panel/cosplay/comic book at a time, she is the social media curator for Black Girl Nerds. She doesn't sleep between live tweets, convention appearances and podcast recordings. Human mom to a nerdy and rambunctious 8 year old, fur mommy to a dog and 2 cats, life is nuts. But she wouldn't have any other way.