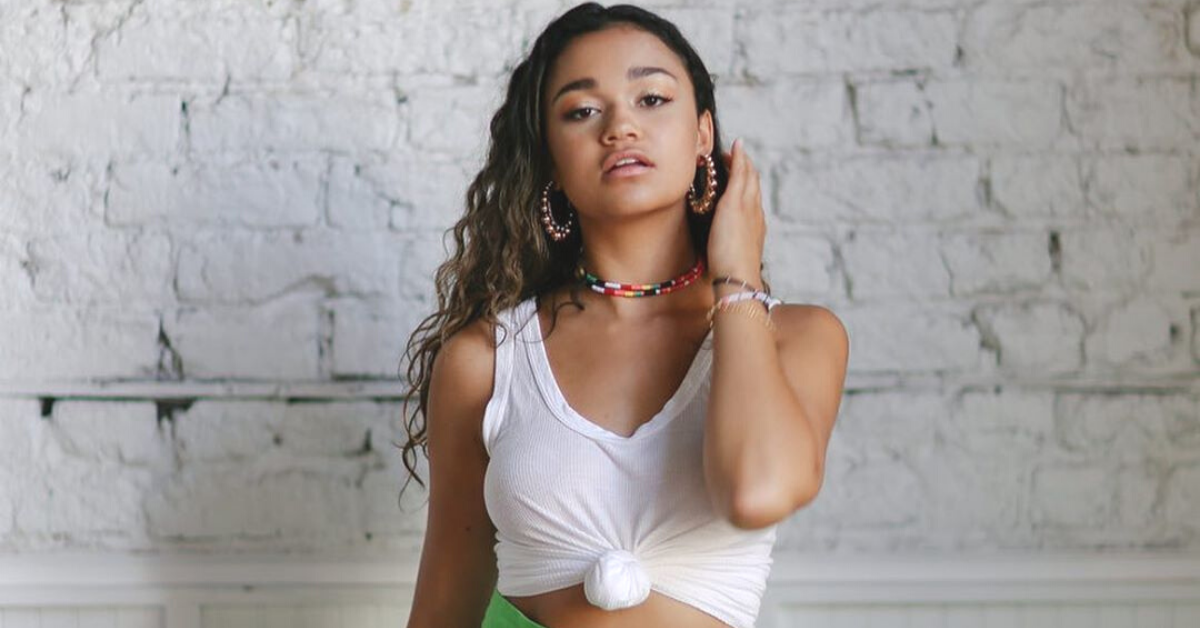 There's a lot you might not know about rising star Madison Bailey aside from her being the leading lady of Outer Banks since April 2020. Outer Banks has been a breakthrough success on Netflix since its premiere as a highly intense show focused on a group of reckless teenagers. Bailey plays the role of Kiara, the one girl in the group who the boys all have a crush on. The complicated part is that she only likes one of those boys back. His name is John B, and he's totally hung up on a different girl named Sarah Cameron. The character of Kiara is relatable because she grapples with teen angst, unrequited love, and the hardship of friendship, and somehow she remains loyal to a fault. Is Madison Bailey similar to the character she portrays in Outer Banks? Here's what you should know about the starlet.
Bailey's opinion of Outer Banks
Outer Banks is definitely the biggest role Madison Bailey has landed to date, and she has nothing but high praise for the show. Upon receiving a call from her agent about taking on the role of Kiara, she said, "I truly did not picture myself moving to LA and then coming back to the East Coast to film a show about North Carolina. But I read this part, and I was like, 'Maybe this was meant to be.' It was clearly kismet" (StyleCaster).
Surprisingly, Bailey almost didn't land the role of Kiara at all, despite the fact that we've now seen her do an absolutely incredible job. Prior to getting the official offer, she said she didn't even hear back from the show creators after submitting her initial audition tape. She ended up submitting a second audition tape per the advice of her agent, and that's the one that the show creators fell in love with. It's awesome she went for it twice and didn't throw in the towel at the first sign of rejection.
Bailey's love life
Although Madison Bailey plays a character who dabbles in romantic scenarios with nearly every male cast member in the show — from John B, to Pope, to JJ — in real life, she's in a relationship with a young woman named Mariah Linney. Linney is a basketball player who's quite popular on TikTok. Together they make a perfect power couple. Bailey has revealed that she's pansexual, and she's made sure people don't compare her on-screen romances to her real-life love.
She said, "There's no parallel between Pope and Kiara and me and Mariah. They're two completely different relationships. I definitely never had to define the relationship. We always knew, for sure." To clarify what she meant by that, the character of Kiara is pressured to define her relationships and explain her feelings to the guys around her. In real life, Bailey doesn't face those same pressures. She seems to be totally happy and in love with her partner. They consistently post cute pictures together on social media and never skimp on the PDA.
Bailey's other roles
Outer Banks is a huge deal at the moment, consistently coming in as part of the Top 10 most-watched shows on Netflix every week. This isn't the only time we've seen Madison Bailey in front of the camera, though. She also starred in the show called Black Lightning between 2018 to 2021 alongside China Anne McClain and Nafessa Williams. Bailey played the role of Wendy in the show, which explores the DC comic universe hero Jefferson Pierce. He doubles as a vigilante in the hot pursuit of justice until he feels he's aged out of the game. At his older age, he learns his daughter Jennifer has been recruited into a street gang so he decides to take on his heroic persona once again.
Another role including Bailey is the film Impractical Jokers: The Movie. Bailey has a smaller role in this one, but it's based on a popular television series of the same name about a high school outcast who's been humiliated and decides to send the practical jokers on a mission. They must complete challenges on hidden cameras to be given the chance to turn back the clock and go back in time.
Bailey's also been cast to play the role of Kelley in the spinoff series American Horror Stories in an episode called "Drive." Details about the episode haven't yet been released, but we do know it's going to be on the creepier side of entertainment. The next major role we'll likely see Bailey in aside from American Horror Stories will be the third season of Outer Banks. Season 3 doesn't have a release date yet, and unfortunately, Netflix is putting a slight delay on announcing its renewal. It's been so highly favored amongst fans that plenty of theories have already been circulating about what to expect in the third season once it finally happens.
Everything else you should know about Bailey
Fans can't get enough of Madison Bailey, and rightfully so. She's all about inclusivity, queer representation, and speaking her truth. Her birthday is on January 29, and she was born and raised in North Carolina. She's admittedly super close with her castmates from Outer Banks based on pics posted to her Instagram profile. We are excited to see more into the life of Madison Bailey as her career continues to blossom.