Guest Blogger
BGN works to feature strong, unique content from writers who…
Three pairs of characters stood out this week on Once Upon a Time. One being Emma and Hook, two being Rumple and Baelfire, and three being Regina and Robin. The bad guys trying to atone for their actions was the center of attention this episode. Unfortunately, I wasn't a fan of how it all went down.
Lord knows I love me some Killian Hook — and when he is trying to do the right thing, I love him even more. He wasn't just trying this episode, he was doing the right thing. That is until Emma had to mess everything up by being her nosy, 'no one can lie to me,' self. I'm joking, but seriously, why couldn't they just let Hook tell Emma his secret? He had his shots of rum to prepare, and then, nothing. Well not nothing, because Emma and Killian are officially engaged. Mazel Tov! It was a beautiful moment. I smiled as they smiled and got lost in the cuteness of it all. But, we all know it's going to be that much harder for Killian to express that he was the one who killed David's dad. Why can't he catch a break?
The legend of Beowulf intertwined with Rumple and his son Bae did not work for me. I love the story of Beowulf and Grendel. Not only did this episode tarnish the Beowulf story by making him a hero, then a villain; but it also tarnished Baelfire's name by making him go to the dark side for a bit. Rumple was the one who originally chose dark magic over his son. The flashback of Bae commanding Rumple to kill makes it seem that Rumple was on the right path of dark magic. We all know this was not the case. Rumple chose magic and let Bae fall into a portal to England and subsequently Neverland for crying out loud. If anything, the reason for Rumple saving his son Gideon now from darkening his soul would be more believable if he wanted to atone for the nastiness and failing of his first son. It was dumb to think good natured Baelfire would command his father to kill Beowulf. I thought Rumple taking Blue's magic, so his son didn't have to was a great start. Sure, I want Rumple to show his good side so Belle can be nice to him again, but not for the sake of tarnishing Baelfire's reputation. Shame on you, Once writers.
Lastly, alternate!Robin is gross. I hate him and he needs to go back to the wish realm because he is doing nothing for Regina's road to a happy ending. I thought for a moment that alternate!Robin would be a good thing. But then there was that lackluster kiss. Then there was him stealing stuff from her vault. Then teaming up with her sister, Zelena. What a douche for making Regina feel guilty about bringing him to Storybrooke.
I will say, it's very noble of Regina to want to help Robin, even after he stole from her and tried to kill a man in the streets. If anything, I would try to find a portal to drop him back into the wish realm where he belongs. I'd probably drop the Evil Queen there as well, now that she is out of snake form. Speaking of the Evil Queen, she wasn't even a snake that long. I could have done without her for a few more episodes.
This week was not the best in terms of character. I wasn't feeling Rumple's backstory, nor was I thrilled about Hook not being able to tell Emma his secret. But, alas, there is always next week. So, tune in for an all-new episode, Sunday, only on ABC.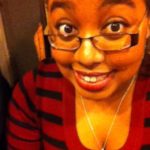 Catalina Combs is an aspiring film critic from California. She loves reading, writing, film, baking, music, drawing, traveling, Disney, and playing soccer. Her life usually revolves around all of these and her family. The oldest of six, Catalina tries to set a good example for her siblings. She graduated from Santa Clara University in 2010 with a BA in English Creative Writing and is pursuing an MA in Film. I also blog on WordPress and contribute to the website Examiner.com. Twitter- @tiggercraze | Facebook- Cat Combs | Instagram: @tiggercraze
Guest Blogger
BGN works to feature strong, unique content from writers who speak to our niche. If you are interested in having your work highlighted contact jamie@blackgirlnerds.com to be featured as a guest blogger on the site.