The film awards season came to an official end on Sunday with the Academy Awards. The event, produced by Will Packer Productions, had a new look, increased representation, and gifted musicians and dancers, which was to be expected. There were enough funny, emotional, and awkward moments throughout the three-hour ceremony to keep the casual viewer entertained — or at least talking about it the next day.
As the world continues to find ways to re-engage audiences and boost ratings in the COVID-era, the Academy, in its infinite wisdom, opted to forego the booking of a traditional host and instead placed Wanda Sykes, Regina Hall, and Amy Schumer at the helm of hosting duties. Overall, the trio did well on a night with momentum that was interrupted by the slap heard around the world. But, some jokes and gags could have been fleshed out a little further or, better yet, left entirely on the proverbial cutting room floor.
The Highs
1) Regina Hall patting down some of Hollywood's most handsome in the new COVID testing procedure.
Regina Hall is easily one of the funniest/unintentionally funny comedic actors working, making her testing protocol much more enjoyable. In the bit, she pulls Simu Liu, Bradley Cooper, Tyler Perry, and Timothée Chalamet out of the audience for "random testing." Instead of swabbing their noses, she proceeds to pat them down and offer some alternative methods for testing, specifically a "deep PCR" test.
"It's simple. I'm going to swab the back of your mouth with my tongue," Hall quipped. While COVID and testing is no laughing matter, this bit brought some much-needed fun to the event's intense testing protocol.
Grade: B+
2) Wanda Sykes dressed as Richard Williams, with the tiny shorts and the whole nine yards.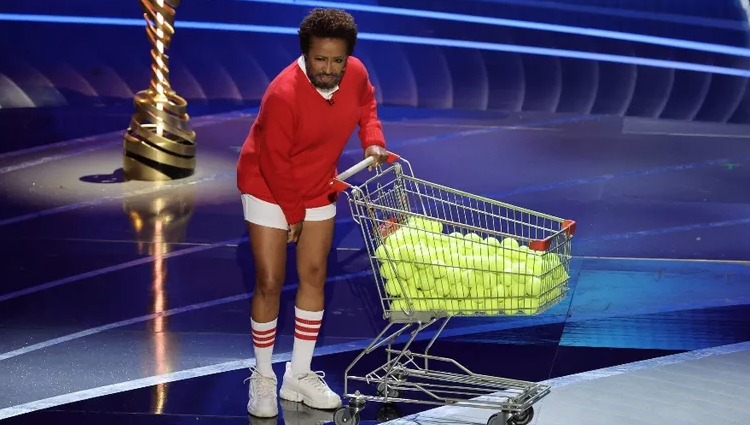 At times, as popular as Sykes is, it still feels like her comedic value is underrated. In a nod to the film "King Richard," Sykes took to the stage in the signature tiny white shorts while pushing a cart full of tennis balls. It wasn't so much what she said but the commitment to the bit, including bad knees.
Grade: B
3) Amy Schumer's calling out pay inequity between men and women.
During the opening monologue, Amy Schumer's call-out was spot on and hilarious at the same time: "This time, the Academy hired three women to host because it's cheaper than hiring one man."
Also funny was calling out Leonardo DiCaprio's affinity for dating younger women. Ouch. Miss Schumer isn't wrong, though. "Leonardo DiCaprio, what can I even say about him?" she said. "He's done much to fight climate change and leave behind a cleaner, greener planet for his girlfriends."
Grade: B+
The Lows
1) DJ Khaled kicked off the show by talking to the hosts.
Khaled is going to Khaled, but it didn't fit the hosts' energy. While it was clear he was part of a bit trying to overtalk to hosts, it just came off as ill-timed and dated.
Grade: F (For not making sense)
2) Two Black women, a white woman, and a jab at representation.
There were many cringy, awkward moments for every legitimately funny moment in the opening. Particularly this one: Regina Hall exclaiming, "We are excited to be hosting, representing Black women who are standing proud." Sykes then added, "Yes … and living out loud." Schumer finished the joke off, "And I am representing unbearable white women who call the cops when you get a little too loud."
The timing, the cadence, the delivery gave the impression of a teleprompter malfunctioning.
Grade: C-
Bottom line, though, the ladies did a fair job in moving the night along. Overall grade: B-
As the Academy prepares for next year's big show, here are three few tips that could help return to the prominence it once enjoyed:
Select one host, preferably a versatile host who is funny, tuned in to world news, and looks good in a dance routine. Give Wanda a shot as a solo host next year. Her humor is sharp and engaging, plus she can dance and sing well enough for a good ensemble number.
Present the awards while the audience is watching. Many categories and winners had their Oscar moment reduced to the in-house audience. At the same time, viewers at home watched the red carpet arrivals. Glamour is a significant part of the event, but so are the actual awards themselves.
Fewer presenters, more performance. Pick a few hosts to present two to five awards. While it's fun to see non-nominees present awards, it's more fun to see live performances. It will also shorten an already lengthy ceremony. Plus, after 2+ years of COVID, many people miss seeing live performances.