Afiya Augustine
Afiya Augustine is an eternal student and dreamer from Brooklyn,…
Find a little magic in Brooklyn, New York's Williamsburg neighborhood this week at the Hall of Magic, an interactive exhibit filled with wonder in honor of the Season 2 premiere of Syfy's highly-anticipated show, The Magicians.
This past week, I was lucky enough to head into the Hall of Magic on behalf of Black Girl Nerds and the experience was nothing short of mystical.
Even if you're not familiar with the show — based on the books by Lev Grossman — you'll be able to enjoy the immersive event.
It all starts in the lobby, where there are three installations called "Infinity Boxes," cleverly crafted mirror boxes decorated with various etherial-looking articles related to the show (levitating cards, butterflies) that reflect an item (say someone's head or hand) infinitely.
When you're ready to leave behind the real world of Brooklyn, you take a short walk through a hallway which takes you to a door. Once it opens, you immediately feel like a character out of the show, as you're standing in a beautifully lit hallway, with white walls and floors decorated gold geometric patterns, decor promoting the show, and doors with enchanting displays behind them.
Library
In the room labeled 'Library,' you're met with walls covered entirely in books. Books even dangle from the ceiling, almost as if levitating in the air!
I was able to find Cinderella among the books there.
Illumination
Next, is the 'Illumination' room… except it's not really a room. It's merely a wall of bright light, however, when standing next to it, it gives the appearance of anyone transcending to another world.

See, there I go!
Apothecary
The 'Apothecary' room is one I really liked. In this room, there was live plants and fauna hanging from the ceiling, while the walls are covered in jars filled with teas, herbs, and spices.
Behind a table is a woman, who is able to read your magic from the palm of your hand.
In reading my hand, the woman was able to determine that I had "healing magic," which meant I was a compassionate person who was in tune with helping others.
Afterward, I was given a vial with a potion (it was actually a potion for 'Knowledge Magic, but apparently both can use the same liquid) and a stick to drop into the vial to release my magic.
Look at the bubbles!
The Forest
The next room was quite possibly my favorite: 'The Forest'. Designed to look like a cozy little piece of an enchanted woods, a trail of small lights, giant-sized lollipops, and glass panels takes you deeper into the forest until you're presented with a dinner table in front of you.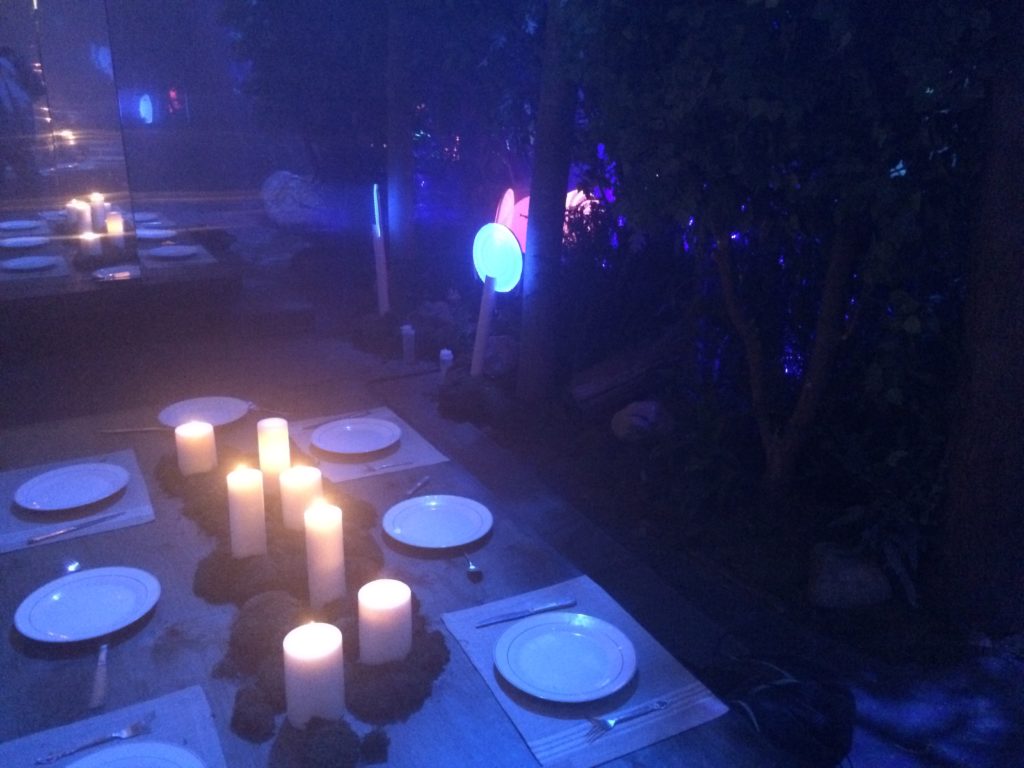 But don't be fooled! You're apparently not alone as the flatware on the table moves on its own!
Battle Magic Room
The 'Battle Magic Room' is a very interactive one, as it's the room where visitors are taught how to channel their magic. While standing in one of two circles of light, you're asking to make a firm movement with your hand at an object in the room in order to move it.
"Do Some G*d Damn Magic"
Room of Shadows
Another immersive room just happens to be the 'Room of Shadows." Though it seems bleak stepping into the room, once you stand by a green screen, a bright light flashes capturing your shadow on the wall behind you.
Here, I have my shadows reaching out to each other.
Classroom
In the 'Classroom,' you're given a taste of what it's like to be at the famous Brickell school,
full on with a chalk board, seats, and books that sing/talk when you touch them.
Constellations
Get a chance to look at the fantastical stars in the 'Constellations' room, as you lay down on a patch of grass and gaze upon the twinkling stars above you.
Constellations — Hall of Magic
Levitation
This "Levitation" room is not so much interactive, as it is visually appealing. While you're not able to actually levitate or move anything, you're surrounded by objects that appear to be suspended in air.
Back to Reality
On your way "Back to Reality," there are several few sights and tricks in store.
First, a mirror that transfixes a character of the show onto your face is upon a wall across from two doors with large peepholes.
When you take a gander into one, you can see the world of Fillory, while the other gives you a glance into The Cellar. Finally, as you make your way back into Brooklyn, you're met with a beautiful TV display featuring the characters of the show as well as a giant mural of the show's title.
If you're in New York and would like a little bit of mystical fun, be sure to secure your free tickets to the Hall of Magic event. The exhibit is open until January 29, 2017.
Afiya Augustine
Afiya Augustine is an eternal student and dreamer from Brooklyn, NY. On the occasion she's not trolling for her blerdy pleasure, she's a freelance writer and editor. She's also a crafter and jewelry designer for her online shop, Pretty Poet Ink. In Afiya's spare time, she enjoys listening to music, live-tweeting TV shows, and writing on her blog, Alja the Writer, Follow her on Twitter at @LaJoliePoeta and get to know her.