Cassondra Feltus
Cassondra Feltus is a St. Louis-based freelance writer best known…
Halloween and its many sequels are classics, but they're not the only Halloween movies out there.
Check out some of these other horror films set on or around the spooky holiday.
---
Angsty Outcasts
---
Ginger Snaps (2000)
Sisters Brigitte and Ginger Fitzgerald have a taste for the macabre. Their bond wavers as Ginger starts to change in several ways. As if puberty wasn't enough, Ginger gets bitten by a werewolf. Bridgette is tasked with taking care of her feral sister through her transformation and keeping Ginger from killing everyone. Ginger Snaps builds up to a raging Halloween party that only some will survive. The fall setting is gorgeous and feels like this town is always ready for spooky season.
Where to watch: Available on Amazon Prime Video; with ads, via IMDb TV.
Donnie Darko (2001)
This cult classic is a lot to digest. Donnie Darko doesn't really make sense at first, but if you're able to suspend belief, it can be a fun experience. Jake Gyllenhaal is Donnie, a loner suffering from delusions. After a freak accident, he's haunted by visions of a man in a weird rabbit suit who tells him to commit a series of crimes around town. It's a surreal, psychological thriller that will leave you with many questions.
Where to watch: Available on Amazon Prime Video; with ads, via IMDb TV.
---
Lonely Ladies
---
May (2002)
In May, the titular character just wants a friend, someone to love who loves her back. She has people in her life like her flirty coworker Polly, played by Anna Farris, and a guy, Adam, she's been seeing. But they're not down with her level of weirdness. The only friend she's ever had is a doll given to her as a child. When that doll breaks, so does May. The film culminates on Halloween night when she goes looking for a replacement.
Where to watch: Available to rent on Amazon Prime Video; also via a MovieSphere subscription.
Casper (1995)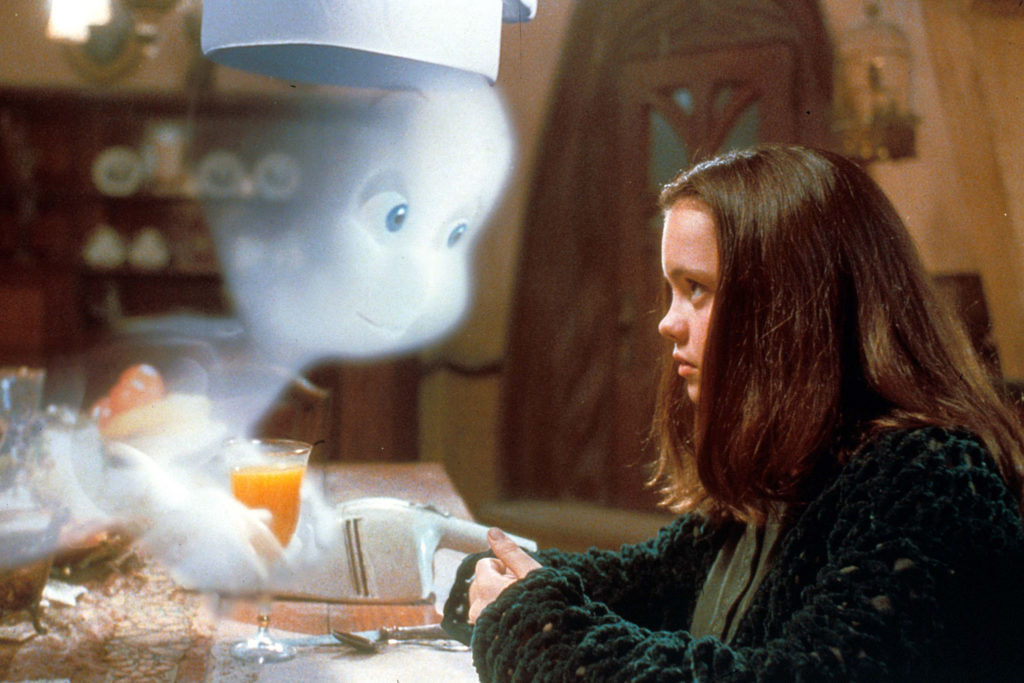 Casper fits into a few genres — family, comedy, drama, supernatural. Whatever you want to call it, the film is a childhood favorite for many '90s kids, myself included. It's pretty dark for a movie targeted to kids, but that's what makes it so enjoyable. Horror queen Christina Ricci plays Kat, the teenage daughter of paranormal therapist (yes, in this movie, that's a profession) James Harvey. The family of two move into Whipstaff Manor in Friendship, Maine. Kat is a loner, still grieving the death of her mother. Casper, the ghost of a boy who died sometime before, becomes her only friend. She doesn't do well at school socially, until she agrees to throw a Halloween party for her class at her haunted mansion.
Where to watch: Available to rent on Amazon Prime Video.
---
Terrifying Tales
---
Trick 'r Treat (2009)
Trick 'r Treat is a horror anthology that follows five storylines, showing the Halloween experience at different ages: a group of teens take a scary prank too far; a college girl is pressured by her friends to find a guy; a young couple make the mistake of not following tradition; a high school principal hides his secret life as a serial killer; a grumpy old man who hates Halloween is tormented by a trick-or-treater. You'll notice that all stories are tied together by a strangely adorable pumpkin boy who pops up throughout the film. Everything about this film screams Halloween in every shot.
Where to watch: Available on HBO Max.
Scary Stories to Tell in the Dark (2019)
If you grew up reading Scary Stories to Tell in the Dark, you know that Alvin Schwartz wrote some spine-chilling tales. The film opens on Halloween night 1968, in the town of Mill Valley, Pennsylvania. Stella and her friends Chuck and Auggie meet Ramón while running from bullies out for blood. They end up in the town's legendary haunted house and find a book of, well, scary stories. It doesn't take long for those stories to come to life. Guillermo del Toro and his team managed to create a cohesive film based on very short stories, replicating the creatures from Stephen Gammell's illustrations. Seeing these monsters in action is both exciting and disturbing. There's no gore, but plenty of body horror and nightmarish imagery.
Where to watch: Available on Amazon Prime Video (via Showtime).
---
Vamps in Black & White
---
A Girl Walks Home Alone at Night (2014)
A Girl Walks Home Alone at Night is a love story with blood, chilling music, and an eerie setting. Our unnamed protagonist lives in Bad City, a bleak place with shady characters and tons of crime. She roams around at night observing humans and teasing them a bit before she attacks. It's a slow-burning, art house piece that isn't conventionally scary, but instead keeps you feeling unsettled. It isn't explicitly said that it's Halloween, but the big costume party gives off major All Hallows' Eve vibes. This beautifully dark film is a refreshing take on vampires.
Where to watch: Available to rent on Amazon Prime Video; also via a Shudder subscription.
Ed Wood (1994)
Filmmaker Edward D. Wood Jr. (1950s–1970s) was known for his campy, low-budget science fiction horror films like Bride of the Monster and Plan 9 from Outer Space (which you should also check out). Naturally, Tim Burton would be the one to direct a film about him. Ed Wood stars Johnny Depp as the eccentric director as he tries to get his career going in 1950s Hollywood. He forms a unique relationship with Bela Lugosi, and casts him in some of his films. Wood surrounds himself with oddball characters like the Amazing Criswell, Bunny Breckinridge, Tor Johnson, and Vampira. Though the holiday only plays a small part in the actual plot, the entire film is pure Halloween.
Where to watch: Available for free on Tubi; to rent on Amazon Prime Video.
Cassondra Feltus
Cassondra Feltus is a St. Louis-based freelance writer best known for film, television, and pop culture analysis which has appeared on Black Girl Nerds, WatchMojo, and The Take. She loves naps, Paul Rudd, and binge-watching the latest series with her two gorgeous pups – Harry and DeVito.