Aubrey Plaza is known and adored for her rather deadpan and dark humor, which she often employs in her quirky and offbeat roles — so much so that the talented actress has become endearing to wider audiences. Still, the actress will soon add director to her list of credentials as she recently revealed more details about the upcoming project she's writing and directing. While remaining secretive about the film's plot, she has revealed that the movie will be family-friendly and that she'll try and "fill the female Tim Burton slot."
But what does that mean for the actress' fandom? What type of film can the fans expect from the Parks and Recreation star? Well, we can only look for clues and hope to piece together some answers for the time being.

Tim Burton is a well-known American filmmaker and artist who mostly dabbles in gothic fantasy and horror. So, every time there's a gothic and grotesque movie or animation made for children, it's likely Tim Burton. Much like the works of Wes Anderson or Guillermo del Toro, Burton's movies radiate with uniquely flawed characters.
The fandom, critics, and the entire art world have to come up with a word to describe the director's unmistakable visual style: Burtonesque. It's so significant that one can recognize Burton's visual aesthetic at a glance, or at least his involvement in a particular film.
But what does the term Burtonesque even mean? The Burtonesque style is unique because it often centers on the dualistic relationship between nightmarish dreads and childish wonder, all carefully packed and soundtracked to Marilyn Manson's "This is Halloween" track from The Nightmare Before Christmas.
Burton's cinematography is heavily influenced by the visual liberties of Germanic expressionism, stylized in a manner that offers a twisted version of reality that aims to bring the viewer back to a state of childlike curiosity. The director has spent a lot of time trying to replicate the dreamlike settings of his favorite childhood films, which mainly featured terrifying monsters of some kind. Burton has delighted in bringing a complicated variety of emotions to the surface in his films, which span from Big Fish and Charlie and the Chocolate Factory to Edward Scissorhands and the aforementioned, Nightmare Before Christmas.
Considering that we know very little of Aubrey Plaza's Burtonesque-like project, we can only assume that it might take a similar tone. The actress herself has stated that the project she's writing is a family-friendly film, much like the majority of Burton's filmography, which also implies a monster of some sort, with plenty of weird comedy. And who better to do weird than Aubrey Plaza herself, anyone who has seen Parks and Recreation and 2016's Dirty Grandpa knows exactly what type of weirdness Plaza can employ — even Robert DeNiro freaked out during the shooting of the latter.
Plaza began her career performing improv and sketch comedy at the Upright Citizen's Brigade Theater. She rose to fame after landing the part of the cynical and sarcastic April Ludgate on NBC's hit mockumentary series called Parks and Recreation. While the sitcom has received numerous honors and critical praise during its seven-season run, catapulting its stellar cast to greater popularity and success and drawing a fervent fan base, Plaza's character was particularly well-received.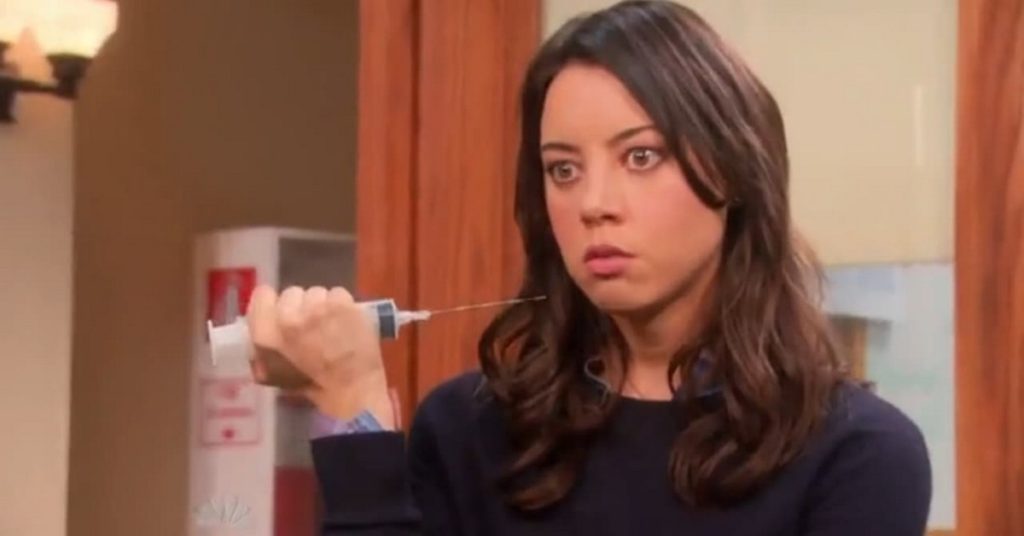 Her character in Parks and Recreation, April Ludgate, appears like a character penned by the master of macabre Tim Burton wrote himself. April always had that Wednesday Addams vibe if Wednesday grew up and got a job as a government clerk. This interpretation becomes more tangible in scenes where she appears along Nick Offerman's Ron Swanson, as her character's deviousness becomes apparent in moments in which Ron pulls his own tooth or purposefully mispronounces names to let other people know he doesn't care about them. This brand of humor is something we just recently witnessed in Tim Burton's Wednesday series for Netflix, though the latter is admittedly darker than Parks and Recreation.
In later performances in independent films like Life After Beth, Scott Pilgrim vs. the World, and Safety Not Guaranteed, Plaza demonstrated her distinctive range as an actor. The actress has recently starred in dark comedies and thrillers like Black Bear and Ingrid Goes West, and she had a brilliant and outstanding performance in the superhero series Legion — in which she also portrays the Shadow King Amahl Farouk. At the Sundance Film Festival, Plaza's upcoming crime drama Emily the Criminal had its world premiere, and both reviewers and viewers gave it high marks.
So, one could say that Plaza is riding a career high right now and quite probably a broomstick to boot, judging by her tastes. She's currently starring in The White Lotus and is set to appear in the MCU's Agatha: Coven of Chaos, which is scheduled for a next-year release. Her upcoming project, which she branded as a blend of Beetlejuice meets Hocus Pocus — the former of which is Burton's work — through her Evil Hag Productions (aptly named) company. As previously stated, not much is known about Plaza's project, but if anyone ever had the chance to challenge Tim Burton's reign as the master of the strange and the macabre, Aubrey Plaza is among the first to come to mind.