To say that the new shows introduced during CW Upfront yesterday were underwhelming would be an understatement. For all that is inclusive, it seems that much less is inspired. Greg Berlanti is proud that the CW will now feature a Sunday night lineup, and that they are adding five new shows to their original offerings, but quantity is no guarantee of quality.  Of course, all we have are trailers and descriptions to go on for now, but here are the first impressions of the new shows presented.

All American
This trailer for All American is ridiculously predictable out the gate. Gifted football player who plays for a school of the "Have-Nots"  (in this case, in Compton) is recruited to play at the high school of the Haves (in this case, in Beverly Hills). And, yes, the football player is Black, and the new high school is overwhelmingly white. What could go wrong? Everything you would imagine, of course. It was almost painful ticking off the tropes as they appeared on the screen without fail.
Still, this may not be as formulaic as the trailer makes it appear to be. For one thing, it is based on the true experiences of the football player Spencer Paysinger, who did attend Beverly Hills High School. For another, just because the story is familiar, doesn't mean it can't have an impact. The cast led by Daniel Ezra as football star Spencer James, seem a bit "CW-ish", but it still comes off as sincere. If the stranger-in-a-strange-high-school conceit doesn't get in the way of a good story, the CW could have a hit.
Charmed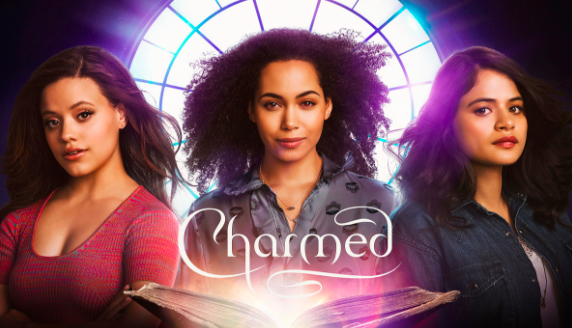 Let's face it, Charmed enters the game at a big disadvantage. The original series was beloved almost to the point of worship from its fans. This begs the question that TV, film and even Broadway audiences find themselves asking more and more often: "Why are we getting a remake?  Nobody asked for a remake!"  But apparently, will we be getting them until someone decides they don't make money.
Charmed, looks a bit stiff. Fan worship aside — the original was far from art. Shannen Doherty, Allyssa Milano, and company were memorable.  But this new young cast, who as a bonus makes up a multi-ethnic family, may strike a chord with an audience of young female viewers who are not only diverse; but who also want to see themselves on screen. Hopefully, the storytelling is better than the trailer suggested, but truthfully, it may not matter this group of Charmed Ones can cast a spell on their young viewers.

Roswell, New Mexico

The gift that keeps on giving. The town of Roswell, New Mexico will forever be a place to turn to when looking for a setting for a story about extra-terrestrials.  But this particular story has been told.  First a book, then as a WB story, and now at the CW.  Yes, the same story. Again.
Really, there's not much more to say.  Like Charmed, Roswell, New Mexico is sticking pretty close to its roots, and like Charmed, it will have the all the elements to keep the desired demographic of young girl riveted: attractive actors, romance, and alien DNA. The show will get diversity points for the cast and the fact that one of the characters is an undocumented immigrant.  Well, technically the three extra-terrestrials are also undocumented, but you know what I mean.
In the Dark

Okay, after harping on the lack of originality, I've got to give it up for the team who pitched and greenlit this show.  How much more original can you get than a show about a beautiful, blonde, anti-social sex addict on a mission to track down the person who killed her best friend, a fifteen-year-old Black teen. 
Oh, and did I mention she's blind? And that her amateur detective partner is her guide dog, with whom she seems to have a love-hate relationship?
So, premise-wise, this wins the Originality World Cup. But as much as originality is in short supply in Hollywood these days — great ideas have to result in great storytelling and audience appeal. Surprisingly, In the Dark may have that. It is certainly the most adult show in the new CW offerings and everyone loves a good murder mystery. Based on the trailer, In the Dark could either be brilliant and groundbreaking or just terrible. One other thing to note that might turn into an issue: why didn't the producers cast a blind actress in the role? These days, that kind of decision can doom a show to be dragged to death in the Twitter-verse, no matter how good it is.  That is a potentially problematic decision.
Legacies

Vampire Diaries and Originals fans rejoice! CW's new show, Legacies, is set in the same universe. There was no trailer for this newest of the new line-up, but from the producers:

"Continuing the tradition of THE VAMPIRE DIARIES and THE ORIGINALS, the story of the next generation of supernatural beings at The Salvatore School for the Young and Gifted. Klaus Mikaelson's daughter, 17-year-old Hope Mikaelson; Alaric Saltzman's twins, Lizzie and Josie Saltzman; and other young adults come of age in the most unconventional way possible, nurtured to be their best selves… in spite of their worst impulses. Will these young witches, vampires and werewolves become the heroes they want to be – or the villains they were born to be?"
This seems to hint at a twist in this latest tale of vampires and werewolves. At least that's the hope.
What shows are you interested in checking out this new TV pilot season?
DaVette See
Originally from the Midwest, DaVette lives in Inglewood, CA and can't name a single sports team. She's a sci-fi fan, a movie geek, a drama freak, a Trekkie, and a Browncoat. She has a BA in English and Theater, as well as a Law degree, but don't hold that against her. She acted and directed for the stage for many years, but really loves filmmaking and writing. She owns Running Lady Studios and she is the producer/star of the web-based talk show, Afro Bites! She is wife to Rob, daughter to Martha, and mom to seven (yes seven) cats. When not covered in fur, she's a West Coast correspondent and occasional movie reviewer for BGN. Follow DaVette on Twitter and IG @mariavah.