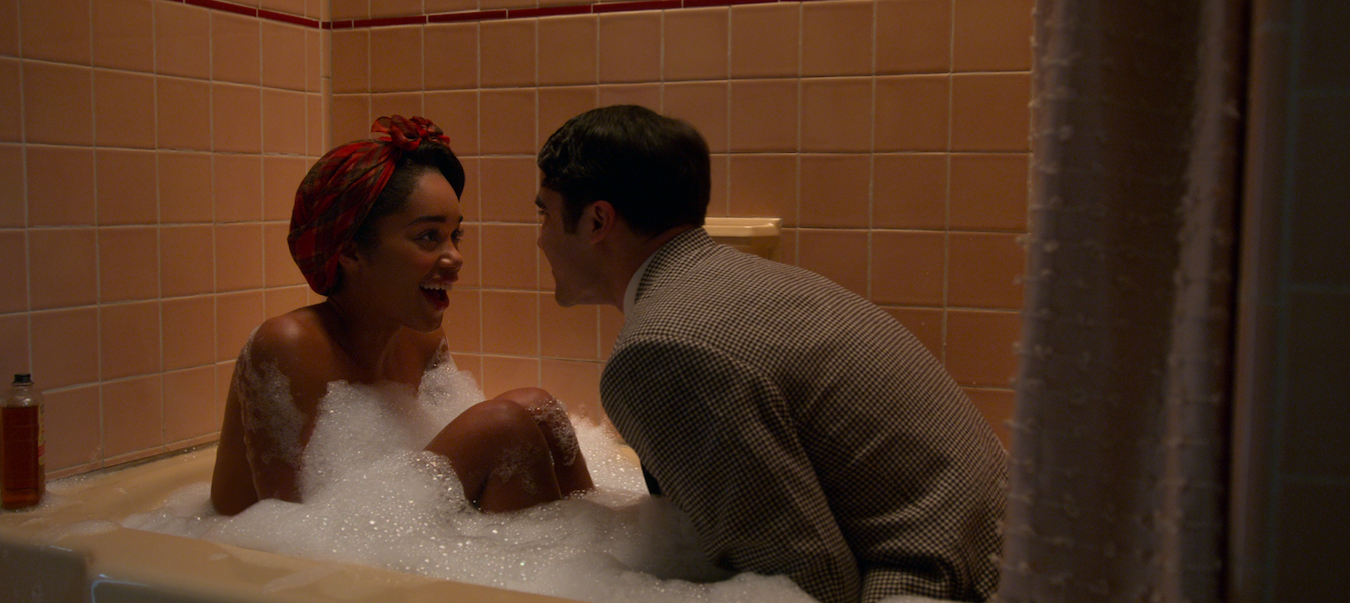 Lebo Malatse
Lebo Malatse is a content creator and writer. She's an…
In our fifth recap of the Netflix series Hollywood, we recap the episode "Jump."
At this point, I want to dress like I'm as wealthy as Avis Amberg (Patti LuPone). A red floor-length robe that sweeps behind me as I walk? Yes, please. Anyways, she's finally decided in the wee hours of the morning, which means Dick (Joe Mantello) and Kincaid (Holland Taylor) must come over immediately. She refuses to cast Camille (Laura Harrier) because it will bankrupt the studio. Lon Silver agrees with her. According to Dick, the country needs something new. Walt Disney recently put out Song of the South (ugh) and people hated it. This movie could change the course of Hollywood all together. Dick and Kincaid push for Camille to get the role, and she does!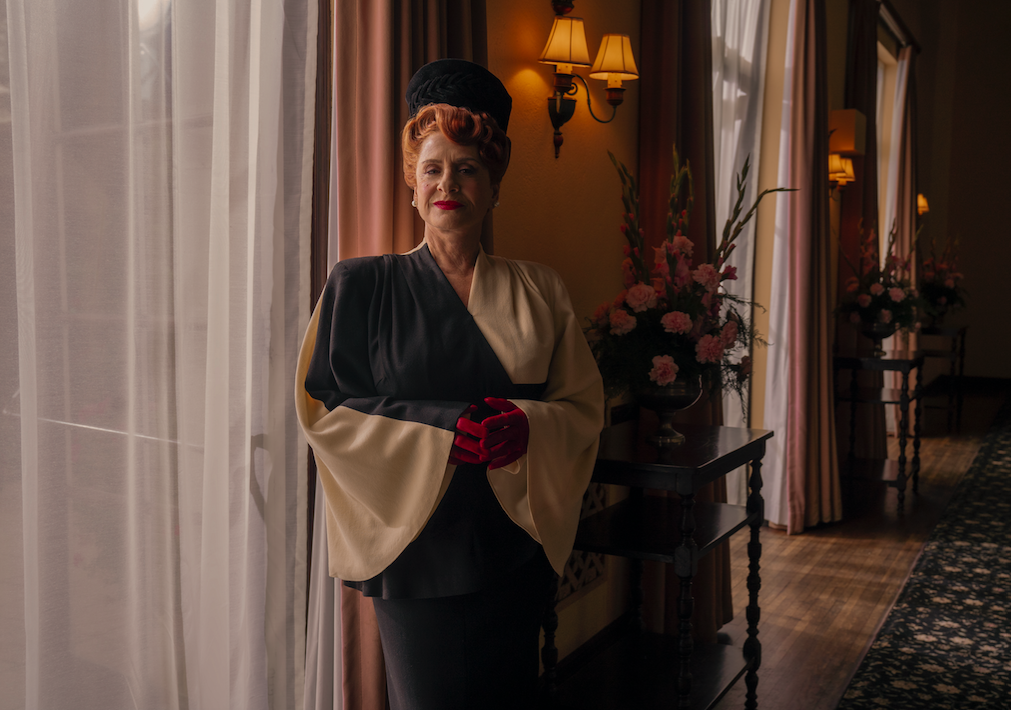 The title of the movie went from Peg to Meg. How thrilling. 
All the stars who are cast celebrate the best way they know how. Archie (Jeremy Pope) is also keeping his name in the film. Claire shows growth by admitting that she is proud of her mom for making the right decision choosing Camille. Avis admits that Claire is a better actress than she ever was, so she's giving her the role as Meg's best friend. Good bonding moment. Awkward hug. 
Breakfast for Hattie McDaniel (Queen Latifah) is made by a beautiful half-naked man with a sweet kiss given by Tallulah Bankhead. Wild nights. Hattie gives us the first glimpse of Camille in the paper and immediately calls the young woman to give her all the support she needs for the rough road ahead. Jack's (David Corenswet) wife doesn't seem so thrilled for her Jack's opportunity to have glamour shots done by George Hurrell. Nude shots, too. 
Ace Studios is getting hit financially in the public and with their own employees, but that is nothing compared to the racist call that Camille received. Avis moves Camille and Raymond (Darren Criss) to the lot and chooses to have homegrown talent in the movie and a film that stars Jeanne Crandall.
Roy/Rock (Jake Picking) is given some good news by Archie. He may not have the leading role, but he has a part in the film. Henry (Jim Parsons) is a drama queen when one of his clients is gaining weight by drinking milkshakes and isn't as happy as Rock is with the four lines he's been given. The budget for Meg is apparently higher than intended. Dick takes a leading role in fixing that. Kincaid takes notice of his leadership. She talks it out with Avis, and they hatch a plan for Kincaid to get him. Lord have mercy. 
Have you ever seen a table read or ever experienced one? It can be nerve-wracking for all of those involved in a project for the first time. We finally get to see everyone who is working in and on the project, which includes one Anna May Wong (Michelle Krusiec). There's a bit of touching moments for each pair that duked it out for a role, as if they are settling into their current roles. Archie and Raymond join Dick for dinner to go through the script. Every page has to have a reason behind it to move the plot forward. Dick teaches Archie like the way one of my professors did with me a few months ago. He is enlightening to what the script could possibly be. 
Tabloids have always been annoying. They somehow got Jack's mugshot, and they will be running it. Avis calls Dick and Kincaid in to inform them of the news, then has Henry come in to assist with the situation. Awkward. Henry states that he will handle it but Avis will owe him. Raymond as a director is an amazing shock for myself. He wants it handled his way. Henry has connections with the mob? Well, damn. That is how he has Dean Wharton, reporter for the tabloid Tattleteller, beaten and broken down. The gigolo and Avis stories are killed. When Henry informs Avis and Dick of his demands, to be producer, it includes the support of the mafia.
Dick is furious with Raymond for demanding set changes that go $25,000 over budget. Now, Raymond has to come up with the money. Archie brings up the idea of doing so by pimping out again with Raymond, Rock, and Jack. Jack refuses, then catches Henrietta talking with another man who she used to work with. The two leave together. Dinner with Dick goes fairly well for Kincaid up until a moment of rejection. Kincaid is willing to try out being with Dick even if he is not interested in her. The two do deserve love. Dick does something out of character by visiting what I think is an undercover gay bar. It is his first time ever being in one. Big step toward being himself.
Back at home, Henrietta tells Jack that she has gotten close to her former coworker Erwin and he is the father of the twins, not Jack. She knows this because she and Jack didn't make love in February. By the time they did in March, she was already late. She thought Jack would have known by doing the math. Yikes. Well, she's leaving him for Erwin. Jack leaves to sleep on Archie and Rock's couch. Those puppy eyes make me want to hold him as he cries it out. I guess they both never loved each other.
Stay tuned for Episode 6: "Meg"
Lebo Malatse
Lebo Malatse is a content creator and writer. She's an avid reader, tv and film lover, and traveler. To read more of her work, check out her site: lbmalatse.wixsite.com/website and journey into the worlds that she creates.