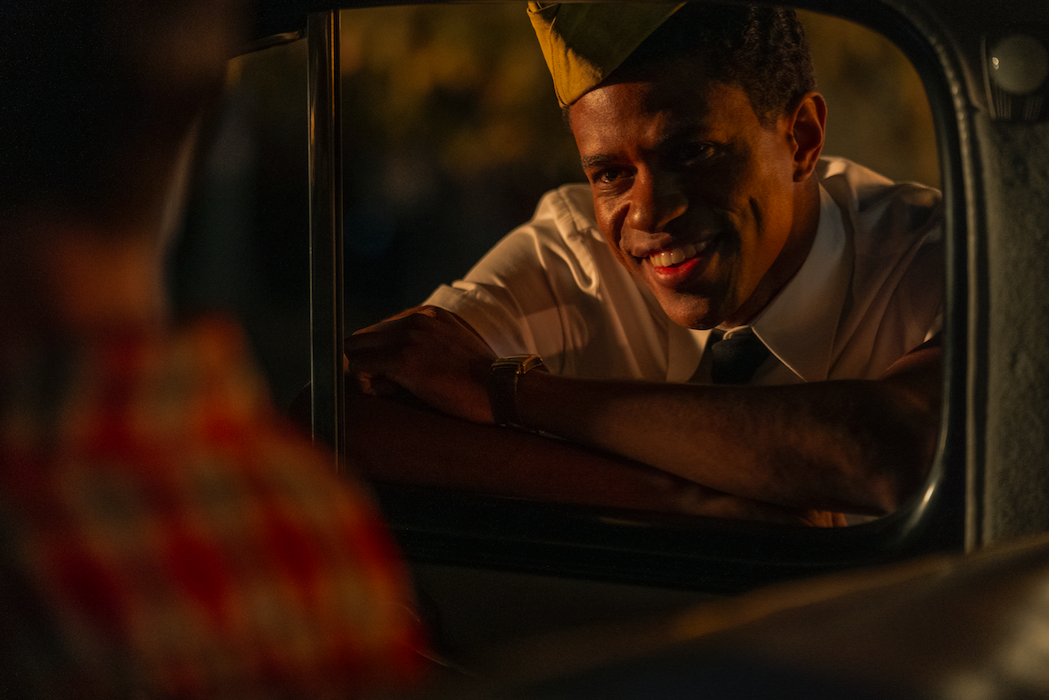 Lebo Malatse
Lebo Malatse is a content creator and writer. She's an…
In our third recap of the Netflix series Hollywood, we recap the episode "Outlaws."
Ernie's gas station still has business. The crew has been hired for Sunday night at a huge George Cukor party that has top actors, agents, and executives while wannabe actors make an appearance to pair off with the men in power who aren't allowed to be free in public. Jack, obviously, isn't comfortable with this, but Ernie educates him on why the party exists; it is an outlaw to be homosexual. Yeah, you got to make money.
Roy and Archie talk about Roy's new offer and his upbringing. This boy from the Midwest can just break your heart being this adorable. Archie sees it, too, then offers him the role of "boyfriend" to Peg from the script he wrote. That's the same role that Jack is vying for. Oy. That's not good. Jack tries his best to get the role by speaking to Dick during his lunch. Dick gives him a chance and advises on how he should attack the role, similar advice that Archie has given Roy, I mean Rock. Battle of the male brunettes is coming soon.
Roy is late to his meeting with Henry Wilson. Henry doesn't skip a beat to go off on Roy and inform him who the hell he is dealing with. Lord, if anyone read me like that, I would have a hard time looking them in their eyes again. Roy better learn fast. Henry tells Roy that he is never to be turned on in public and should "tickle his pickle" before he steps out of the house. Of course, unless Henry wants to see him for a good time that is. Henry gets upset that Roy knows what "Peg" is and assumes he found out from other actor friends then fires him. Roy begs to stay on. Poor Roy has to endure Henry dancing in his home in layered scarves then is taken to bed to spoon. I'm not even sure if the boy got enough rest, but I hope he gets the screen test if he has to go to this George Cukor (Daniel London) party.
Jack is getting better as an actor under the mentoring of Ms. Kincaid. Naturalism is on its way in. Kincaid suggests that Jack gets Henry in his corner for the role. She asks him what he's doing Sunday night. Dinner with the Ambergs is quite awful. Claire Wood is their daughter, and she fights for her right to a screen test. Avis thinks it's a bad idea because maybe her daughter will actually make it, while Ace thinks it is a good idea because he thinks she doesn't have a chance. I can't imagine growing up rich and disliked by bitter parents. Therapy alone won't help. Camille is struggling with her role as the maid. She has an idea for changing the role to "Meg" and screen testing for this role instead. Jack has a bit of a crush on Claire. Claire thinks they should run lines together on Sunday but he can't.
Cue George Cukor's party with Tallulah Bankhead (Paget Brewster) and Vivien Leigh (Katie McGuinness), who Roy doesn't recognize due to her English accent. Around the table, Avis lets out the bitter, Kincaid urges Jack to get to know Henry, and Raymond is warned by Dick to leave by dessert because things get wild. Archie makes it in with Ernie but nearly gets caught by Kincaid. Ernie bumps into Jack who doesn't want to work the evening but when a pimp tells you to, you got to decide which job matters. Roy is lucky to introduce himself, as Rock, to Raymond and make an impression on him. He's dismissed by a drunk Dick but not before bumping into Archie. I'm not sure what will go down between Roy and Archie later but the two are required to "work" the night. Samuels doesn't make it out of the door before he eyes a USC footballer. He stays a bit longer, and Henry witnesses the moment.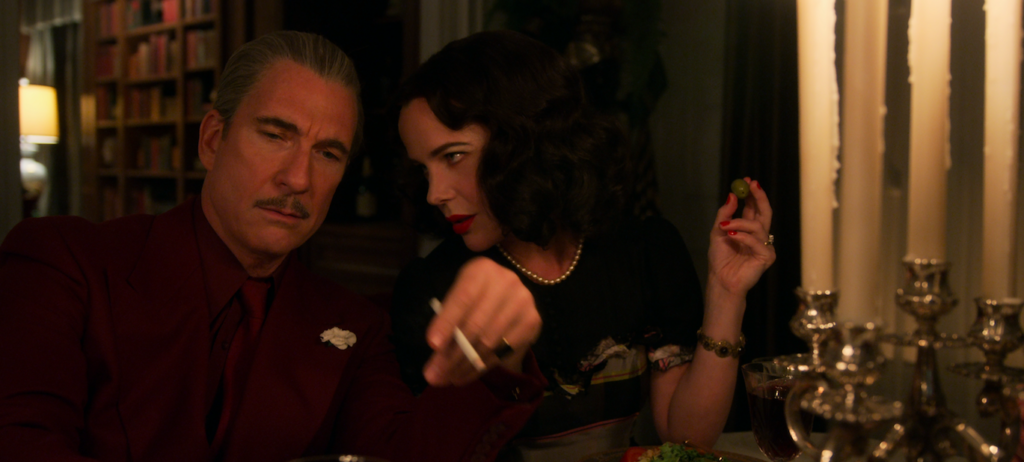 Roy finds Archie cozying up to a man named Noel (Billy Boyd). Roy doesn't want Archie to work the evening and isn't okay with other men touching him. Since when though? He knew what Archie does. Henry keeps an eye on Roy for his own good. Ernie finds Vivien having a bit of a struggle. He helps her by feeding her kitty. Tallulah enjoys a swimming pool full of naked men. Henry finds Dick Samuels enjoying the view. Sensing the man's weakness, Henry suggests that Dick and "Rock" talk quietly in a cabin. Jack is caught by Henry admiring the furniture that was apparently created by a gay silent actor. As the two go off to talk business, they are followed by Claire Wood who snuck into the party. Due to the strain of Henry's forwardness, Jack admits that he doesn't love his wife. Well, duh baby. Jack can't go through with Henry's offer and knows he won't get through anything without Henry but he won't go through it.
In the cabin, Roy/Rock is showing off his naked body to Dick Samuels just for a role in a picture. Dick can't go through with any of this. He demands that Roy/Rock gets dressed and tell him his real name. Mr. Samuels informs Roy on how he has become a lonely, undercover, gay man. He doesn't want the same for Roy. In fact, he demands that Roy never let Henry continue to treat him in any disgusting way. Archie is being spun around by Noel before being interrupted by his loving boyfriend, Roy. Yes, I said boyfriend.
When Raymond comes home, he tells Camille that he sees her as the star of his film. It's all sweet and loving. Now, compare that to when Jack gets home. Henrietta is awake due to the twins. Jack is all tears as he apologizes to her due to his guilt. She says loves him.
Raymond makes a case for Camille to get the screen test for the movie after notifying Dick and Kincaid about his mother being from the Philippines. He refuses to direct if she doesn't get the role then abruptly leaves. Samuel shocks Kincaid (and me) by stating that he is going to make it happen. He wants to fight again and this is worth fighting for with Kincaid by his side. Henry had hoped that something went down between Dick and Roy/Rock but not to his luck. Apparently, years ago, Henry met someone that cared and loved him. Unfortunately, Henry lost his love but Roy/Rock is able to bring out the passion in him, the passion to make him a star. Henry introduces Roy/Rock to two footballers that he would like to watch in bed.
Well damn, Henry should be an actor. Those tears had me thinking that he would do right by Roy/Rock but nah, he enjoys pimping him out.
Stay tuned for Episode 4: "(Screen) Tests"
Lebo Malatse
Lebo Malatse is a content creator and writer. She's an avid reader, tv and film lover, and traveler. To read more of her work, check out her site: lbmalatse.wixsite.com/website and journey into the worlds that she creates.